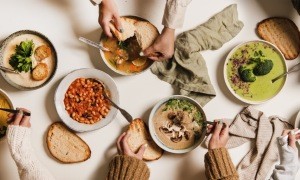 Each midwinter I have a soup party for family and friends.
I make several different kinds of soup. I might have potato soup, pea Soup, My own "Better Than Congressional Bean Soup", Chicken or Turkey vegetable - whatever I happen to have on hand.
Each person invited to the party must bring their own soup bowl and spoon, which must be decorated in some way to make it interesting, pretty, outrageous, and I get to pick the best of the bunch. I always give a prize which includes take home servings of their favorite soup and a dessert to go with it.
Several of my favorites have been quite simple: One man brought a regular soup bowl which was tucked into his son's football helmet. The spoon was tied with a ribbon in the team's colors.
One woman brought in her own homemade bread bowl, and the spoon was a wooden mixing spoon.
Another dipped her regular glass bowl in melted chocolate, which she chipped off when she got there and shared with others. She handed out those chocolate covered spoons for your coffee to everyone there.
One woman had a large frog ashtray in which she placed a soup bowl, and a man who did pottery brought a bowl he had made. It was beautiful in soft colors of yellow and teal.
Another time when the party was near Valentine's Day, every bowl was red or pink and appropriately decorated.
The most outrageous I think was a fake skull whose cap came off and was used as the bowl!
By Nancy from Cross Lanes, WV
Comments
Read More

Comments