I made "gifts in a jar" for family and friends for Christmas and for Birthdays. I have 4 children and each one of them do something to help. It's a family kinda thing for us.
We all take turns doing the measuring, writing and labeling, while we laugh lots too : ) I put them in a basket with some homemade bread. Cider mixes too.
Here is one of the recipes.
Decorate the jar with a bow tied around the neck. I used raffia. Be sure to attach the cooking instructions to the jar.
Friendship Soup Mix

1/3 cup beef or chicken bouillon granules
1/4 cup dehydrated onion flakes
1/2 cup split peas
1/2 cup alphabet pasta (any small pasta is fine)
1/4 cup barley
1/2 cup lentils
1/3 cup non-instant white rice
1/3 cup tricolor spiral pasta

1. Use a canning funnel or any funnel that has about a 2" neck. Be sure to use a wide-mouth, 1-quart canning jar.

2. Layer ingredients in the order given above and add enough tricolor spiral pasta to fill the jar.

3. Attach a tag with cooking instructions:

In large kettle, brown 1 pound ground beef, (stew beef or chicken) which has been cut into bite-size pieces, in a little olive or vegetable oil. Remove the tricolor pasta from the jar and put aside. Add the rest of the jar contents to the pot with 12 cups water. Bring the soup to a boil and simmer 45 minutes. Add the tricolor pasta and simmer 15 minutes more. Serve with your favorite bread or rolls and a tossed salad. (Makes 8 servings.)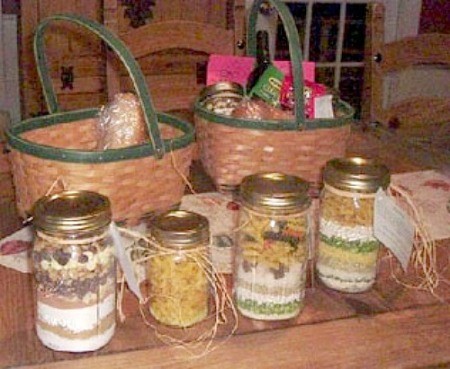 Enjoy,
Tracey