January 25, 2005
1

found this helpful
Best Answer
Potato Salad
v 6 medium potatoes, boiled in jackets, peeled and cubed
v 4 hard boiled eggs, chopped
v 2 tbsp. Minced onion
v 4 dill pickles, chopped
v 1 1/2c; cup mayonnaise
v 3 tbsp. Prepared mustard
v 4 tbsp. Dill pickle juice
v 1 tsp. Salt
v 1/2 tsp. Black pepper
Mix all ingredients, except potatoes. If possible, potatoes should go into other ingredients while still warm. Stir in potatoes until well blended. Cover and chill at least 4 hours before serving.
March 3, 2009
1

found this helpful
Best Answer
I slice Yukon Gold potaoes (or your choice) leaving the skins on. Lightly coat with oil, the bottom of your baking dish. Put in potatoes and pour a bottle of ranch dressing, then sprinkle pepper and garlic powder on potatoes. Stir to coat potatoes. Bake @ 350 degrees for 45-60 minutes (potatoes should be soft) This is great cooked in the oven or on the grill
wrapped in foil.
March 4, 2009
1

found this helpful
Best Answer
Here is a delicious potatoe salad recipe
.
POTATOE SALAD FROM MILWAUKEE
2 1/2 # potatoes--boil with peelings on.
1/3 cup vinegar
1/4 cup veg oil
2 TBLS sugar
1 tsp salt
1/2 tsp dry mustatd
1/3 cup chopped onion
2 TBLS chopped parsley
1/4 tsp black pepper
4 hard cooked eggs.
1/2 to 1 cup salad dressing
While potatoes are cooking, beat with fork, vinegar, oil,sugar and salt & drt mustard.. Set aside. As soon as potatoes are done, drain and remove skins. Slice in large bowl. While potatoes are still hot add egg, onion, parslley and toss. Immediately pour the oil mixture over, but do not toss. Let stand 1 hour at room temperature to marinate.
Add salad dressing and toss. Refrigerate. These will keep several days in frig.
.
March 4, 2009
1

found this helpful
Best Answer
MASHED POTATO CANDY
3/4 c. warm mashed potatoes
4 c. powdered sugar
4 c. flake coconut
almond bark
Mix up and chill all ingredients. Then roll in small balls and chill again. When chilled, dip in melted chocolate almond bark and lay on wax paper. Cool. (I prefer 1 part white almond bark mixed with 2 parts chocolate almond bark.)
MASHED POTATO CANDY
4 c. coconut
3/4 c. cooked, cold mashed potatoes
1 lb. powdered sugar
6 oz. chocolate chipsA
small piece of paraffin
Mix the first 3 ingredients together. Shape into balls the size of a walnut. Let dry on wax paper. Melt chips and paraffin on low heat. Dip balls into chocolate. Taste like Mounds candy bars.
POTATO CANDY
1/2 cup mashed potatoes
powered sugar
peanut butter

Combine 1/2 cup mashed potatoes and power sugar till is firm enough to roll. The mixture will become very wet; just keep adding powdered sugar. roll out on powdered sugar like noodles. Cover with peanut butter. Roll into jelly roll cut into small pieces. Very rich!
March 5, 2009
1

found this helpful
Best Answer
I make a recipe similar to Debbie-Jenn's but instead of using onion soup mix, I cut the unpeeled potatoes, in large dice, in one layer into a baking pan with a little olive oil in the bottom. Then I sprinkle and toss with ground rosemary and thyme or garlic powder and chile powder or whatever herbs I want (you can also add bread crumbs).
Cover with foil and bake at 350o or up until tender (I usually use a hot oven for 30 or a lower oven for 45-60 min.). Leftovers are great for morning fried potatoes added to onions and peppers.
March 4, 2009
0

found this helpful
A lot of people think I am crazy but I love to peel, slice and eat them raw :-) Yummy :-) If I am not hungry enough to eat the whole thing I just put the rest of the slices in a container, cover the taters completely with water and place in the fridge so they don't turn brown :-)
March 4, 2009
0

found this helpful
I like to wash my potatoes, cut them up like for a roast and toss with a little vegetable oil. Add a package of onion soup mix and shake well. Pour into a pan and bake for 350-degrees for about 30 minutes.
Also, slice kind of like to make potato chips. Boil or microwave until done, but not falling apart. Make a layer of potatoes, shredded cheese, repeat. Cover and bake till cheese is melted and potatoes are completely done. You can also add a little milk to the potatoes.
March 4, 2009
0

found this helpful
I wrap mine in foil and bake. I peel them and cut up, into med. chunk and freeze. When I want fried potatoes for breakfast or dinner. Dump frozen in pan and cook until brown.
March 4, 2009
0

found this helpful
Shake and Bake also has some nice flavors to use on potatoes. Easy, and a change from baked.
You can also just slice them thin, and fry with onions in a skillet -- use oil, butter, or pam- whatever you like. If you want, you can also add sliced green pepper and celery. You can use either raw or cooked potatoes this way.
March 5, 2009
0

found this helpful
A favorite at my house we call 'Potato Packs' Use a sheet of aluminum about 8in by 12inches. peel and slice about 1 1/2 potatoes arrange on foil, add as much diced onion as you wish, salt and pepper to taste, add a lump of butter.
Seal package by folding over the foil at the edges on the long side and folding over the edges at the ends.(this is known as drug store wrap)making sure it is all tight. carefully place in oven and bake for 1 hr. Easy, fast can be done in advance and goes well with most meat.
March 6, 2009
0

found this helpful
Something my mom made for us. Good any time of the day. Brown ground meat, with salt and drain fat
as you are browning meat add potatoes that are cubed into small little squares. Cut the potatoes vertically like for fries then cut up horizontally and you get little cubes.
Cover and let them cook up I take cover off after at least 15 mins. Cook till done you serve them wrapped up in a flour tortilla, burrito style. You can add salsa.
I know some add cheese to this, my mom did not and I don't either. We call this "picadillo" not all Mexican foods
are fried and bad. Enjoy
March 9, 2009
0

found this helpful
I make fresh potato hashbrowns. Instead of using cold boiled potatoes, I use a raw potato, shred it with an old fashioned vegetable grater.(Can you tell that I have been using this for about 50 years?) Sometimes I peel the potato first, sometimes I just scrub and grate peeling and all. I have a 6 inch cast iron skillet that makes the very best, but you can use any skillet. Put the skillet on a medium fire, add about a Tablespoon of oil and let it get hot while you are grating the potato. When it is sizzling hot, pour the potatoes in and shape them into a patty. With the 6 inch skillet, I just pat it down to fill the pan and level it. Add salt and pepper, and cook on one side until it is golden brown. Turn it over in the pan and brown the other side. They taste nothing like the hash browns from boiled potatoes.
Harlean from Arkansas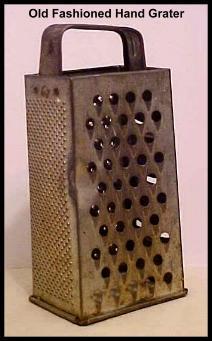 November 6, 2009
0

found this helpful
I leave the skins on my potatoes. I prefer using red skinned and I like to mash rutabaga and cauliflower in it as well. Much healthier then fried, even though there great also.
Missy from Pa
November 6, 2009
0

found this helpful
Potato is your blank canvas: You can do so much with a potato. Fry em. boil em, bake em. twice baked, eat em raw, (love doing that since I was a kid; me and my dad). You can add anything you want like meats, veggies, soup mixes.Make a casserole out of them, whatever your tastes are. Don't be afraid to mess up cause to be honest with a potato you can't mess up.