Keeper
Gold Feedback Medal for All Time! 690 Feedbacks
October 18, 2009
0

found this helpful
Linda, if you"google" dameranian several sight come up. Good luck.

Michawn
Bronze Feedback Medal for All Time! 188 Feedbacks
October 20, 2009
0

found this helpful
How about going to the pound and saving another dog that wasn't "made up". You might be looking at a lot of problems with that mix of dogs.

(Guest)
Gold Post Medal for All Time! 846 Posts
October 20, 2009
0

found this helpful
There are so many adult dogs and puppies out there who might not look like Dameranians but need a home. Please consider going to a shelter and rescuing one of them before setting your mind on buying a breed dog. You might even get lucky and find a Dameranian in that shelter who only has a few days left to live before being euthanized.

Maryeileen
Bronze Request Medal for All Time! 59 Requests
October 20, 2009
0

found this helpful
I agree with what others here have said. Adopt a dog from one of your local animal shelters.

October 26, 2009
0

found this helpful
Why would anyone want a half-breed [we used to call them 'mutts'] and not know the temperaments of the parents? So many dogs have been 'given-up' and are in shelters. I have gone from my 4 up to 9 dogs this month. Each 'new' dog is so loving and wants to please. They all have nice soft polar fleece beds, daily meals, grooming, and all the love I can give them.


August 29, 2018
0

found this helpful
Me and my wife are looking for a female Dameranian dog or Dachshund/Pomeranian mix breed. Our Dog passed away almost 3yrs ago and have been looking since, prefer maybe brown if available, we are very much interested when you would have one available, could you please contact us if and when you may have one available - Thank You (Larry and Beth Foland)

November 26, 2018
1

found this helpful
Are you still looking I have an accidental batch of damerains that will be born in about month and a half. She just got pregnant and I didn't even know they were and actual breed until now lol

November 1, 2009
0

found this helpful
I breed dameranians and unlike some so called breeders or I call puppy mills my dogs come from a clean loving family home. My 4 dogs are not kept in cages or kennels and only breed once every other year and I do not dump them off on other people because I'm done using them for money. I am all for going to shelters but people have the right to get what ever dog they want from where ever they want.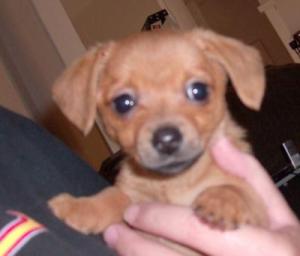 September 7, 2017
0

found this helpful
Do you still breed dameranians?

November 5, 2018
0

found this helpful
I live in Spain and looking for a Dameranian puppy. Can you help?

April 6, 2020
0

found this helpful
Hello,
I'm looking for a boy dameranian puppy. Do you know of a breeder/rescue? Any help would be appreciated.
Thank you

May 3, 2020
0

found this helpful
I am looking to purchase a damerianian. I already have one girl and she is so sweet. I am looking for another girl. If I have to have a boy or I will. Thank you

(Guest)
Gold Post Medal for All Time! 846 Posts
November 1, 2009
0

found this helpful
Joemamma, Bless you for being a responsible breeder but please also understand that millions of any breed of dogs, or cats for that matter, are put to sleep every year in shelters. We who mentioned here about adopting a pup or dog from a shelter were by no means saying someone doesn't have a right to adopt a particular breed from a breeder but rather please consider a more needy homeless innocent first.

February 3, 2013
0

found this helpful
I have a Female that was born 12-1-12. Her mom is a light cream Pomeranian and her Dad is a really small Mini-Dachshund. She is a fuzzy, black mismark. (Mismark is the white stripe on the chest). I took her today for her parvo, corona, Bordatella and first deworming.
She is up for adoption. She is super sweet and super smart. She prefers to stay really close and she's more snuggly and lovable, not so much the aggressive, playful type. She's really calm. Her Mom & Dad are that way too. I am not a breeder. Her parents are now my personal babies and a portion of her adoption fee will go towards her Father's neuter fees. So, no, there won't be any more like her :) I am not able to post pics on this site from my phone. I will be happy to send a pic to your phone or e-mail a pic to you.

August 13, 2018
0

found this helpful
I am searching for a dameranian puppy.