Salt of the Land
When it comes to one product with the most household uses, vinegar makes a nice showing but table salt comes out on top. From cooking to cleaning, there's a large list of uses for the cheaply priced mineral. It's no wonder wars broke out because of it.
Cleaning
Salt is a versatile and frugal cleaning product. Compared to high priced, abrasive cleaners, salt is easily the better option for removing stains and odors from the house.
If yellowing is a problem with enamel fixtures and coatings, use a salt and turpentine mixture to scrub the surface. It won't damage the enamel the way other cleaners will, and it will remove the yellowing easily. Salt also works as a scrubbing agent for hard water deposits on enamel and sinks. For these applications, it's best to use non-iodized salt and to rinse completely.
If white is the color to erase, salt can do that, too. Before you set out to sand and refinish a wooden table that has white heat marks from hot dishes or mugs, mix salt and salad oil to create a thin paste. Spread the paste on the mark, rub, and wipe away the salt mixture and the white ring.
Add salt to vinegar to form a paste, and you have a copper and brass cleaner that removes tarnish without the harsh chemical smells and dangers of normal cleaners (not to mention their overwhelming prices). Plain non-iodized salt also works as a silver polish.
As a natural grease buster, mix a heavy salt water solution to pour down kitchen drains. It removes grease and smells. Use the same solution to clean any greasy surface.
Laundering heavy fabrics in slightly salty water will bring out their colors, making them appear brighter. This works great for sun-washed curtains. If linens have acquired a yellow look, add a few pinches of salt and baking soda to a pot of boiling water. Then, boil the linen in the water for an hour, and the yellow will have disappeared.
After purchasing new taper candles, soak them in a salt water solution overnight. When they're dry and lit they won't drip and ruin your tablecloth.
To remove the closed up smell associated with thermoses and other sealed containers, add salt to it before sealing it. Just remember to dump it out before filling, or you'll have salty coffee in the morning.
Healthcare
Salt water makes an excellent mouthwash. It disinfects and deodorizes naturally. When a sore throat approaches, gargle with a salt water solution to prevent it from progressing and to soothe the irritation.
This is a garden use, but long-term it's a healthcare tip. Instead of spending $5 or more on a bottle of poison ivy spray, kill the plants with a hearty spritz of salt. Mix 3 pounds of salt per gallon of soapy water and spray it onto the poison's leaves. Your yard will be rid of the poisonous pest in no time.
Cooking
The wives' tale about salt water boiling faster is false. However, salt water does boil at a higher temperature, shortening boiling times for foods. It also adds an extra kick to water vaporizers, pushing more vapor into your air. (It does seem to shorten the life of the vaporizer, however.)
If you're boiling eggs, add a pinch of salt to the water. The salt will make the shell not only come off in larger pieces but it will slide off the egg without tearing the whites and destroying the overall look of the egg.
Salt water eliminates oxidation (browning) of apple and potatoes. Why stock up on expensive lemon juice when a pinch of your table salt and water will do the same thing?
Salt is an excellent option to use to put out a grease fire. Dump handfuls of it onto the flames. Never use water on a grease fire.
Immediately after making a salad for dinner or lunch, add some salt to the lettuce. Immediate light salting goes unnoticed to the tongue but keeps the salad greens from wilting, producing a fresh, crisp salad all day.
Wrap expensive hard cheeses in a salted cloth to prevent molding.
To remove the smell of burned food from ovens and stove burners, heat the elements and then sprinkle a mixture of salt and cinnamon onto them. Let the elements cool, and scrape or wipe the dried salt/cinnamon. The burned smell will be banished.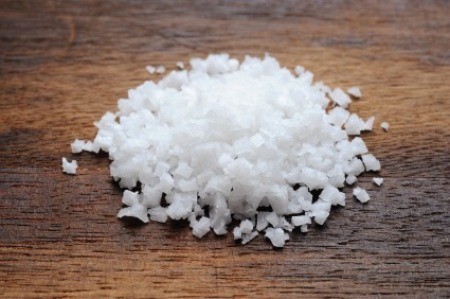 Add your voice! Click below to comment. ThriftyFun is powered by your wisdom!
Add your voice! Click below to comment. ThriftyFun is powered by your wisdom!
Advertisement
Published by ThriftyFun.
© 1997-2020 by Cumuli, Inc. All Rights Reserved.
https://www.thriftyfun.com/tf11690322.tip.html