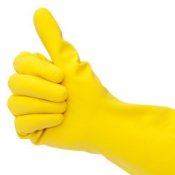 After reading about the shrunken wool for refill pads for the Swiffer Wet Jet Mop, I thought I'd share how I economize for the Clorox Ready Mop. For pad replacements, I use old cloth diapers (I couldn't bring myself to get rid of the diapers after my kids were potty-trained).
Just fold them to fit and poke them into the gripper tops of the mop base. When dirty, just toss in the washer. For refilling the cleaner, fill part way with Windex (or the great econo-mix recently posted with water, Windex, ammonia, and vinegar!) and top off with water. For wood floors, I have a second bottle, that I fill with vinegar and water.
By Tina
Comments
By Terry (Guest Post)
May 7, 2004
0

found this helpful
I have done this with those crocheted dish rags my mom in law made for me they have just enough texture to them for scrubbing the scuff marks up. I get the heavy duty floor cleaner from the SmartNFinal and water it down a bit to stretch it.

May 8, 2004
0

found this helpful
Some other ideas I have seen on older posts was to use old baby onesies and snap right over the mop head. Toss in washer when done.
Crochet a rag that is the same size as the mop pads and you can wash and reuse those as well.
I buy inexpensive window cleaner because my kids love to do the mopping, but use a little too much to turn around and buy those mop refill bottles. They just spray the area they are mopping and wipe down.
I also look at Walmart and Fred Meyer for their clearance racks for opened packages of those mop pads. I don't ever care what brand I get. If it doesn't fit my mop I still use it.
By mary (Guest Post)
May 23, 2004
0

found this helpful
I buy 6 pads of scrubby dishcloths at Walmart for less than 3.00. One side is terry cloth the other side a light nylon mesh. It is the perfect size and not to bulky to poke in the attachment holes. If you put the nylon mesh facing the floor it makes the mop easily glide over the floors when you are mopping, easily removes any sticky gunk and won't scracth the surface of the floor.
I have tried flannel but when it gets wet it is hard to push the mop and I had to keep sticking it back in the holes because it kept getting pulled out.
By (Guest Post)
August 4, 2004
0

found this helpful
I use the blue shop towels. They can be found at walmart and come on a roll like paper towels but they are much thicker and sturdier. Each towel usually lasts a day or 2, at least. I use a big a dark green pot scrubber pad for scuff marks and the "clean mop" for getting greasy floors clean after cooking. I just plop the scrubber on top of the scuff and use mop to scrub. One scrubber last for months The windex mixture works well. No rinsing.
* Hint: keep these shop towels hidden from your hubby. They love to use these.
Read More

Comments