May 9, 2009
0

found this helpful
I don't think you really need a pattern. I've made many scarves for Maggie: Xmas, Valentine's, St. Pat's, Easter, etc. And just made an orange one for her as the ASPCA requested last month. I just cut a triangle of fabric that seems the right size and usually another piece to line it, sew together and turn. Usually put a little piece of velcro to fasten it. Good luck! Jean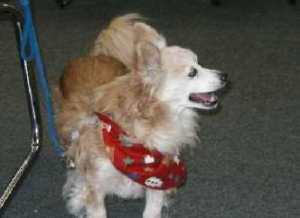 May 9, 2009
0

found this helpful
Thank you Jean! Maggie is adorable! I'm thinking of making them for friends, who have dogs, as a gift. Some have big old beautiful labs and others have dogs like Maggie, very cute and very little. Maybe I worded my post wrong as what I am actually looking for is the length the scarf should be for many different size dogs. Maybe if I knew what the largest size length should be it would fit any dog down to a medium. If I knew what the average size medium length should be it would fit any dog down to a size small. Then maybe an extra small size too. It's the bigger dogs that I don't have a clue on how big their neck may be. Some friends live out of state or I would go measure them, Again, Thanx Jean! Your efforts are gratefully appreciated.
My daughter, who lives out of state from me, has a big lab, maybe I should get her to measure "Ripley's" neck for me as he is one of the "Lucky Dogs" who is getting a set of scarves. Where do you measure on the neck or doesn't it make any difference. I think I'm starting to catch on, as long as it's not too small for the dog, it can't be too big, right? Boy, it's surely a fact, this getting old isn't for sissies! Yikes! It's just a simple little dog scarf, right. I want them to be nice and fit well but some of that will come as I get use to making them. I was thinking of sending each dog a scarf for each season, like you were saying Maggie has.

May 10, 2009
0

found this helpful
To get an idea for sizes, you could visit you local pet store and measure or at least eyeball the bandanas for sale.