July 8, 2013
1

found this helpful
Best Answer
Yes you can find all these similar FLAVORED LIP GLOSS in Vintage slider tins from TINte Cosmetics www.tintecosmetics.com They have Root Beer, Cream soda, Bubble Gum, Dr Pepper and a few others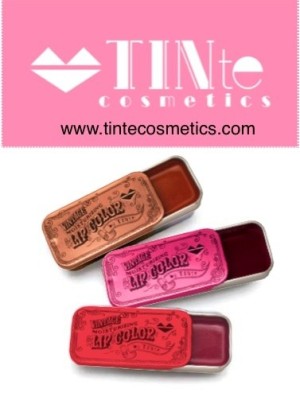 September 10, 2006
0

found this helpful
I think you might be talking about "Lip Lickers" Lip Balm which was made by Village Bath Products. It came in a little gold tin. My favorite flavor was strawberry. I think Village Bath has gone out of business, but someone has it for sale on Ebay.
The Ebay listing says it is brand new, never used. Buy-It-Now price: $32.95. Amazing! Wish I hadn't pratically devoured every tin I had when I was little! Hope this helps.
I found another one. The picture I uploaded is from a Want-It-Now post on Ebay which can be found here:
http://cgi.ebay.com/Vintage-Village-bath-lip-balm-tin-lemon...
June 14, 2016
0

found this helpful
By KATHYELAINE (Guest Post)
September 11, 2006
0

found this helpful
I don't know where you buy that kind, but I make my own.
Melt 1 part beeswax with 5 parts grapeseed oil...you have a lip balm just like Burt's Beeswax, but at a fraction of the cost. It's great for gifts also.
Save old makeup jars and containers and use them for the salve. You can add peppermint essential oil or wintergreen essential oil for a great fragrance. If you want it colored, use food coloring. Everything is safe for children and adults.
September 15, 2006
0

found this helpful
I remember this brand of lip gloss. I loved it too, when I was younger. Although, I don't remember all the flavors, but I do remember raspberry & chocolate mint, I think. I remembered what the tin looked like before seeing the photo above. Great product it was! I'd not thought of it, in many years.
By IndiCAt (Guest Post)
November 1, 2007
0

found this helpful
You cannot buy them anymore, but I can tell you what it was. It was Village Lip Lickers, made by a defunct company called Village Bath. Flavors like Vanilla icecream, green apple, bubblegum, spearmint...
The list goes on. Sometimes a tin or 2 appears on ebay, but they are quite expensive for an old unwearable lip gloss... but fun to look at.
November 2, 2007
0

found this helpful
I remember having those when I was growing up. The lid would slide off and they would fit nicely in a purse or pocket.
One of the best lip balms that I have ever used comes in a tin too, but a round one. It is Badger Lip Balm. I've seen it in health food stores or you can get it online. Great stuff!
Jess
By Gina (Guest Post)
January 28, 2008
0

found this helpful
Try out VintageSister.com! They have quite the selection.
By Carrie (Guest Post)
June 8, 2008
0

found this helpful
Check ebay. Search Vintage Village Lip Lickers. It's awesome!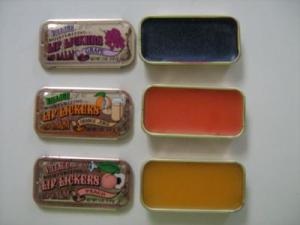 By (Guest Post)
June 15, 2008
0

found this helpful
You can get them on ebay right now! It's nuts. Search vintage lip lickers.
September 8, 2018
0

found this helpful
Hi its Gina Marie the village lip balm was my favorite. I had a lot of different flavors.
September 9, 2018
0

found this helpful
Pioneer woman has them in her store.