August 17, 2007
0

found this helpful
I had ferrets for twelve years. Two were rescues who came to me with fleas. They do make a flea shampoo just for ferrets which I highly recommend. Ferrets tend to be itchy even without fleas, so it must be awful for them with fleas. But you must be sure you are not harboring fleas elsewhere in the house or they will just get them again.
November 11, 2007
0

found this helpful
Actually, any type of soap will kill the adult fleas. I have a cat with VERY sensitive skin, and I have found that I can use regular shampoo (for people) on him.
I usually use Suave and then use conditioner on him, too. You just have to make VERY sure that you get ALL the shampoo off their skin.
June 20, 2009
0

found this helpful
I buy Frontline Spray in a bottle from 1 800 pet meds. I buy a bottle for 24 dollars and it lasts a couple of months or more over the summer for all my animals spraying them one time per month. I don't use the spot treatments. The spray is safe for Ferrets once a month for flea control.
You can put salt under sheets on the bed and under carpets and against walls, under the ferret cage, etc. I sometimes leave it for days before I vacuum it up. It kills fleas. Vacuum all the time and put a flea collar into your bag if your vacuum uses a bag. Spray your garbage with flea spray if you empty the vacuum dust with fleas into it!
September 5, 2009
0

found this helpful
I use regular shampoo and cream rinse on my ferrets and have never had a problem with fleas. Lynn is right about the ferret flea shampoo it works. But ferrets, depending on how often you bath them can get itchy dry skin which is why I always use a cream rinse.
Make sure you rinse very well since most ferrets have think fur and undercoat soap can stay on and cause itchiness.
January 10, 2010
0

found this helpful
I actually get advantage i believe, its a very small gray tube of flea treatment for small kittens and put a small tube on the back of each ones upper neck. I get mine from the humane society.They squirm for a bit because its cold but it works, I've been doing it for years when I do all my animals I do them all at once. Also when your ferrets are get very dry skin and coarse hair when they do not get a skin and coat supplement which works from the inside out. It is an oily basscratching it doesn't always mean fleas.
The liquid that you put in their fresh water and they like the taste, after about a week you will see the scratching stopping and their coat gets really soft.
All ferrets must have this. There is ferro-tone and furo-tone, sold at pet stop, pet smarts and ebay, sometimes ebay is cheaper even with postage.
Call pet stop or pet smart ask what the price is for a 8 fluid ounce bottle and get the price for the larger one too while your talking and asking and compare to ebays prices. I am sending a picture. Get your ferrets some now , you'll see a real difference and they will feel so much better. Can you imagine itching and you couldn't do anything about it?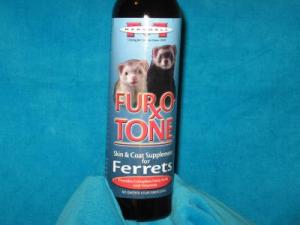 April 22, 2010
0

found this helpful
Beth, ferrets are scratchers normally. If they do scratch more than usual, check for fleas. If here are hair patches gone, get your ferret to a vet asap to check for adrenal problems. This is a life taking disease that can be taken care of.
Deby, also use ferretone liquid. Ferrets love this and it works from the inside out. It's better to give them it orally instead of in their food, as the food gets wet and clumps and eventually goes bad.
January 1, 2014
0

found this helpful
There is a product at tractor supply that is safe to put on flowers, dogs, cats roosters chickens etc. and is very safe powder. I just put a little of my hand and put it on her back about once a month and kind of rub it in softly. My ferret Tinker is white so I can see every single flea on her. ;)
The cylinder of powder has pictures of animals on it with chickens, cats, dogs and vegetables.
January 28, 2018
0

found this helpful
I am adding apple cider vinegar in my ferrets drinking water, apple cider killed fleas. I have no idea about salt treatment but i am using hygienic shampoo and soap for bathing my pet. I am using home remedies for cleaning cage and my pet.