We found a pattern for a picnic table constructed from 1 piece of 3/4 inch plywood. It will seat 4-6 people and is small enough to fit in the back of a SUV. It is constructed with removable screws and is disassembled for storage.
I painted the table green and "stenciled" leaves onto the top, benches and sides. I collected different sizes of leaves (fern, oak, sweet gum, etc.). The leaves were laid on the surface and spray paint was applied; the leaves were gently removed; we used a brown tone paint and a hunter green. A large fern leaf was "stenciled" on the top of the table in the middle with English ivy leaves "stenciled on the corners of the table
We made another table a few years ago and it is very handy for camping, picnics or other functions. I will post a picture of that at a later date.
We are going on a camping vacation at the end of the week (6/23) and will have two camping picnic tables to use plus a metal camp table. Instructions for Table - PDF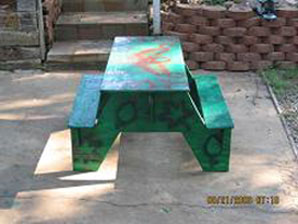 By WandaJo from Collierville, TN