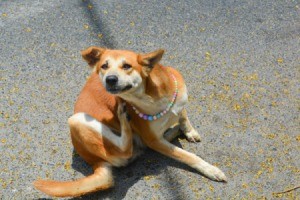 My Rottie has been scratching, biting, and licking himself to the point of driving me crazy. Could it be dry skin? How can I help him with his skin problem?
By Lora from Rio Vista, CA
Answers

March 23, 2011
0

found this helpful
Best Answer
Try giving him a oatmeal bath. Dogs can also take Benadryl. You may need to have a skin scrape done by the vet to make sure it's nothing serious.
Editor's Note: Benadryl is commonly prescribed for dogs but you should always consult your veterinarian first.

March 23, 2011
0

found this helpful
Best Answer
My dogs cannot eat any food with corn or corn meal in it. It causes the same reaction. Take the dog to see the vet, and if it is just a general skin condition, try changing their diet. I feed my dogs lamb and rice food, and even buy lamb and rice dog biscuits for a treat, after I read labels and saw some dog cookies also have corn as a filler.
Changing their diet resulted in no more itching!

March 23, 2011
1

found this helpful
Best Answer
Your dog may be allergic to fleas. I got a dog from a rescue in November and they promised me she had been treated. However, when I took her to the vet, I found that she did have fleas, and she has a terrible allergy to them. It took two weeks for the itching to clear up and here is what I did:
1. Benadryl (get the amount from your doctor as it's based on weight) at night.
2. Fish oil twice a day (the kind for people, I cut the pill and squeeze it out onto her food)
After 2 weeks she stopped scratching so much. She still scratches, but no where near what it was. I no longer give her Benadryl and I have continued the fish oil. She's much better.
Good luck!
Answer

this Question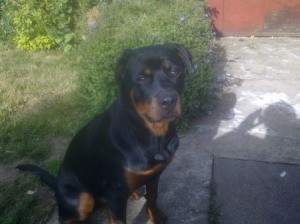 My Rottweiler started scratching and biting herself a few months back, we started off feeding her Bakers when she was young, but it seemed to be a little bit too rich for her stomach. Then we have been feeding her Breeders Pack which seemed to settle her stomach. Now she's 2.
I took her to our vet for an examination and advice regarding the scratching and the vet seems to think it's an allergy with her food as she doesn't have any signs of having fleas. We are now feeding her Hills Canine Z/D, but it doesn't seem to be working. Has anyone got any advice as she is living with a buster collar on all the time as she makes herself bleed.
Answers

xintexas
Silver Feedback Medal for All Time! 278 Feedbacks
April 26, 2013
0

found this helpful
Best Answer
My ROTTI who had some allergies did well on a rice and lamb diet. Most dog food manufacturers make lamb and rice. Any diet that the dog goes on will take several weeks to start working. So be patient when starting on a new diet.
Answer

this Question
My son's dog has scratched the side of his face raw. Now it is scabby and the left ear seems inflamed. This happened after going to the groomer's and the groomer sprayed him with a scented spray. He is a 5 year old Golden.
By Colleen
Answers

August 21, 2012
0

found this helpful
Best Answer
If this is the first time this ever happened, obviously the poor dog is alergic to the scented spray. If this is the first time you have used this groomer I would be sure to mention it to him/her and be sure they never spray him again.
Answer

this Question