Hello- this is 'Shelly Girl'. She was my friend's dog who sadly passed away very recently.
This is what Bea, my friend from Texas- wrote about Shelly: 'She was the very first thing that I had that was mine alone, when I was sick, 3 1/2 years ago, she was right there by my side, literally. Ray, my husband, couldn't get her outside to go potty, he had to pick her up and make her go and she went right back to my door and waited for him to open it. I rescued her from the Humane Society for Animals and you should have seen her.
She was a Cairn Terrier about 6 month's old and she was shaking like a leaf. I saw her and our eyes locked and I just knew I wasn't leaving there without her. The minute they put her in my arm's she stopped shaking and started licked me.
Anyway, there are so many things I could tell you about her, but the most remarkable thing that comes to mind is one night Ray was laying on the couch and his blood sugar dropped too low and he couldn't get to me, he was too weak. Shelly came to my bedroom door and barked and barked until I got up to check and she ran to the living room and over to the couch and that's when I found Ray, almost unconscious. She saved his life.
She never got to have puppies of her own, but Ray had a female cat that had kittens and she would herd them like sheep in the backyard to make sure they didn't get too far away. Poppy (the mother cat) just layed in the sunshine and let Shelly take care of them.
She was a wonderful pet and I miss her so very much. Thank you for listening."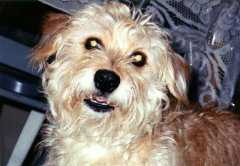 By Monique and Bea