August 4, 2009
0

found this helpful
Wow! He's really cute. That's fascinating (and wonderful for you) that they so badly failed on guessing his life span.
I guess he just needed the right home!

August 4, 2009
0

found this helpful
Cute little guy!

Pat Giles
Gold Feedback Medal for All Time! 791 Feedbacks
August 5, 2009
0

found this helpful
What a wonderful story! You have really been good for Podna, and I'm sure he has been good for you, too. I rescued a 12 and 1/2 year old dachshund/beagle female whose mistress had died, thinking that she might live another year - well, she'll be 15 in October and is still going strong.
Somebody forgot to tell her that she's old! Ha! God bless you and Podna - may you have many more good years together.

August 5, 2009
0

found this helpful
Your dog is beautiful! I too, have a Pom. His name is Ruben, and he is 15 years old! He has tumors in his hips, and bad knee, and a heart murmur too. Up until a week or so ago, he was running like crazy. Now, he's having a hard time. He can't see hardly at all. He can't hear very good, either. He's been my best friend for 15 years. He got me through my divorce! And now, I'm remarried and have another dog, Gigi, and she loves him too. Although he isn't crazy about her! LOL
I hope your Pom has a long life like mine has. They are great dogs. I'm struggling with the decision to put him down. Especially now that he isn't running much. It's killing me, but I can't be selfish and allow him to suffer. I just discovered last night he has worms now. I know I need to make a decision soon. I know this sounds harsh, but I wish he'd pass on his own, so I don't have to decide when his life should end. He's been so wonderful all these years.
Since my kids were little, now they are 19 and 18. Here is a pic of him when he was in better health. By the way-Poms tend to have bad teeth, and Ruben was no exception. He has four left, all on the bottom. He can eat dry food, though! This is Ruben after swimming in the lake a few years ago.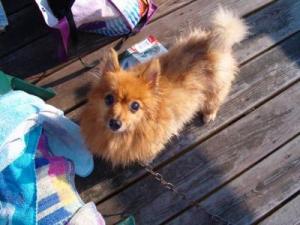 August 7, 2009
0

found this helpful
I am so happy you took the little Pom and have given him such a happy life. I too have recently acquired a Pom for the first time in my life. I love him like my own child and am so concerned that I might do something wrong.
Have purchased several books, always search the net for tips, my biggest problem is we have no VET nearby and he has to travel nearly 400 km. Best of luck. How about some tips on what you have been feeding your baby.

September 12, 2009
0

found this helpful
Podna is a pretty boy! Wonderful story. Thank you for sharing.

March 21, 2011
0

found this helpful
OMG! what a cutie pie! I love this story. I have an 8 year old golden retriever and he is a wonderful friend.