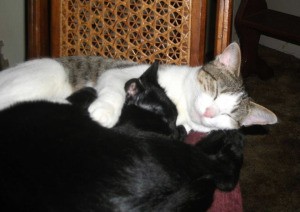 Did I read somewhere that rosemary oil mixed with lemon juice was a good flea deterrent? If so, what are the amounts of the two to mix together? Has anyone else heard anything about this herbal treatment? Please help if you can. Ever since I put Hartz Ultraguard on them they seem worse and haven't stopped scratching or licking. They do it constantly.
The black kitten I took in because she was either in a fight or a car had hit her. One of her eyes is out and her ear torn up, but the vet said that she was going to be fine. My other cat took her in and has really accepted and loved her.
Anyway, these fleas are driving them and me, crazy. I'm also treating my carpet with borax, salt, and daily vacuuming.
By candybones from Stuttgart, AR
Answers
June 4, 2011
0

found this helpful
Please do yourself and your fur-babies a favor and either get it locally or online food - grade only Diatomaceous Earth, and dust them down really good with it after bathing them in the original Dawn dishwashing liquid. It's the blue one. There is nothing better, I don't care who sells or promotes it. You can also sprinkle a little on their food all the time and they'll never ever have the intestinal parasites that sicken and kill so many pets.
I am very afraid of any of those flea and tic meds that are put on the animals necks, and flea collars have their own dangers especially for cats. You would understand this if you'd ever seen a dog or cat hung by the neck. It's something you don't ever forget.
Make sure you specify food grade though. Very important. All vets should be making it available, but I guess it just doesn't cost enough to make it worth their while to do so. The other stuff they're selling makes more money for them. What a shame, and shame on them.
Good Luck with your kitties.
Pookarina
June 4, 2011
0

found this helpful
Thank you PookaRina for your helpful advice. I am going to try that D-earth dust as soon as I can find it. I wish WalMart would have it because I live in a small town that some common items are hard to find. I will try the Dawn also, however, giving these cats a full bath is quite a chore and sometimes dangerous when they fight and claw you. I will let you know how this all works out and appreciate you taking the time to answer my question.
Candybones
June 5, 2011
0

found this helpful
The Diatomaceous Earth works wonders. Cats instantly love the feel of the soft, soothing D earth on their bodies. Just use a little at a time, keeping dust away from cats eyes by "cupping" one hand over the eye area. Mixing D earth into food is simple as well. I failed with the expensive de-wormer products. Cats will eat around the medication, but not so with the diatomaceous earth. A pet owner can also use a salt shaker to sprinkle D earth onto the pets bed. Nice.
June 5, 2011
0

found this helpful
It's probably the worst smelling idea but it actually works almost instantly. We were infested with fleas one hot dry summer. Our poor animals, no matter what we did were just swarmed with them. Our vet actually told us to spray them down with vinegar. Also, since they were house pets, we sprayed the carpets, curtains, anything we could with vinegar The smell goes away in a couple of days but it does work.
Hope this helps.
Answer

this Question

...
Does anyone know of an herb that works to keep fleas off dogs and cats? I have 9 cats and 9 dogs and live in the south.

By gbk from Folkston, GA
Answers
Buy a big cheap bottle of dish soap lather them up and leave on a couple of min then rinse off repeat everyday until you don't see them anymore. It's a lot of work but it's a cheap way to get rid of the fleas and it works quickly, you will see a major difference.
Following the steps detailed here should remedy any current flea problems and prevent future infestations
Instructions
Things you'll need:
Tea tree oil
Essential oils
1 pt. of distilled water
2 tsp. of rubbing alcohol
Small spray bottle
Table salt
Sprigs of rosemary and eucalyptus
Garlic cloves
1
Add a couple drops of tea tree oil to any animal-friendly shampoo and bathe your pet. Allow the lather to stay on the animal for at least 5 minutes before rinsing off. Start at the neck first, making a shampoo barrier so that fleas cannot travel onto the animal's head. Rinse this thoroughly with fresh water and towel dry.
2
Make an aromatic spray by adding 4 to 5 drops of essential oil to a pint of distilled water, along with 2 tsp. of rubbing alcohol. The essential oils to choose from include lavender, rosemary, peppermint, rose, clary sage, marjoram and eucalyptus. Shake well and mist your animal's entire coat, being sure to avoid the head area.
3
Wash the animal's bedding in hot, soapy water and place into the dryer on the highest head setting available. After removing the bedding from the dryer, spray it with the aromatic spray made in the above step and allow to air dry.
4
Sprinkle all carpets in the home with table salt and allow to sit for at least 8 hours. Vacuum promptly and empty the vacuum immediately, placing the contents outside of the home.
5
Place eucalyptus or rosemary sprigs around areas where you keep your pet bedding and in any area that you have spotted fleas.
6
Start adding minced raw garlic to your pet's diet. Use about a quarter of a small clove for every 10 lbs. that the animal weighs. For any animal over 40 lbs. you can start with half of a large clove, increasing by a quarter clove for each additional 10-lb. increment. Do not exceed using one large clove per day, no matter how large the animal is.
Use apple cider vinegar for fleas and ticks. Just rub your critters down with it. It also says you can put it in their drinking water. Start with 1 teaspoon and work up to 1 tablespoon. This is per quart of water. Also pennyroyal mint is used as a flea repellent, and is very easy to grow.
May 8, 2011
0

found this helpful
Maybe I should explain I have been using the once a month flea advantage but with 9 dogs and 9 cats it is getting too expensive and we are both retired and on fixed income. My husband had throat cancer last winter (is free now.) Gas is 4.00 a gal. That is why I was seeking a flea remedy. I like the ideas so far but bathing that many dogs each day is not feasible. I have a cast on my ankle right now for 3 more months and can't get it wet or walk on it.
May 9, 2011
0

found this helpful
Fuzzytufts, I can sympathize with your ankle situation. I had foot surgery in Feb and am just coming out of that 3-month period of being laid up. Be patient, it'll get better as long as you don't overdo it.
As far as your dogs and cats in the south, I also live in the south and have 2 dogs and a cat, all 3 small and low to the ground so easy access to the fleas and ticks. Also my yard is surrounded on 3 sides with woods, so you can imagine! I feed all 3 of my pets garlic every day in their food or treats, whichever works. My cat is the most finicky cat I've ever had (won't touch canned food or wet treats) so I buy the bottled minced garlic and put a little bit of the liquid on his food. I had to build it up a drop at a time to fool him into eating it. Took a while but now he's up to 1/2 tsp and doesn't even know it.
The dogs are a bit easier. I just mix a little of the minced garlic (from the same bottle) in with their food. Had to build them up slowly too, but they are each up to 1/2 tsp and think it's a treat mixed in with the food.
This has worked for many years on my pets, but this year the fleas and ticks seem to be much worse than normal. So I went to Wal Mart and got some flea/tick drops and a flea collar for each of them. (For as many as you have, I'd suggest getting enough for 1 or 2 or 3 pets once a month as you can afford it.) Between those and the garlic they are doing great.
Good luck with your houseful!
May 9, 2011
0

found this helpful
Please do an internet search about toxicity and internal diseases that can be caused over time by feeding your pets garlic (or anything in the allium family for that matter) in any form whether fresh, powdered, etc.
There are some really good ideas here other than the daily bathing of so many babies, LOL, and the garlic that has been suggested so give each of the others a try.
May 9, 2011
0

found this helpful
I had a problem a few years ago with fleas. Just fill a bathtub with soapy shampoo then dunk them in. Give them a good scrubbing and rinsing. Most fleas will hop off and drown in the soapy water. Then give them a thorough combing using a Lice comb because the teeth are closer and catch the fleas better than a flea comb. Then use Tea tree oil for the dogs, unfortunately tea tree oil is not recommended to be used on cats, so for that you're going to have to spray or dust them.
May 11, 2011
0

found this helpful
Years ago we fed our cats & dogs brewers yeast tablets to help combat fleas. After a a week or so on brewers yeast, the animals' blood tastes terrible to the fleas & they look elsewhere. Not all the pets liked the tablets, so they had to be crushed into the food, but I had one cat that liked the tablets so much, she would pick it off her food & eat it first! It's worth a try. Brewers yeast is available in tablets or powder at health food stores.
You will also have to take measures to eliminate the fleas from the house (rugs, crevices, etc.). There are some plug-in traps that help with this, that are not terribly expensive. I've seen them in mail order catalogs, like Whatever Works (www.whateverworks.com). Good luck!
Answer

this Question

...