These squiggly little sandwiches are almost too cute to eat, but budding entomologists gobble them up with enthusiasm! They look great on small rectangular plates and kids just love them. This is a great recipe for kids of all ages to help prepare. They take about 20 minutes to assemble and minutes to devour.
1 medium carrot or green pepper or yellow sweet pepper
6 spinach tortillas (7-8 inches)
3/4 cup peanut butter or cream cheese
1/3 cup grape jelly or strawberry jelly
6 cherry tomatoes
cheddar cheese, cut into matchstick pieces
Use a vegetable peeler to peel carrots, Use a sharp knife to cut carrot crosswise into fourths. Cut 1-inch matchstick pieces of carrot or pepper (you should have 48 sticks).
Use a table knife to spread each tortilla with 2 tablespoons of the peanut butter or cream cheese and about 1 tablespoon of the jelly. Roll up tortillas to form spirals; press lightly to seal. Put the rolled tortillas on a cutting board. Cut each tortilla crosswise into five pieces.
On each of the six plates, arrange five tortillas pieces side to side, in a wavy line, with cut side down to resemble a caterpillar. To make a caterpillar head put a tomato at the end and insert pieces of cheddar cheese in tomato for antennae. To make legs, arrange four carrot sticks on each side of caterpillar.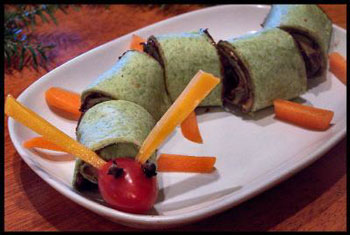 By Cheryl Lore from Asheville, NC