May 15, 2008
0

found this helpful
First of all, please don't let your cat out at night. There is soooo much danger for them. Also, a collar could get caught on a twig or fence and the cat can hang themselves. This happened to our neighbor's 12yr. old cat. I pleaded with her not to let him out and not to wear a collar, but she said he likes to go out. Her and her husband found him two days later dead. He had jumped over a small fence and got caught and died a horrible death. All the indoor kitties would love to be out, but for their protection from harm they are safer indoors.
May 15, 2008
0

found this helpful
Or better yet, save tons of money and heartache (vet bills) and don't let the cat out!
May 15, 2008
0

found this helpful
Thanks so much for that great idea. This would also be great for my Jack Russell who evey now and then will accidently get out. We have 5 acres for her to run but unfortunatly she's a runner and goes way beyond her boundries. She's not very good at coming when called and if she gets out the chase is on.
Nighttime is the worst to try to find her as our neighborhood is pretty woody. Our flashlights would pick up the reflective collar and make it much easy to follow her. Where can you buy the collar? I've never seen one. Thanks again for that tip. Pictured is my little escape artist Lulu.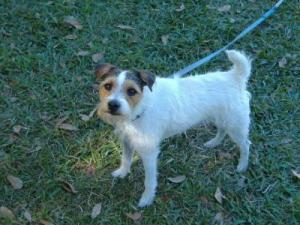 By Carol in PA (Guest Post)
May 16, 2008
0

found this helpful
This is also a good idea for children and older folks. Well, I guess its good for us all. We try to make sure our grandchild has a reflective stripe on his jacket. Also, we like to choose colors like bright yellow for his jacket and/or hats. Of course, we watch him, but he is faster than the eye can see. rofl...
I agree with the others that the best way to keep your cat safe is to keep it indoors at night. I have an indoor only cat and she is living to be quite old. She is now 14, but I have known them to get to be almost 20. I used to let my cats outdoors, but they would come home after fights, etc. Night is when wild animals prowl for food. I'm not only going to mention the most dangerous animal of all.. humans.
Thanks again for your suggestion.
By SunshineRose (Guest Post)
May 16, 2008
0

found this helpful
They make breakaway collars for pets. If it gets hooked on something and the cat is struggling it will either stretch or break. My cat found this to be a game and took it off as fast as I put it on him. He was only out once or twice but that was too much for me.
February 15, 2011
0

found this helpful
A reflective collar isn't going to do your cat any good at all when it darts out in the road in front of an oncoming car that can't stop in time!
Our cats have ALWAYS been indoor cats,since I was just a little girl, I applied that rule when I moved out on my own. The only exception was years ago when a neutered adult male tabby showed up at our house & wouldn't leave. He wormed his way into our hearts & my daughter's bed. He had the sweetest most loving personality ,with one major flaw -sometimes he would refuse to stay in & would create an unbelievable racket if we didn't let him out, sometimes he'd stay out all night. I hated it & worried about him, but he always came home.
We had him 4 years, then one morning when he hadn't come home, I walked my 2 young children outside to go to the bus stop & we found him laying in the street at the end of the driveway where he'd darted in front of a car & had his head smashed like a pumpkin all over the road!!! I'm sorry to be so graphic, but maybe it will help you understand how horrified we all were, and how traumatized my kids were, to witness this scene. We couldn't get the blood out of the pavement & it remained there for months as a grisly reminder that I should never have broken my rule & let our beautiful "Ki-Kat" out no matter how much he screamed!