January 17, 2012
0

found this helpful
I own a 'green' cleaning company and have found that the absolute best thing for removing any type of urine or poo odor and stain is Dr Bronner's Castille Soap. I prefer the liquid over the bar and it really doesn't take much.
If it's on a carpet:
Blot up what you can, then spray a strong mixture of the soap and water (about 2 tablespoons to a regular size squirt bottle of water) onto the spot, cover with some clean, white cotton rags (old T-shirts without lycra are the best) and leave sit for at least 1 hour. Blot up as much as possible again, then rinse lightly with hydrogen peroxide in a spray bottle (works great for mirrors and windows too).
Blot again and then leave to dry. once dry, vaccuum to bring the carpet pile back up.
If it's on a hard surface, just wash with the soap/water mix and wipe dry.
This soap comes in several scents (Lavender also repels fleas) and is extremely mild. you can even use it to bathe the pets and yourself. The reason it works so well is that as a soap and not a detergent, it disolves the dirt. I've even gotten black shoe polish out of a white shag carpet with this and red lipstick out of white shorts. So far there is nothing that I've found that it doesn't clean safely.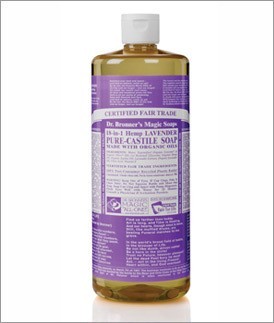 January 19, 2012
0

found this helpful
I mix 1/4 cup of baking soda, 16 oz. of hydrogen peroxide and a couple drops of a mild dishwashing soap. (I found this on the internet. It is called The Recipe.) After blotting up the excess urine, I saturate the urine spot with the recipe. If the spot is bigger or if one application doesn't work, I mix up more and apply.
Then I let this dry and vacuum it up. This mixture, due to the hydrogen peroxide, lifts the urine odor out of the carpet or fabric so that the cat will not mark this area again.
Humans might not smell Cat Urine, but cats can smell it. If the fabric and or carpet is thick, the thickness will cause the urine spot to spread out. It, then, might need more applications or a wider application area.