Homemade Cleaner for Pet Urine Odors
Tips
Share a TipCheck out these tips or, if you have something to add to this guide, click to share your own tip!
February 28, 2001
4

found this helpful
Use vinegar and water to clean animal urine accidents from carpet. It will smell of vinegar only temporarily, but neutralize the pH level and discourage animals from having an accident there again.

Heather
Comments
August 22, 2006
0

found this helpful
Top Comment
The thicker your cushions are, the longer it will take them to dry. Are you able to let them sit outdoors? What I do is set them out on a chaise lounge and let them dry by solar power; keep an eye on it turning the cushion every 20-30 min; if i'm concerned the sun will bleach out its color, then I place a light cloth atop the cushion/pillow to shield it. The sun will also sanitize it.
If you can't dry them outdoors, use a clothes dryer on it's lowest setting for longer than you'd normally dry things; only time and experience will teach you how long to keep them in there. Start w/ 10 min. then check on it in intervals until its dry.
Years ago, my ferrel cat peed on the sofa (he must have thought he was hiding it, ha ha). Onto the sofa mattress was poured a whole bottle of pet odor erasure b/c it was a big 'n deep deposit. Without solar power it took weeks for it to dry... in the mean time we sat on other things. THEN, a plastic mattress-like cover was placed over the couch then a washable cover was placed atop this so any future 'spills' would create less damage :o)
By Brigid (Guest Post)
December 13, 2007
0

found this helpful
Top Comment
My daughters cat urinated on her marble fireplace slab. She poured hydrogen peroxide on the damaged areas.Let liguid seep into marble until areas are like it was never damaged.
It worked for us, Give it a try. Good Luck.
August 23, 2011
1

found this helpful
Top Comment
Use caution and make sure you try a test area first. We ruined light gray carpet by using too much vinegar to water - ended up with a big pink spot in the middle of the floor. Other areas we'd done with less vinegar in the water were fine.
August 25, 2011
0

found this helpful
Top Comment
Get a good Rug Doctor for carpets to lift dog or cat urine out. Urinating on clothing, rugs, blankets: rinse the urine off, then wash on hot cycle and use a little fabuloso or other. Smell the piece or pieces after washing and drying. If you can still smell the urine, wash it again till gone.
Cat spraying. This means you have too many cats & they're marking. It is hard to stop this. Cover everything with plastic. Remember some cats are attracted to urinating on plastic bags and other types.
Males hiking leg in house. Catch them in the act and get them outside. Cover where he's urinating with plastic to protect fabrics.
This cleaner is cheap and works wonders. The recipe was given to me by my daughter years ago.
one cup peroxide
2 Tbsp ammonia
1 spray bottle
I mix this up in larger amounts. I usually use at least 3 cups of peroxide and 6 Tbsp of ammonia. I have yet to find a carpet stain that it will not remove. Some spots just disappear before your eyes. Others need to be blotted with white paper towels or a white cloth.
If it is a terrible stain, the paper towels may need to be weighted down overnight.
Being the owner of four cats, I keep it mixed up all the time and I would put it up against the most expensive cleaner you can buy commercially. I have also used it on spots on upholstery as well as spots on the walls. It is a multipurpose cleaner for me.
By Dink from Louisville, TN
Articles
Share on ThriftyFun
Check out these articles. Click at right to share your own contribution to this guide.
January 21, 2010
1

found this helpful
I need a simple recipe for removing pet urine odors that I can make myself.
Debbie
Answers:
Peroxide, Baking Soda, and Dish Soap
I have used the following recipe and like it. I have been using this recipe for years now. It works. I have 4 cats and 2 dogs, and when one has an accident I use this and it takes the smell away instantly! No more having to buy expensive odor removers from the store.
1 (8 ounce) bottle hydrogen peroxide
2 teaspoons baking soda
1-2 drops of liquid dish soap
Mix all together gently and pour in a spray bottle. Do not shake up this mix or you may have a lot of foam. I have also used a watering can and this works well also.
Spray onto urine stain and walk away. Allow to dry. No need to rub or scrub the area. For tough odors you may have to repeat. I would also check your fabric/carpet for color fastness before using due to the peroxide content. I have never had any problems with any fabric changing colors from this mix.
By Linda
Vinegar and Water
I soak up as much of the urine as I can. Then I use white vinegar mixed with water (1:1) to wet it down. Then soak it up again. Once in a while I need to soak it up with the vinegar mix twice.
By suzin
Borax
I have had a problem with cat urine on my bed spread. It is washable, but after washing there was a faint lingering smell. I washed it the next time and added 1/2 cup borax (I have a front loading machine). There was no smell this time. I understand borax (borateem) can have a lightening effect like peroxide, but I have never had it do that. I use it all the time now on anything with an odor.
By Lizzyanny
RE: Homemade Cleaner for Pet Urine Odors
An occasional potty mishap on the carpet by the dog who did not get to the back door fast enough; I toss a towel on it to soak up, then I slosh some clear vinegar onto it, run and get about 2 cups warm water, more vinegar to the mix, slop that on and grab the carpet shampooer to suck it all up. My carpet does not smell at all. I do not use deodorizers in my home due to allergies. I also use my carpet shampooer with clean water about once a month to rinse the carpet. You can put some vinegar in the water to rinse if you want a fresh smell.
By Grandma J
Peroxide and Baking Soda
I am a dog breeder and have tried everything! Similar to the above recipe, I use one part peroxide to 9 parts water in a spray bottle. After soaking up as much urine, I spray it with the solution, sprinkle baking soda on top and let it dry. The baking soda soaks up the urine and you vacuum it when dry.
By Aimee Beutel
Questions
Ask a QuestionHere are the questions asked by community members. Read on to see the answers provided by the ThriftyFun community or ask a new question.
What can I use from my kitchen for pet odor clean-up (doggie pee)?
By donna from CA
Answers
September 4, 2011
2

found this helpful
Best Answer
The pee recipe I used was 2 cups of peroxide, 2 teaspoon of baking soda, and 2 drops of dishwashing soap and it worked like a dream! Test on a spot that is hidden, but I used it on urine, coffee and whatever other stains I had on the carpet and poof it was gone. Marvelous cleaner!
Who ever posted that did wonders for my stains. It said not not rub, but let it sit and dry and it will vacuum up. I very softy washed a huge coffee stain and it was gone within minutes. Thanks so much to the person that posted this!
Answer

this Question

...
I am looking for a homemade recipe to get rid of dog odor in my dirt back yard. They all seem to pee in the same area every time.
By toni from Tucson, AZ
Answers
August 7, 2010
0

found this helpful
Best Answer
Ridding of the dog odor simple. Increase the amount of water your dog gets. Should be light yellow and no smell for a healthy dog. Our pup had problems when we got her, then the stinky urine. By making sure she had plenty of water all the time, we have no spots in the yard.
August 7, 2010
1

found this helpful
Best Answer
You could try EMs (Effective Microorganisms). They are supposed to eat the ammonia smell and they are beneficial for plants and animals (and humans). I use a bathroom deodorizer with them and it is amazing. It works in the litterbox to cut down the nasty ammonia odor as well. Do a Google search and you can find lots of information, including how to make a culture once you buy the starter.
Answer

this Question

...
May 19, 2013
0

found this helpful
Is there a cheap homemade recipe to neutralise the urine odour on a largish scale and not indoors?
By Mike from Scotland, UK
Answers
May 27, 2013
2

found this helpful
Best Answer
There is a product I found at Sam's Club called Oda-Ban. Works great. Also sounds like you have cats urinating all over the place. If you put any kind of citrus peelings all around they will not go their. They hate the smell of citrus. A friend of mine uses moth balls all around her house. This also works but I'd rather use orange or lemon peels. Believe me... this works. Hope this helps.
Answer

this Question

...
April 27, 2016
0

found this helpful
This is a guide about cleaning dog urine odors outside. Often when dogs use the same spot or a small yard for their business, odors can become quite strong over time.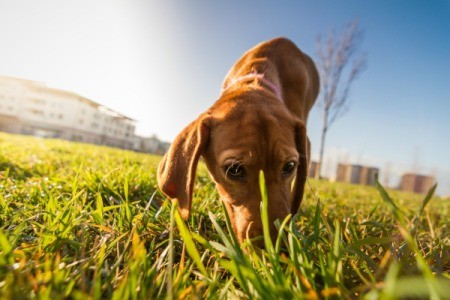 Related Content