November 22, 2010
0

found this helpful
Best Answer
The best thing to do is get pills (which are chewable and yummy to dogs) that have omega 3 oils and brewers yeast. Our dog had itchy problems constantly til we got these. Also, there are a lot of treats out there that have those ingredients as well. You can get the pills at Walmart for less than $5 for like 100 of them. You can even find the treats at the dollar store.
August 30, 2011
0

found this helpful
Best Answer
I've had a similar situation with our Rosie and discovered she was actually allergic to the corn and some of the grains in her dogfood.
She's now on Lamb and Rice for $49.99 a bag for 35 pounds compared to feeding her Pedigree $22.00 for 40 pounds. We have 3 dogs and we had to start feeding it to all of them because the other two thought Rosie was getting something so much better.
For our budget that is very expensive but on the other hand we're not taking her to the Vet and her skin is better. I then noticed every time she came back inside from being out in the yard she was still chewing on herself and started to pay close attention to her every move and actually figured it out.
Rosie has a reaction to Pine Needles and only during the warmer months. During the winter when everything is basically dead in the backyard she's fine.
Per our Vet, she gets 2 Benadryl in the morning and 2 at night. Also when she comes back inside I can actually see hugh red blotches and tiny bite marks and sprinkle Gold Bond Extra Strength Medicated Body Powder".
It's Triple Action Relief, * cooling, * absorbing and * itch relieving.
It greatly soothes all the redness.
I spray our yard but even so as long as we have Pine Needles it's a problem we will always deal with. The border of our entire backyard is nothing but Pine Needles. I rake them up twice a year and my two other dogs have no issues with it.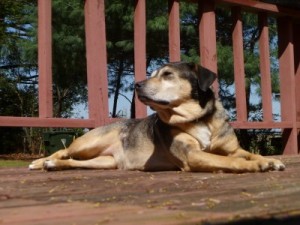 November 21, 2010
0

found this helpful
My English bulldog was treated for every type of skin irritation in the book. She frequently had infections that required medication-sprays, pills, special shampoo-on and on. One fortunate day for Daisy and me, we saw a new vet in the practice.
He suggested we try to approach her skin condition as a food allergy. We changed her food and she has not had any more problems. She eats Iams for sensitive skin and looks wonderful. No more constant itching and scratching. I hope you find your solution. We were just very lucky.
November 22, 2010
0

found this helpful
My chihuahua went through the same skin problem along with yeast in the ears. I changed his dog food to NUTRO I bought at PETCO and after 2 weeks, his skin and ears cleared up. He was allergic to the dog food I was giving him. He is 12 years old and runs around like he's a pup since. I will never feed him cheap dog food again. You're not alone, I've been through all those remedies and vet bills. Give it a try. Good luck!
November 22, 2010
0

found this helpful
I have a chihuahua also and he has one spot on his neck that he scratches a lot. In the pet department of some stores you can find a hydrocortisone spray, also, benadryl spray will stop the itching.
You can add a little oatmeal to his bath, regular not instant. Oatmeal soothes the skin. You can put it in your bath also if you have skin problems.