My 5 month old Beagle has been itchy for months now and I have tried just about everything. I have brought it up to her vet 3 times, but she keeps telling me the same thing, and that she is most likely itchy because her coat is coming in, and she is too young to have developed any allergies. I have switched her food to Blue Diamond puppy food, I bathe her with oatmeal shampoo, none of her treats contain any additives, I wipe her paws and coat when she comes in (she likes to roll round in the grass frequently), I put baby powder on her tummy, I spray itchy spray on her coat, I give her a larger does of omega oil, she gets vitamin goo every night, I was giving her Benadryl, but that didn't work, so I switched to Zyrtec, and she gets treated for fleas monthly.
Could she be allergic to grain in her food? I don't know what else to try.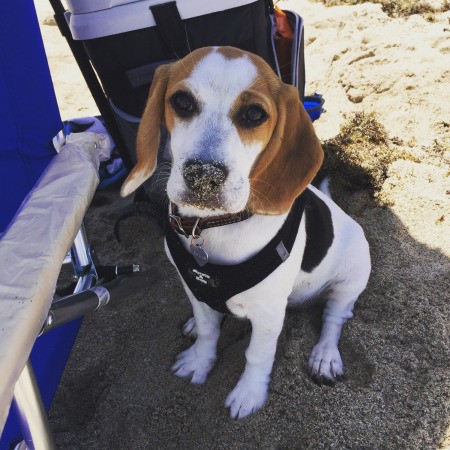 May 2, 2019
1

found this helpful
Dogs have allergies, just like people. I would not be surprised if she is allergic to grass. Try eliminating it for a few days
May 3, 2019
0

found this helpful
I have a beagle as well.He has terrible allergies in spring/summer/fall. Last year it got so bad he had to take a steroid and antibiotic. The itch came back after the meds. They gave me a shampoo that worked wonders! It is DOUXO Chlorhexidine shampoo. I got it at the vet but they have it on Amazon (much cheaper) You shampoo it in and let it sit 5-10 minutes before rinsing. It works very well. Best of luck to you and your poor itchy beagle. :)
May 3, 2019
1

found this helpful
We learned that dogs can be allergic to grain and chicken (among other things but these two are huge issues with some dogs with seemingly uncontrollable allergies).
They are just like people.
Some vets are not so much about testing (which is good because it gets expensive) but about eliminate and document. You can work with your vet on this or start on your own and take the results back to the vet so he/she knows your process.
What I mean by that is to get a baseline for the allergies--so start removing things from their world--start eliminating things. If you give the dog treats, that is the first thing to eliminate. Do document for a few days what you did and if the issue continues. If it stops--that is your culprit. If it continues, buy a small bag of food with no grain. Document for a few days, if the itching goes away that is your answer. Still there, try a food with no chicken OR chicken fat (this is hard and there are very few...most with no chicken still have chicken fat--I am drawing a blank on the brand that has NO chicken products, they can tell you at the pet store. If this works, then you will know it is chicken. If not, then start looking at food dyes and other coloring/additives. Dyes can also be an issue causing itching.
If you are lucky, you will find it fast and then you can get the pup back on track.
If you try everything and nothing works, see if you have a holistic vet around who can offer other alternatives.
Prayers for healing!! We have been in your shoes. Our boy is sensitive to grains. He did outgrow it, but he went through his first year or so with us with almost no fur on his sides. It was so sad. We did several years grain free, then gradually tried him back on it, and he was fine. Post back with an update!