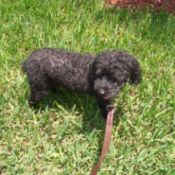 Our 20 pound Poodle has eczema/scaling that medicine is not controlling. He scratches a lot and loses hair. (He has had this for years.)
I would like a household cure suggestion.
Thanks.
Answers
March 6, 2012
3

found this helpful
Best Answer
I've heard a little bit of olive oil or eggs in their food helps a lot. I personally haven't tried it. I have used brewers yeast with garlic. Its tablets filled with Omega 3 fatty acids, and vitamin B complex and works great for skin and coat care. I got the bottle at walmart years ago for my shar pei, but if you can't find it there, I'm sure you can find it online. Good luck!

vicki hood
Bronze Feedback Medal for All Time! 102 Feedbacks
March 7, 2012
9

found this helpful
Best Answer
Got it. Helped animals all of my life. Much of the same problem. That hurts to look at the picture of your dog. Let's fix it. #1 No more steroids. Problem comes back even worse. #2 diet. No corn, wheat or soy. Not even in a cookie. Cooking and part raw diet is good.
Great kibble is EVO or California Naturals. Decent economical kibble is Diamond lamb and rice from feed store. Never any commercial grocery aisle pet food. You will almost always see first ingredient is corn.
First ingredient has to be meat. Raw bones, raw veggies, like carrot chew sticks even some fruits. Grapes and raisins can be POISON. Apple, banana, melon, stone fruits, and berries are all good.
No poisons. No flea collars, no sprays and especially no dot between the shoulders. See my former posts on borax. A biggie that will help the most is nzymes.com. Granules that boost all systems.
I did lots of research until I finally tried nzymes. Wouldn't be without it. Please google it. What you see is true. No other kind of Nzymes please. No, I don't sell it or profit from it. 1 877 816 6500. Nzymes have saved many a dog from suffering. Saved me a bunch on vet bills. You will notice a difference within a few weeks. Need me? I am muttmom. Like dogs better than people.

August 31, 2013
4

found this helpful
Best Answer
I just want to say that I fought eczema skin problems in my dog for years. Poor dog scratched and itched and lost hair. I tried everything including dips, pills, anihistamines, changing food etc. I took to my own methods and have seen a huge improvement. I keep her coat clean by using a dog shampoo for skin bacteria and bath her twice a week.
It is important to keep her clean. I also spray 1% hydrocortizone solution on her irritated areas daily. This is the best she has been in months but you have to stay on top of it with the baths and the hydrocortizone spray. They make hydrocortizone shampoo too.
I buy the spray at CVS and the shampoo at a pet store or inline. I hated to see my poor dog suffer. If there is a bad area I use antibiotic cream or spray on those areas... big improvement.
Answer

this Question

What sort of plants, grasses, and weeds cause eczema on dogs? What can I use to treat that type of condition? eg, Aristocort.
Answers

Judy
Gold Post Medal for All Time! 677 Posts
December 27, 2016
0

found this helpful
Dogs have allergies, just like people. My sister had a very allergic dog who used cortisone creams prescribed by the vet

December 27, 2016
0

found this helpful
It will vary from dog to dog. One of my daughters dogs required a food change and that took care of it. Meanwhile her sisters dog has had to have medications, food changes and can't even go outdoors and it still remains.
Depends on what they are allergic to.
Helen
Bronze Answer Medal for All Time! 155 Answers
December 29, 2016
0

found this helpful
You do need veterinary advice on this, and a vet would be able to tell you the most common allergens. I don't know Aristocort, but using steroids on a dog without having him checked out could be risky.
February 24, 2017
1

found this helpful
Thats all good no harm meant but my little pup had an adverse reaction from advocate flea treatment. One of the problems he suffered is itchy red ears his vet prescribed him isaderm gel and charged me two small squirts of it and I mean small for £15 to last 3 day it only lasted 2 days. When 3days past I returned to the vet for my pups check up his ears had cleared well but still needed more gel for 2 days more days I was given one small sqirt of get and charged another £15 so all in all I played £30 for 3 small sqirts of isaderm gel imagine if I needed it continually.
I think its shocking, I've looked online and a whole tube is between £8 to £10 and for a larger tube for £15. I need to find another way of treating it I hope I can.

October 14, 2017
0

found this helpful
I used dTERRA essential oils on my puppy. 4 drops each of Lavender, Helichrysum and Roman Chamomile in a rollerball topped up with fractionated coconut oil. I applied it 3 times a day to the affected areas (basically her arm pits and groin). It gave her so much relief from the scratching and cleared up the abrasions. I also sprayed her bedding and the rugs in the house with a mix of Lavender oil and water. I use dTERRA essential oils because they're 100% pure and therapeutic grade.

Jess
Silver Post Medal for All Time! 267 Posts
October 16, 2017
0

found this helpful
Be very cautious when using essential oils on or around your pets. Some are toxic and could be deadly, especially for small animals.
Answer

this Question