A garden path can be functional and it can be so much more. Functional paths provide safe and efficient routes of travel through your garden. They cut down on tracking mud into the house, and act as anchors to surrounding plants. But garden paths can also be works of art. The materials used to construct them can add color and interest to the landscape, compelling visitors to explore what's around the corner or aid in drawing the eye to a specific point of interest.
The Elements of Design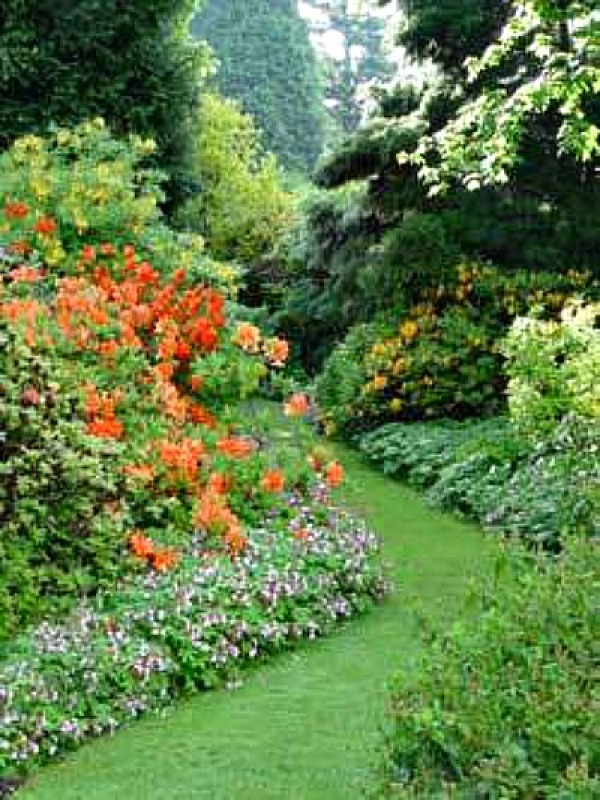 Designing a walkway or path doesn't have to be difficult, but there are a few key elements to keep in mind when planning one.
Straight or Curved: When designing your path, think about where you want it to go and the style and formality of your garden. Straight paths are functional, neat and take the traveler to his or her destination the most efficiently. Straight paths are considered more formal in nature and can be used to showcase an eye-level view or special feature located off in the distance. Curved paths are more encouraging of exploration and tend to give the garden a more relaxed feeling. They add a bit of mystery and intrigue by creating a sense of curiosity over what is coming next.
Wide or Narrow: The width of your path helps determine the rate people travel along it. Wider paths allow people to travel quickly and walk side-by-side while having a conversation. Paths should always be widened when approaching important features like front doors, so people can move comfortably toward the feature together. They can also be useful in places you want people to stop and linger. A narrow path, on the other hand, causes travelers to slow down their pace and glance at the ground more often. You might want to narrow your path in areas where the footing is uneven, near steps or where you want the traveler to slow down and enjoy a fragrance or hear a unique sound.
Hardscape or Softscape: The materials you use to create your path or walkway will also help determine its style and formality. Hardscape materials like stone, concrete or brick pavers are often used in the front of the house or for formal gardens. Gravel, wood chips and plant materials are more often seen in the backyard or side of the house and give a more relaxed, laid-back feel.
Color and Texture: Consider the color and texture of the materials when planning your path. Light-colored materials tend to reflect light, while darker colors absorb them. Smooth surfaces tend to give a more modern, sleek and formal feel, while textured surfaces can give an older, time-worn feel or add a touch of rustic charm. Aim for understated colors that compliment the color and architectural style of your house.
Accessibility & Function: Certain materials are more likely to create uneven walking surfaces or be difficult for wheelchairs, bicycles or strollers. Select materials for your path that are suited to your family's needs for accessibility.
Comparing Materials
There are hundreds of material options for creating paths and walkways. The following list is a brief comparison of some of the more popular and common materials used.
Turf & Plant Materials
Pros: Paths made from grass or other plants are the most comfortable to walk on. Grass can obviously withstand a lot of foot traffic. Certain blooming ground covers can also add additional color to the garden. Plant materials also provide great drainage and naturally keep the garden cooler.
Cons: Not all groundcover plants can stand up to heavy traffic. Groundcovers need time to become established and over time they can look overgrown and messy. Paths made from plant materials are subject to weather conditions and need regular watering. Grass paths need to be mowed.
Concrete, Stone & Brick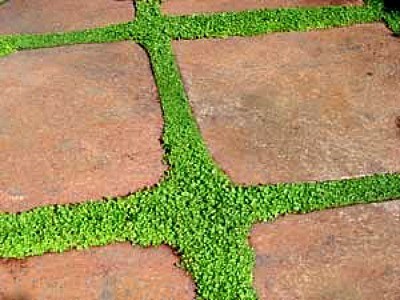 Pros: Available in a wide variety of colors, concrete, stone and brick pavers are attractive, durable and last indefinitely. Allow reconfiguration for a variety of looks and walking surfaces.
Cons: Can be very expensive and require a greater degree of time and skill to install. Impermeable surface does not allow for good drainage.
Bark, Pine Needles, Nutshells
Pros: These materials are organic, readily available and environmentally friendly. All provide a natural look and drain well. These materials are also easy to apply and generally inexpensive.
Cons: These materials absorb heat and warm the surrounding soil (this can be good or bad depending on your perspective). They scatter easily and because they decompose quickly, they need to be replaced every couple of years. Color choices are limited.
Crushed Rock & Gravel
Pros: Easy to install, inexpensive and allows for good drainage.
Cons: These materials can be difficult to walk on and uncomfortable in bare feet. Unless used with landscaping material, does not provide a good barrier against weeds. Can scatter and get throw up by the lawn mower.
Salvaged Materials: Brick, Stone & Recycled Tumbled Glass
Pros: Salvaged materials and containing recycled content are environmentally friendly. These products are often available locally and depending on the material can last indefinitely.
Cons: Can be difficult to find enough of any one material or specific color to complete larger projects. Tumbled recycled glass can look messy over time.