By octoberbabye (Guest Post)
January 14, 2008
0

found this helpful
I just started learning to paint on silk too. It's great.
Dover has a series of stained glass books (flowers, animals, art deco, etc) that are easy to transfer.
I copy the design on a piece of plastic, usually a zip lock bag, and then place it under the silk. I then use the gutta to trace the design and then fill in with paint.
I also search the web, and look in art books.
A Hospice volunteer taught me while my husband was there. I found DarhmaTradingCo.com a good place for supplies. Even with shipping the prices are good.
Here's a design you might like.
Janet By Dianne (Guest Post)
January 14, 2008
0

found this helpful
I use coloring books. I trace the picture onto tracing paper with a transfer pencil then iron it onto the material.
Most of the transfer pencils will wash away in soapy water.
January 14, 2008
0

found this helpful
I do not do stained-glass, but I do paint with acrylics.
One thing I'd do is take some of my Photos or pictures out of magazines and work with them in my Photoshop, I turn them black-and-white and I might need to remove shading, I also have used coloring books. Here is an example of what should and do, hope this helps you.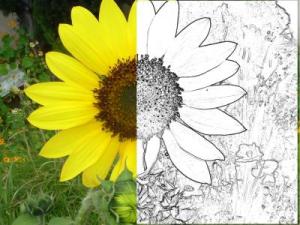 November 29, 2014
0

found this helpful
If you search online you can get lot of coloring pages. As i use to collect the pages for my LO. I think you can draw on your own. Here is the link for flowers coloring page as i use make my kid busy in this activity. He enjoys doing this.