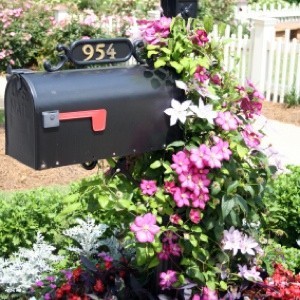 Planting around your mailbox isn't a necessity, but if done well, it can visually change the overall look of your landscaping for the better. It can also serve as a way of getting out of mowing and weed-whacking around the post. If you have been considering landscaping around your mailbox, here are some tips for integrating the design into your existing landscape, while keeping the safety and comfort of your mail carrier in mind.
General Design Considerations
Before moving forward with landscaping plans for your mailbox, keep the following design considerations in mind:
Mail and Paper Carrier Safety: The most important element to consider when planning to landscape around your mailbox is the safety and comfort of your mail carriers. Make sure the area in front of your mailbox provides a clear path for delivery personnel and DO NOT use plants that:
have thorns
attract a lot of bees and other stinging insects, or
obstruct the view of cars and children on bikes pulling out of nearby driveways.
Cold Climate Hazards: If you live in a cold climate and your mailbox is located near a road, leave room in your design for passing snow plows. If road salt applied near your mailbox has created a hostile environment for plants to grow in, seasonal containers or a plant box attached to the rear of your mailbox post are good alternatives.
Box and Post Design
New Mailboxes: When installing a new mailbox, shop for a color and style that matches the style and color of your house: a log post for a rustic log house; a cedar mailbox for a house with cedar siding; an ornate mailbox and post to complement a stately Victorian. From the traditional, to the contemporary, to the whimsical, there are hundreds of different styles and designs available for both wall mounted and post mounted mailboxes.
Existing Mailboxes: An easy way to spruce up an existing mailbox and post is to give them a fresh coat of paint. You might also consider adding images of animals or flowers with stencils or, for the more artistic, painting them on freehand. Another simple way to add a design element to is to attach an address plaque to the top or side of the mailbox or from the bottom of the support.
Customizing Your Own Design: If matching your mailbox to your house isn't your thing, consider infusing your personality and style into your design by customizing it to reflect your interests. Whether you're into dogs, birds, sports, gardening, or classic cars, a quick search of "novelty mailboxes" on the web will turn up hundreds of great ideas. Customized mailboxes are a great way to express your unique personality and interests, just remember to remain sensitive to your neighbors and stay within the limits of local postal regulations.
Construction Materials: The sturdiest mailboxes available are made of galvanized sheet-metal. If not repainted, they will begin to rust after a four or five years. Plastic mailboxes will never rust, but over time, constant exposure to the sun will eventually cause the plastic to break down and crack. Wood mailboxes will need to be repainted or re-stained every few years to keep them looking good and slow down the rate of decay. For the budget minded do-it-yourselfer, dozens of free woodworking plans are available on the Internet.
Choosing Plants
Unless you're willing to commit a significant amount of time to maintaining your plants, the plants you choose should be based on their ability to withstand foot traffic (or car tires); dry conditions, and possibly repeated exposure to dog urine.
Plants that are too floppy might not have the right aesthetic for urban boulevards. Choose compact, upright or mounding plants that have sturdy stems. They will be well-suited to remaining upright in the wind without the need for staking.
Perennial flowers, grasses, and low-growing shrubs are best around mailboxes. They establish permanent roots that help prevent erosion by holding the soil in place year round. For pops of color mix in a few annuals, or plant them in containers or flowers boxes attached to the back of your mailbox.
Use several layers of mulch or decorative stone over landscaping fabric several or layers of wet newspaper to help conserve water and suppress weeds. Even drought-tolerant plants need to establish their roots. Water your plants regularly for the first two years.
Examples of Plants
Annuals: Ageratum, coleus, dusty miller, marigold, ornamental pepper, ornamental sunflower, petunia/Wave Petunia, portulaca, verbena, vinca, and zinnia.
Perennials: aster (sun), bugleweed (shade), campanula (shade), corel bells (shade/salt tolerant), coreopsis (sun), daylily (sun/partial shade, salt tolerant), hosta (shade, salt tolerant), lady's mantle (shade), phlox (shade), purple coneflower (sun), rudbeckia (sun), salvia (sun/partial shade), sedum (sun), wild ginger (shade, salt tolerant), and yarrow (sun/partial shade).
Vines: Carolina jasmine (sun), clematis (sun/partial shade), climbing hydrangea (shade), Gold-flame honeysuckle (sun), morning glory (sun/annual), passionflower (sun/partial sun), and sweet pea (sun/annual).
Shrubs: Bluebeard spirea (sun/partial shade), dwarf burning bush(sun), junipers (sun/partial shade), and St. John's wort (sun).
Ornamental grasses and Ferns: For sunny areas, grasses are a great way to provide summer and winter interest as well as movement. Make sure to set them far enough back to avoid obstructing views. For shady areas, consider ostrich ferns, which are long-lived and seldom troubled by insects of disease.
Comments

June 29, 2010
0

found this helpful
I was all up in arms about this as we have all had to take down landscaped mailboxes due to carriers getting bitten by spiders and bees and all kinds of things. They have asked us to keep our postal boxes free of plant matter.
but then I saw your note about mail carrier safety and I felt better. We can only put low to the ground plants like mini marigolds or impatiens or periwinkles and things like that. There has to be 2 foot clearance of the box itself or they won't deliver mail!