Use A Garden Mailbox To Store Tools
Mailbox in garden to keep gardening tools handy and dry. And it's cute

By Kalene from Oregon City, Oregon
Answers:
Garden Mailbox
It's super cute! Great idea! (12/11/2008)

By Kendy
Garden Mailbox
I've got one of those in my garden, too. It's bright yellow with a red flag. Right now, it's barely peeking out of the snow. (12/11/2008)

By GrandmaH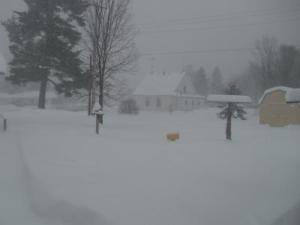 Garden Mailbox
I have one in my garden also and I have the door open to it and a fake rubber alligator coming out of the little door. I thought I was the only one who recycled my old mailbox. Yours is real nice too and I LOVE your yellow flowers. (12/12/2008)
By florida gal
Garden Mailbox
I love that idea. Now I have to find an old mailbox. (12/14/2008)

By karen.
Garden Mailbox
I have one as well. I put gloves, gardening tools, and my little seed spreader in it. Keeps everything in one place and looking nice. (01/01/2009)

By Shaylee