Does anyone have the pattern for making a robe from towels. It was very popular in the 60's. Thanks!
Karen from Winona, WV
Answers:
Making a Robe From Towels
Here's one site with a pattern, Karen :) http://www.ez-fit.com/bath_towel_robe.cfm (10/30/2006)

By SL Edens
Making a Robe From Towels
I don't have a link for you, but my memory is fairly good for those days when Terrycloth was so popular and used for so many sorts of bath clothes. I'll bet the one you remember is like this:
It takes three large bath towels. One across the shoulders for the upper body and arms, hole for the head cut/shaped/bound (in matching colored biased tape that is hand finished to lay down inside robe edge), to accommodate a long zipper(preferably invisible if you sew well and the towel is thin), for the front. The other two towels were sewn to the middle lower edge of the top one, back and front.

The long zipper opening is also cut much of the way down the front towel that is split vertically to allow the "step in" robe, with side slits at the knees left unsewn to allow for movement.

The entire robe is a T shape. The trim on the original towel purchase makes trim for the sleeves and lower hem, requiring fast completion and no hemming, but extra heavy duty sewing machine needles if any pre-hemmed seams interfere. The under arms are somewhat tricky to finish out, and
very important to do so as smoothly as possible for maximum comfort. This finish out can make or break the robe's usefulness/comfort. It had no pockets which would have been too thick.
Tip: Cut the head hole very evenly, oval, slightly forward, higher in the back, lower in the front, but not too low. Cut EXTRA straight when cutting the front and top towel zipper opening. Double stitch all seams, binding any raw edges inside, VERY WELL, because Terry edges fray badly when left raw.

Use "Body" long Towels for oversized needs on extra large persons, otherwise, normal sized large
bath towels work for a number of people's sizes, with
the smallest persons having the benefits of looser fit, longer sleeves and robe length, wqith this "one size fits all, back then" design, but the med./larger persons having a snugger fit, shorter sleeves and a slightly shorter finished robe, depending on the person's height.

Use the best poly-blend thread you can afford, carefully matching the towel.

Keep in mind that this makes for an "Empire Robe", with a seam right across the breast, if young/small, or on top of the breast, if for a more mature/larger person. Young people preferred solids and velour. Older preferred the patterned terry in two-three colors, longer looped weave.

The thicker "original hems" on a towel can be a roughness to the wearer, so search for towels with good woven edges instead of sewn/hemmed. 100% Cotton Terry seemed to shrink and draw up at seams especially, including the zipper, so look for a velvet napped/velour towel( but remember they are heavier and thicker/hotter.. than ones that have a polyester blend fabric.(Sears have always had good towels, if you can afford them/buy on sale.)

I hope this helped and that you can understand my directions? God bless your efforts and help you succeed. : )
(11/02/2006)

By Lynda
Making a Robe From Towels
Karen I don't have a pattern, but here are some pictures of one I still have ...from the 60's LOL (11/29/2006)

By Great Granny Vi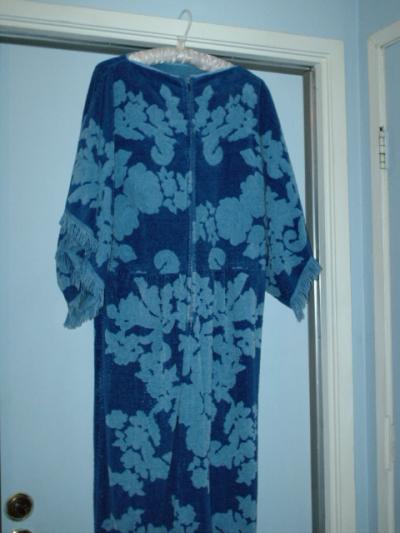 Making a Robe From Towels
YES Linda that is the one I remember my Dad had a lady sew it for me as a Christmas present. The only difference in mine was no zipper it had an empire waist with elastic and you could pull it over your head. Thanks for the instructions.
karen (12/05/2006)

By Karen
Making a Robe From Towels
My mom also made the empire waist design and made a casing to conceal the seam that joined the top and bottom and put a draw string through it to make a more personalized fit. It was great and I wore it until it was worn out! Now I'm planning to make them for my children. Just couldn't find the empire waist design. Thanks!! (12/01/2007)

By Becky Menefee