January 30, 2008
0

found this helpful
Home Depot.ca sells 946 mL Concrobium Mold Control Trigger Spray Bottle cleaner for under $10.00 and it works great on mold.I have used this cleaner for fridges that grew mold,and washing machines.Works great.I am sure it will work for you.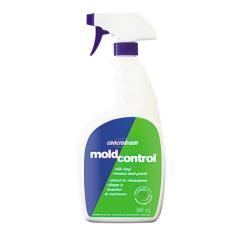 January 30, 2008
0

found this helpful
I know undiluted bleach will get rid of black spot mold but I don't know what it will do to the color. But it sounds like you've got nothing to loose, you can't use the chair like it is. I pour the bleach on a sponge, wring it out until it's wet but not dripping, and wipe.
By (Guest Post)
January 30, 2008
0

found this helpful
We got mildew on our camper canvas one time. I took an old spray bottle, filled it with 1/2 bleach & 1/2 water. Then I used an old scrub brush, sprayed the mixture directly on a small area of the canvas, let it sit for about 30 seconds, and started scrubbing. I then used another spray bottle with just water, rinsed the area, and patted it dry with a towel.
Move to another section and go again. USE rubber gloves with this solution to protect your hands, wear old clothes in case you splatter bleach from the brush, and safety glasses are a good idea as well. It will more than likely change the color of the fabric, but the spots should be gone. Let it air dry or put a fan on it to be sure it's dry before storing again. Good luck!~
February 3, 2008
0

found this helpful
We had that kind of problem in the shower when we first moved into our first home we bought and we got some Tilex Mold & Mildew remover and we just love that stuff! All we've ever had to do is spray it, leave it for a while, depending on how bad the mold & mildew was...and rinse it off. I don't really know what a pushchair is, I've probably seen one, just don't know it by that name, but it worked great on our shower and the walls in my brother-in-law's old apartment.
We just sprayed it on his walls and wiped it off with a wet washcloth. Since I'm not sure what your pushchair is, I don't know how it will work, but this is my experience with it. Good Luck!
February 19, 2008
0

found this helpful
I just posted this message to a question on mold in shoes. I assume you push chair is leather. This odorxit clo2 product is the only thing I have found that really does kill mold and its spores. put you chair in a closet with a 5 gram packet and in 1 or 2 days there will be no mold on it or just a little dust of what used to be mold.
Rahe