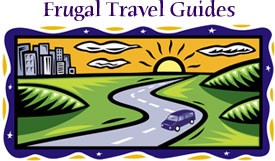 Travel Destination:
Sydney
Country:
Australia
Free Things to Do:
Sydney offers something for everyone including families, from urban city to sandy beaches at Bondi Beach, natural escape to the Blue Mountains, plenty of wineries at Hunter Valley and whale watching activities in Port Stephens. You do not need an overwhelming budget to enjoy this lovely city. There are a number of free things that your family can do without compromising on the quality of your vacation.
FREE ATTRACTIONS
The Maritime Museum: The Maritime Museum offers free entry from 9.30 am to 5.00 pm (6.00 pm January) every day except Christmas Day. There are seven core exhibition themes where you can learn about the 50,000 years of martime history, livelihoods of Australia's coasts and sea and understand how the Royal Australian Navy has operated underwater, on the surface and in the air.
The Rocks Museum: The Rocks Museum located at the Rocks allows free entry from 10am - 5pm daily. It is only closed Good Friday and Christmas Day. Circular Quay and Wynyard are the two closest CityRail train stations.. Journey through history with its precious archival and archaeological collection and kids will the love the highly interactive touch-screen. Find out how the New South Wales Government redeveloped the area to the building of the Harbour Bridge.
FREE MARKETS
There are many lovely markets in Sydney. Entry to the markets is free and you can have a day of fun picking up treasures from one market to another.
Paddy's Market: Immerse in the crowd at Paddy's Market. This traditional market is great if you are looking for vegetables, clothing, CDs, flowers, homewares, sunglasses, jewellery and of course tourist with souvenirs. The one located in Haymarket is open from Thursday to Sunday from 9am to 5pm and on Mondays and Public Holidays 9am to 5.30pm. The market is five minutes walk from the Town Hall or Central Train Stations. If you wish to explore the Paddy's Market at Flemington, be there on Friday and Sunday from 10 am to 4.30pm.
Organic Market: Located in Flemington as well, this market is great for organic food lovers where you can get certified organic products at a low price. Also on Friday 10am to 4.30pm.
Sydney fish Market: This unique seafood market is definitely worth your trip as it auctions over 100 species daily. Sydney Fish Market is (SFM) located at Bank Street Pyrmont and opens every morning (except Christmas Day) from 7.00am. SFM's wholesale auction commences at 5:30 am weekdays.
Paddington Markets: This market is located at 395 Oxford Street, Paddington in the grounds of the historical Paddington Uniting Church. You can enjoy this market every Saturday from 10am to 4pm (5pm EDS). Get to see a variety of Australian contemporary art, craft and fashion, directly by the artists and craft makers themselves.
Sydney Opera House Market: Support the artists as they present their handmade products to you. The Market is located at Sydney Opera House, Forecourt on Sunday (and public holidays) from 9am to 5pm.
Sdyney Swap and Sell Market: This market in Flemington is one of Australia's largest garage sale. Your family may pick up some memorable gifts and great bargains from 6am to 2pm on Saturday.
Sydney Fresh Food Market: Sydney Fresh Food Market is open every Saturday from 6am until 2pm at Sydney Markets, Flemington. Kids will adore the Sydney's largest weekly food market as they make their way through over 800 stands selling fresh produce.
The Rocks Market: The Rocks Market is a weekend market on Saturday and Sunday from 10am to 5pm. It is minutes from Circular Quay and you can get to pick up arts, crafts, homewares and collectables.
FREE HISTORCIAL WALKING TOURS
Though Sydney has a number of travel and sightseeing passes, you can do without them if you are keen to explore on your own on foot. The City of Sydney History Program has prepared a number of Historical Walking Tours routes for visitors. Simply put on a strong pair of walking shoes and get yourself going in no time. You can download the walking tours from City of Sydney website at www.cityofsydney.nsw.gov.au. Each brochure shows a clear map of the walk with numbered points of interest, detours and museum stops suggested along the way. Each tour takes approximately 1 to 2 hours. The themes of the tours are : Colony, Commerce, Community, Sydney Heritage Walk, Passion, Port, Preservation and Walk on Water.
Just for Kids:
ATTRACTIONS FOR KIDS
If you are travelling with your family, Sydney abounds with many attractions for kids. The following are some which kids must not miss ! Though they are not free for all, children under a certain age qualify for free entry and for most attractions, there are family passes available, which will help you to save quite an amount.
Taronga Zoo and Western Plains Zoo
Tips: Under 4 Free. Family passes available.
Sydney Aquarium
Tips: 10% discount for on-line bookings of admission tickets. Free for kids under Family passes available.
Featherdale Wildlife Park
Tips: Children under 3 yrs free with a paying adult. Family passes available.
Koala Park Santuary
Tips: You can subscribe to their offers and promotions at their website.
Oceanworld ManlyTips: There is a sleepovers program for families, daily guided tours; it also runs a Kids CLub on Sundays 8 to 10am. Family passes available.
Luna Park
Tips: Enjoy this themepark on Friday! Friday Night Lunacy promotion offers unlimited rides and a complimentary drink for $20 on Friday nights after 5pm!
By Jasmine from Singapore
Click here to share you thoughts about this or another destination.