December 29, 2006
1

found this helpful
Best Answer
I learned this from a plumber. He uses an old fashioned wire clothes hanger. A larger one works better just for the reach. Grasp the hook end with one hand and the center of the long straight section with the other hand. Pull them apart to make a hook with a long handle. Straighten the hook end slightly and probe the rim holes with the hook. Flush the toilet as you are doing this helps wash out the holes at the same time. Also, use the same hook end and probe the one larger hole in the bottom of the bowl. This is the hole that the solid stream of water pushes the water down the toilet.
The plumber said they clog from the lime, calcium, etc. in the water. He didn't have any preventative measure. It may just be that your water is high in these minerals. I would not recommend putting chemicals not designed for the porcelain. You can try the product SLR. I don't know how you would use it on a toilet though. I think the acronym stands for Salt, Lime, and Rust. I have seen the commercial on TV, but, haven't tried it. One last note!!! Be very careful not to chip or break the porcelain. It can chip quite easily!
By (Guest Post)
December 29, 2006
0

found this helpful
Best Answer
I think that is CLR, calcium, lime, and rust and it works well, if you drain the toilet and let it sit right on the mineral build up for a few hours. Drain it by turning off the water shut off valve and flushing the toilet.
I also use a container to scoop as much water out as I can. I still had to use something (plastic) to scrape the minerals off, but it did work for awhile. It is back again.

October 15, 2019
0

found this helpful
To drain the water out of the toilet w/o shutting the water off - place about a gallon of water in a bucket and pour it forcefully into toilet. Gravity will do the rest.
NOTE: never turn the shut off valve on the toilet water line fully counter clockwise. It can lock in place and cause headaches later. Open the valve handle fully open - then back closed 1/4 turn.
By guest (Guest Post)
October 30, 2007
1

found this helpful
Best Answer
I use a Dremel Tool with a flexible extension and a small grinding rock to remove the deposits from the jet at the bottom of the bowl works great and lasts about 10 months flushes like new again, p.s. wear safety glasses.

February 3, 2018
0

found this helpful
How do I get rid of pricipited calcifications that make the toilet nick thinner

December 26, 2021
0

found this helpful
I tried your Dremel suggestion and it worked!! I had tried vinegar and all the other suggestions I could find online and none of them even touched the buildup. I ordered special heavy duty cleaning chemicals from a place half way across the country..... Didn't work. But that Dremel (I didn't even need the flex attachment) .... It just grinded it right off. I used the silicone carbide bit and it didn't hurt the porcelain. The buildup was not only in the little holes at the rim, but also 'dripping' about an inch below each hole.
It was ugly!! The Dremel got all of the 'drip' part off and most of the buildup in the hole off. I used a thin nail to poke all the way through the hole afterward just to make sure it was clear all the way through. My toilet had been taking like a full minute to flush...4 holes were completely blocked... And now it flushes much faster. THANK YOU FOR POSTING THIS SUGGESTION!
June 26, 2012
1

found this helpful
Best Answer
To add to my previous post on how to clear a lime (calcium) blocked drain in a toilet, you can use the same method as for clearing the block. (As mentioned in my previous post.) Since it takes anywhere from a couple of months to a year to cause a total blockage, some preventative maintenance every other month will help to prevent these deposits from becoming a total blockage.
Instead of pumping out all of the water, and shutting the water to the toilet off completely you can just add a couple of bottles into the toilet on a day, or night when you won't be using the toilet for several hours. Toilets are designed so that you can't overfill the bowl so when you have too much in the bowl it will just allow the extra to seep-drain. By pouring in two bottles of the Works Thick cleaner it will seep down to the drain opening through the toilet internal trap, and then remain there long enough to keep the build-up from becoming a clog.
It depends upon how much lime you have in your water as to how often you would need to do this. For heavy amounts of lime/calcium in your water I would do it every month. For places that would take over a year to build into a full clog I would
suggest it done once every two to three months. With the current price at a local
Wal-Mart store being only $1.22 for a 28 oz bottle, two bottles once every couple of months or so would be a cheap preventative measure. Besides, using this product just now and then to clean the ring inside the bowl is also a help. If you do this often enough you might be able to get by not using the two bottle, overnight method more than about once a year.
If you have a lot of lime/calcium in your water it would be wise to invest in a water
softener for your home. That would remove all the minerals from the water itself.
By Arlene (Guest Post)
December 29, 2006
0

found this helpful
My plumber also suggested using a wire coat hanger about once a year to clean out the buildup. To clean the deposits inside the toilet itself, I use a pumice stone. Remove it and keeps it looking like new.
By turlecurls (Guest Post)
August 24, 2007
0

found this helpful
I'm having trouble getting the toilet to flush because the jet at the bottom is clogged. Has anyone tried any products that helped open that up? The plumber picked at it a bit with a pick, and got a small opening, but it's not enough. I can't really scrub it, so it would have to be something safe to sit in there, but still effective.
By calymayss (Guest Post)
August 25, 2007
0

found this helpful
I use muratic acid once a month on our porcelain toilet to clean up the calcium and lime, it is so bad at times. Very dangerous stuff. Open all windows and wear a mask. The fumes can kill you but it is done quickly. Our buildup is so bad you could chisel off the lime. But the muriatic acid takes about a minute to clean, very fast acting. I also use in the sinks but stay away from your faucets as it can do some damage to the metal. This works wonders on any porcelain. You must use extreme caution, very dangerous. I use gloves, a mask and turn on the ventilation and windows. But it does work very fast within a minute. I squirt around the inside rim and within a minute I flush away the deposits. CLR just does not do the job for me. With all the CLR I have bought I probably own stock in the company. Muratic acid can be bought at any hardware store and costs about $3-$4 for a quart bottle. Also used to clean concrete.
June 25, 2012
0

found this helpful
I had a completely blocked drain this past week. I got out my suction transfer pump (purchase from Harbor Freight for $9. Woks to pump out, transfer gas, oil, diesel, etc as well) and bought a couple of bottles of Works gel toilet cleaner. It states it works on rust, lime, scale, etc. (It does) I shut off the water to the toilet, pumped out the top tank, then the bowl completely.
Then pour in two bottles of the Works (Thick or Gel) Toilet Bowl Cleaner. Use a plunger to gently plunge down some of the cleaner to force it to the drain by displacing the water that has remained in the internal toilet trap. Don't try to plunge it open as normal. Just enough to get some of the cleaner down to the blocked drain. Let it sit over night at the least. Better if you can let it sit that way for overnight, plus all the next day.
Then pour in a gallon of water and try plunging it completely open. When open turn
on the water, and flush again several times.
For a very heavily blocked toilet drain you can use this same method over the
course of several days to get it cleared well. With the Works Thick Toilet Bowl
Cleaner only costing just over a dollar for a 28 oz bottle, this method is cheap,
effective, and saves removal of the toilet, or using a wire.
Cider Vinegar will also work, but takes much longer than Works.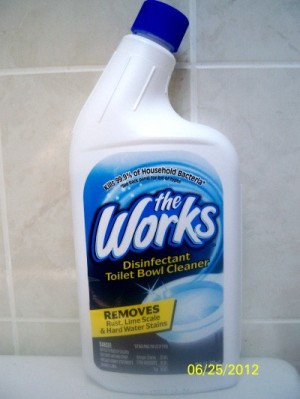 April 28, 2017
0

found this helpful
Forget the chemicals. Go on Wal-Mart.com and buy for $14.00 a package of Toiletclean Chemical-Free Toilet Bowl Cleaner, shipped from Microfiber Products. I have had one in bowl over 15 yrs and still lime free. I think it is a magnet process, but who cares so long as it works.