August 6, 2009
0

found this helpful
Ear infection?
August 7, 2009
0

found this helpful
Does the dog's whole body smell? Is it a doggy smell, yeasty or sweet smelling? Long haired dogs can sometimes get yeast infection on the skin, or it could be an ear infection as the other poster wrote. It is hard to wash their heads well when we bathe them.
August 11, 2009
0

found this helpful
Most likely it's an ear infection. My Golden Retrievers smelled so bad all the time regardless of baths and ear treatments. Turned out, switching to Lamb & Rice dog food helped control their infections.
Now I just do "maintenance" with a weekly ear cleaning. Talk to your vet and they can help you with the right course of treatment.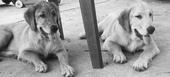 August 11, 2009
0

found this helpful
My Shih Tzu's face smells if she gets food stuck in her facial hair. Another problem is in the excessive tearing from hair that gets into her eyes. She needs to have her face washed and trimmed to keep her smelling fresh.
August 11, 2009
0

found this helpful
Not sure what part of your dog's head smells, but my shih-tzu's head gets stinky quicker than the rest of her body. Over the years, we've discovered various causes:
--eye infection (she had some eye funk that we had to get medicated pads for. I've also heard taking a warm, wet washcloth and wiping down the eyes and nose area frequently helps)
-- ear infection (this one was really bad. She had been stinking for a while, but I just thought she needed a bath. But one day, I noticed that I really smelled that odor when she shook her head or moved her head. Thank goodness I checked her ears because she had the most disgusting, crusty infection I've ever seen in one ear. It about knocked me over with the smell. The part I feel most badly over is that she must have been growing that infection for weeks--I just didn't put two and two together. We had to take her and have the infection cleaned out (sedation and all; good grief). We take her to the groomer regularly and I told them about it. They just make sure to pluck the ear hair extra good).
Good luck!
August 11, 2009
0

found this helpful
I have one too and I'd be willing to bet she has a yeast infection in her ears. It has a really foul smell. They usually give something called tri-otic(I think it's like a triple anti-biotic for ears) and tell you to keep thier ears cleaner and try to pluck the hairs out of thier ears so it's not so easy for them to get yeast infections there anymore. Good luck
August 16, 2009
0

found this helpful
Agreed it's likely yeast infection. In addition to keeping the hair out, if you use apple cider vinegar on a papertowel to clean the inside of her ears, and lightly dampened q-tips to clean inside her ears, that helps reduce the yeast.