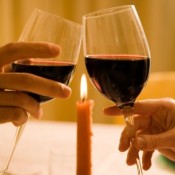 My husband has everything and is difficult to buy for. So, on Valentine's Day every year, I make him a fancy, multi-course meal that I research a couple weeks ahead of time. I create a festive menu on my word processor complete with cupid clip-art and fancy fonts one week before V-Day. Then, I post the menu in an highly visible location on the wall.
Having the menu posted builds anticipation and reminds us of the special night as it grows near. Every year I'm surprised how this ritual never grows old, and I'm just as excited to prepare it as he is to eat it. This is undoubtedly is more special than any bottle of after-shave, neck tie or wallet.
By Sara from Cape Cod, MA
Read More

Comments
I would like to know some simple quick recipes for food for Valentine's Day for a dinner meal.

Ann

Answers
By Kathy in Illinois (Guest Post)
February 14, 2005
0

found this helpful
I like spaghetti- it's red,- garlic bread and chocolate frosted brownies Yum Yum! Quick and delicious! Something red and something chocolate!
By Firefly 1985 (Guest Post)
February 17, 2005
0

found this helpful
I started this tradition six years ago. I made heart shaped meatloaf. I first started out with a cookie cutter layed on the tray and press in the meatloaf mixture then I would lift off the cookie cutter.
Now just shape with my hands to make a bigger heart. I add ketchup on the top when done. I make regular mashed potatoes and a vegetable to go with it.
By JENNIFER (Guest Post)
January 26, 2008
0

found this helpful
You can go to the meat dept. And have the butcher fillet a ribeye steak in half and it makes a perfect heart shape, then grill and enjoy!

January 26, 2008
0

found this helpful
YOU CAN GO THE MEAT DEPT. AND ASK THE BUTCHER TO FILET A RIBEYE STEAK IN HALF AND IT MAKES A PERFECT HEART SHAPE, THEN JUST SEASON, GRILL AND ENJOY! OH AND I ALWAYS SERVE MASHED POTATOES IN THE SHAPE OF A HEART WITH PAPARIKA SPINKLED ON TOP, YOU CAN SLICE TOMATOES SEMI THICK AND USE A HEART SHAPED COOKIE CUTTER TO CUT THEM, SPRINKLE WITH SALT, PEPPER, AND SOME PARMASAN CHEESE, BAKE UNTIL TENDER!

joan pecsek
Bronze Request Medal for All Time! 66 Requests
January 26, 2008
0

found this helpful
How about salmon steaks? They're sort of a heart shape. Kind of pricey but it is Valentine's Day!
By CAROLINE (Guest Post)
January 29, 2008
0

found this helpful
CHRISTMAS EVE WAS DELIGHTFUL BECAUSE WE DECIDED TO FONDUE-WOULD BE BETTER YET FOR VALENTINE'S DAY-----ELECTRIC POTS CAN BE FOUND FOR $10-BE SURE AND USE PEANUT OIL AND HERSHEY KISSES ARE GREAT FOR THE CHOCOLATE POT-HUNKS OF ROBUST BREAD IN CHEESE FONDUE 1ST-

February 1, 2008
0

found this helpful
I was lucky enough to find a heart shaped angel food cake pan at Goodwill. That cake frosted in pink frosting is perfect for Valentines Day.
Here is a good red jello salad.
1 large pkg of cherry jello
2 cups boiling water
1 cup cold water
1 can cherry pie filling
1 cup chopped apples
1/2 cup chopped celery
1/2 cup chopped pecans
Dissolve jello in hot water and stir til dissolved. Add cold water. Add pie filling. Let set til starts to congeal. Add celery, apples and pecans. Refrigerate til set.
By Tami (Guest Post)
February 8, 2009
0

found this helpful
We've been married for over 20 yrs. and I always make a heart shaped meat loaf, red potatoes, heart shaped rolls, a salad with red and green bean bundles of luv. Heart shaped cake too. My guys love it!
By Tammy (Guest Post)
February 9, 2009
0

found this helpful
My kids and I always try to go for all pink and red. Our favorites are Ham stakes carved into heart shapes, red potatoes - or mashed potatoes with a touch of red food coloring, we whip up our butter and add a dab of red food coloring to that as well.
I like beets, but the kids dont, so tomatoes work sliced thick like a heart. Of course, you have to have some kind of passion punch - something "shirley temple-ish".

February 16, 2010
0

found this helpful
The spaghetti dinner and chocolate frosted brownies is my favorite of all the Valentine's Day dinner ideas. Something red and something chocolate! Easy, convenient, and yummy. Best of all, no need for that scary red food coloring!
Answer

this Question