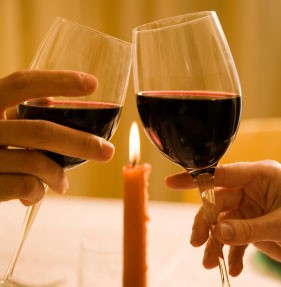 When was the last time that you used your wedding china? Still packed in the garage? Yeah, well now is the time to pull out that china and make a wonderful fancy dinner for that man of yours. Don't have wedding china? With a quick trip to the thrift store, you will be in like Flynn. Two, just two, fancy plates with a couple of matching champagne flutes and you now have the start of your own romantic dinner for two. Where I shop, you know that has to be one of my local thrifty stores, you can always find a least a couple of matching plates and I have seen beautiful champagne flutes that were only two or three left in the set. With plates around $1.50 and flutes about 99 cents, for about $5, you can have a set of dishes just for yourself and him that can become a time honored tradition. As time goes on, you can add or replace.
Now get out some candles and a small table. This is not the time to be sitting at your big dinning room table. You want a space that will be small, cozy and intimate. Cover the table with a table cloth. Don't have a table cloth? Well, try a lace curtain. If it puddles at the bottom, so what? That is all the rage right now. Now that you have your table set, what are you going to serve? Being that this is a thrifty and romantic dinner, I have come up with some recipes that ought to set you on the right road.
For your main course, I would make something that is special not something that you make everyday. If his favorite is meatloaf, make individual meatloaves that are heart shaped. If you are willing to try something different, here is a burger steak that will melt his heart, especially if he likes ham and cheese. For those of you on the run, this should only take about 30 minutes to 1 hour to get on the table, depending how much prep you can do this week.
The baked potatoes can be started in your microwave in the morning and finished in the oven in the evening so that they don't take so long to cook. Burgers likewise could be made ahead and cooked that evening. Buy a store bought cake with fresh or frozen straw berries and whipped cream, it will take no time to throw together. Make the salad ahead of time. Now you have time for a bubble bath and time to get ready for your special date.
The Menu
Cordon Blu Burgers
Baked Potatoes with fixings
Steamed vegetables
Fresh greens salad
Sparkling grape or white grape or apple cider or your favorite alcoholic beverage
Angel Food Cake and Strawberries or other fresh fruit
Now go to your printer and open up Word or similar word processing program. Go to file and then page set up. Set up your page so that you have a column down the center. Now type out your menu. You can type out the menu just once on the left hand side and copy and paste it to the right side to save time. Put some pretty paper in your printer. Print out your menu. When setting the table, lay the menu down across your plates if you are going to serve, or on the table where the plate would go if you are going to serve from the kitchen.
Cordon Blu Burgers
Ingredients
4 extra large hamburger patties
2 oz. extra lean deli sliced ham
2 oz. of cheddar cheese
One can of mushroom or beef gravy
Directions
Lay out burgers on plate. In center of first burger, layer in ham and cheese. Top with second patty and firmly pinch edges closed. Cook in hot skillet until it is done to your liking. Heat gravy in small saucepan and when warm, cover your burger.
The rest is pretty straight forward. You will need to bake a couple of potatoes in the oven. Wash the potatoes and prick with a fork and bake at 350 degrees F until, with an oven mitt, you can gently squeeze them. While they are in the oven, steam fresh vegetables of your choice. You can even buy vegetables in microwave bags or you can even buy bags from Ziploc now that you can steam vegetables in if you don't like the pre made packages. Throw to together a small salad together for each of you with your favorite salad greens and tomatoes and you are all set.
My hubby loves corn on the cob so I will be serving him corn on the cob that I will steam in one of the new Ziploc bags, they work great! When slicing up your strawberries or other fresh fruit and assembling your dessert, throw a few M and M's or candy hearts or one chocolate kiss or the tiny mini chocolate chips on top for a pretty finish.
Happy Valentine's Day!
I would like to know some simple quick recipes for food for Valentine's Day for a dinner meal.

Ann
Answers
By Kathy in Illinois (Guest Post)
February 14, 2005
0

found this helpful
I like spaghetti- it's red,- garlic bread and chocolate frosted brownies Yum Yum! Quick and delicious! Something red and something chocolate!
By Firefly 1985 (Guest Post)
February 17, 2005
0

found this helpful
I started this tradition six years ago. I made heart shaped meatloaf. I first started out with a cookie cutter layed on the tray and press in the meatloaf mixture then I would lift off the cookie cutter. Now just shape with my hands to make a bigger heart. I add ketchup on the top when done. I make regular mashed potatoes and a vegetable to go with it.
By JENNIFER (Guest Post)
January 26, 2008
0

found this helpful
You can go to the meat dept. And have the butcher fillet a ribeye steak in half and it makes a perfect heart shape, then grill and enjoy!
January 26, 2008
0

found this helpful
YOU CAN GO THE MEAT DEPT. AND ASK THE BUTCHER TO FILET A RIBEYE STEAK IN HALF AND IT MAKES A PERFECT HEART SHAPE, THEN JUST SEASON, GRILL AND ENJOY! OH AND I ALWAYS SERVE MASHED POTATOES IN THE SHAPE OF A HEART WITH PAPARIKA SPINKLED ON TOP, YOU CAN SLICE TOMATOES SEMI THICK AND USE A HEART SHAPED COOKIE CUTTER TO CUT THEM, SPRINKLE WITH SALT, PEPPER, AND SOME PARMASAN CHEESE, BAKE UNTIL TENDER!
January 26, 2008
0

found this helpful
How about salmon steaks? They're sort of a heart shape. Kind of pricey but it is Valentine's Day!
By CAROLINE (Guest Post)
January 29, 2008
0

found this helpful
CHRISTMAS EVE WAS DELIGHTFUL BECAUSE WE DECIDED TO FONDUE-WOULD BE BETTER YET FOR VALENTINE'S DAY-----ELECTRIC POTS CAN BE FOUND FOR $10-BE SURE AND USE PEANUT OIL AND HERSHEY KISSES ARE GREAT FOR THE CHOCOLATE POT-HUNKS OF ROBUST BREAD IN CHEESE FONDUE 1ST-
February 1, 2008
0

found this helpful
I was lucky enough to find a heart shaped angel food cake pan at Goodwill. That cake frosted in pink frosting is perfect for Valentines Day.
Here is a good red jello salad.
1 large pkg of cherry jello
2 cups boiling water
1 cup cold water
1 can cherry pie filling
1 cup chopped apples
1/2 cup chopped celery
1/2 cup chopped pecans
Dissolve jello in hot water and stir til dissolved. Add cold water. Add pie filling. Let set til starts to congeal. Add celery, apples and pecans. Refrigerate til set.
By Tami (Guest Post)
February 8, 2009
0

found this helpful
We've been married for over 20 yrs. and I always make a heart shaped meat loaf, red potatoes, heart shaped rolls, a salad with red and green bean bundles of luv. Heart shaped cake too. My guys love it!
By Tammy (Guest Post)
February 9, 2009
0

found this helpful
My kids and I always try to go for all pink and red. Our favorites are Ham stakes carved into heart shapes, red potatoes - or mashed potatoes with a touch of red food coloring, we whip up our butter and add a dab of red food coloring to that as well. I like beets, but the kids dont, so tomatoes work sliced thick like a heart. Of course, you have to have some kind of passion punch - something "shirley temple-ish".
February 16, 2010
0

found this helpful
The spaghetti dinner and chocolate frosted brownies is my favorite of all the Valentine's Day dinner ideas. Something red and something chocolate! Easy, convenient, and yummy. Best of all, no need for that scary red food coloring!
Answer

this Question

...