By Annabelle (Guest Post)
June 1, 2007
0

found this helpful
It used to take 5 people to clip my puppys claws. One for each of the three limbs that arent being tended to at the time being, one for the head, then the person to do the clipping, and he is was only 7 pounds at the time. :-/ But now I discovered that if I clip them right after he takes a bath while he is wrapped tightly in a towel he usually lets me clip and file his claws smooth. If I dont have time to bathe him first ( which isnt often since he stinks and needs a bath every 3 days) If I let him chew on one of his toy stuffed animals sprayed with cat nip, he usually is content with that to get through the clipping and filing.
Thats usually when we do when we have to pull his fur back into ponys too. ( he is a shih-tzu and has long fur normally)
If you want to go the sedating route, my vet told me you can give them benadryl ,the dosage is supposed to be 25mg for every 10-15 pounds of dog.
I hope this helps!!!
This is my dog sleeping by the way, I think its hilarious. :P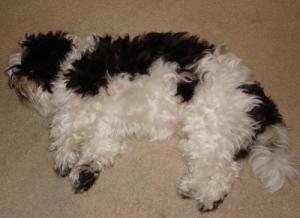 June 3, 2007
0

found this helpful
We have 3 dogs - 2 bichons and a westie. I just gave up and let a groomer handle it. My nerves were too frayed. We use benadryl everyday as the bichons have so many allergies. It is wonderful stuff and quite safe.
By Stngray (Guest Post)
June 3, 2007
0

found this helpful
One of my dogs nearly has a heart attack every time, so the vet had to give him doggy tranquilizers to take one hour before they get trimmed. That is a nervous dog! P.S. Human tranquilizers are entirely different than dog tranquilizers.
By Kay (Guest Post)
June 4, 2007
0

found this helpful
I have yorkies - I put one end of a towel under my thigh and lay the dog on my lap - stomach up - and wrap the towel across the tummy and under my thigh. This way the dog is sitting with her back against my chest.
I can clip their nails in nothing flat and they are in a position they can't get away. The faster you can get the nails clipped and let them down, the easier it will be next time.
June 4, 2007
0

found this helpful
Are the dog clippers you have the ones w/ the circle that you put the nail into? If so, throw them away! I found similar clippers called cat nail clippers at Walmart except they open all the way up so you don't have to try to get the nail into the stupid circle part. They work a lot better. I've also had some luck w/ people toenail clippers. A friend of mine use to put her dog in a pillow case w/ just the paw sticking out. Not sure how well that would work.
June 5, 2007
0

found this helpful
We have a 100 lb Doberman and my DH trims his nails quite often. We have a large deck, and we put a leash on our dog and loop it around the rail of the deck.
Then we have a muzzle that we put on him. We discovered that the best way to trim his nails was to lift his foot like you are shoeing a horse. He doesn't seem to mind when we do it this way.
May 24, 2010
0

found this helpful
We have a 90-pound plus dog with black nails and using regular clippers was a nightmare whether we did it at home, the groomer or the vet. We really had issues with sedation but also with permitting her to act out and get her own way.
I finally started using a Dremel tool ( and bribery). Our dog loves sugar snap peas, as well as "hugs" from one of us behind her neck.
So--I get behind her in the "hug" position and do her nails with the Dremel while the DH lets her nibble on the sugar snaps.
It's a two-person job, but it's really gotten to be so stress-free now that when I tell her it's time to do her nails, she sprints over to where we keep the Dremel and the need to use a treat to get through it is also going away.
My best guess is that each owner has to take a look at what position calms your dog--and which bribes,in the beginning, may also help until the dog finally realizes that it's not torture, but just another everyday activity. In our case I think that us making a conscious attempt to present ourselves as calm and matter-of-fact about it rather than be stressed at the outset made a difference in the way the dog reacted to the process, too.