I have 3 dogs and it can become very expensive having their nails clipped. How can I learn to do it safely?
By char from Edgewood, MD
Answers
January 11, 2010
0

found this helpful
Here is a great how-to page. One thing you need to be certain of is having a very sharp set of trimmers. I prefer the scissor type. Millers Forge makes a great set - the ones with the red handle are adequate for most dogs.
If they are touchy about having their nails done, you will need to go slowly in working with them to stay calm during nail trimming. With a new dog, we start by spending time "playing" with their feet while they lay next to us or in our lap. We massage the feet and separate each digit like you would as you trim. If they are afraid of the site of the trimmers themselves, then you can get them used to the trimmers in the same way. Just hold them in your hand as you cuddle. Once ok with the site of them, 'pretend' to clip a nail by moving the trimmers right next to their nails. Eventually you will trim just the tip of the nails, etc. I know it sounds like a lot of work but I think it is easier on the dogs and ultimately far less work for you than fighting them each time to get trimmed. Best wishes!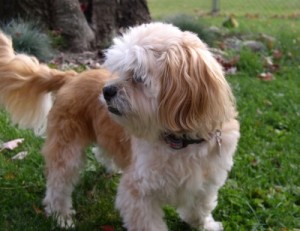 January 11, 2010
0

found this helpful
I got this suggestion from my vet and have used it on every dog I've had since. Use a Dremel tool. It will take a few tries for the dogs to get used to the sound and the vibrations, so start out on low, then as they get used to it go to high.
It is so much easier, and so very much safer than clippers. And it leaves the nails smooth instead of splintery. Plus it's easier to judge when to quit before hitting the quick, even on dogs (like mine) who have black nails.
My dogs are so used to it that they just lay down and go to sleep while I do their nails.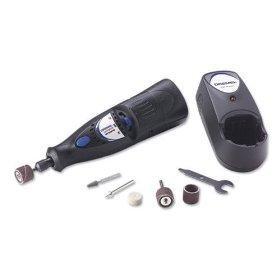 January 12, 2010
0

found this helpful
I have a dog (Dana) with ONE white nail, the rest are black. I am terrifiedto trim her nails after I nipped her quick once, and of course it bled. I have read many books and articles on the web how it's so easy to stop the bleeding with corn starch or quick stop.
What bothers me is that it's mentioned so matter-of-factly, like it's painless. So now I put off doing her nails. Which I know is just as bad (or even worse) then taking the chance and cutting them, because I know that over grown nails hurt their paws when they walk and they split. When I do cut them I take off just a smidge, not enough to make any difference. There has to be a sure fire way to cut black nails without having to worry about hurting her.
A drimmel sounds like a good idea. but she is so afraid of loud noises and her nails are too long that the friction would cause too much heat before I would notice. I have had my fingers burnt when I used to get acrylic nails. They would use a drimmel to rough up the surface of the nail and It hurt. any alternative ideas? Please?
In case you are wondering what breed she is, she's a Pug/English Bulldog. yeah, I know. She looks more like a boxer/Pit. I have to carry her papers with me when I walk her. So many times I've come home only to have the by-law officer either approach me on our walk or come to my door shortly after, to question her breed.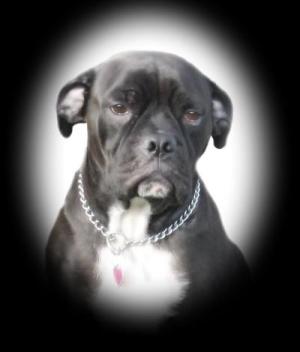 January 13, 2010
0

found this helpful
We have a big dog who practically had to be muzzled every time her nails were done at the vet or the groomer--she hated it so much.
In line with everyone mentioning the Dremel tool--there is that As Seen on TV product you can find in nearly every drugstore, or Target, Kmart or Wal-Mart--called Pedi Paws.
This is basically a dremel tool with a guard cap on it that helps you to line up the dog's nail ( and also catches the nail shavings).
Yeah, it's noisy, but if you turn it on a few times and let the dog inspect it before even attempting to do the nails, most dogs will get used to the new "toy".
We've had no drama since using this; think we paid no more than 12-14 dollars for it and it has been well worth the tiny investment.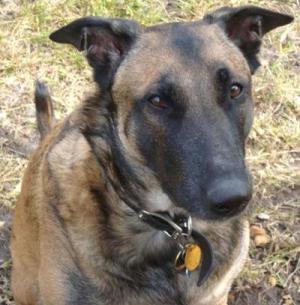 January 22, 2011
0

found this helpful
I wish I could trim my dogs nails myself too but even putting a mussle on him he still squirms so bad I can't handle him. He gets violent. The pet store doesn't seem to have a problem; they are calmer I guess but it still takes 2 people. My dog does not like his back feet touched or massaged.
Read More Answers
I have seen the nail clippers for dogs at the Dollar Store and I have been wanting to clip my own dogs nails to save some money on grooming. Is it difficult? I know you are not supposed to clip too far back as you can cut the blood vessel (that scares me!) but are there any tips someone can give me to do this? I have two Poms and a Yorkie. TIA!

Jonnie from Owensboro, KY

Answers:
Clipping a Dogs Nails
I'm not sure about the quality of the clippers at the Dollar Store. You want something that will snip the nail off clean and not practically chew it off. The big problem may be getting your dog to cooperate and be still. Then you have to be careful not to cut into the blood supply of the nail. It's pretty easy if your dog's nail are light colored. You can tell where the dark (blood supply)is. If they're dark, it's a crap shoot. You just have to take it easy and don't snip off too much at once. (03/21/2007)

By Emma Reed
Clipping a Dogs Nails
I clip my dog's nails. If you do draw blood a quick dab of corn starch clots it up. You can buy special powder to do that but my way is THRIFTY! The nails do not have nerves so the cutting does not hurt them, they just sense YOUR anxiety and act accordingly! (03/21/2007)

By Roz Graham
Clipping a Dogs Nails
First, get your dog used to having his feet touched. Rub them when you pet your dog, between his toes too. There is a nerve there and it hurts when you clip too short. If you have a large dog use the guilloten type, if the dog is small the hooked scissor type will do. Best bet is get a small dremel and use that. It files the nails and if you go to short the heat will cauterize the quick. Don't forget the doo claw on the front feet. Hardest to do but very important. (03/22/2007)

By valery
Clipping a Dogs Nails
I just bought a new nail clipper and it has a bar across the blades that limits how far you can clip. There's no way I find hurting my dogs & making them bleed acceptable. I love the clippers. It has saved me a lot because I used to take them to the vet frequently to get them clipped. Because I don't have to worry about clipping to short w/the bar I can clip their nails in minutes. (03/22/2007)

By Me
Clipping a Dogs Nails
The nail has a "quick" in it just as our nails do. If you cut in the quick it is very painful. On a small dog as yours, it may be best to just take less than 1/8 inch off, especially if you cannot see the quick from the underside. Most dogs do not like to have their nails clipped. But the groomer should do it in with the cost of the grooming... (03/22/2007)

By Sue
Clipping a Dogs Nails
Don't buy clippers at the dollar store. You need to buy quality and sharp tools to clip your animals nails quickly and without pain to you or the animal. (03/22/2007)

By Michawn
Clipping a Dogs Nails
I suggest you purchase the nail clippers from a pet store or a feed store that carries pet supplies. They also sell a stiptic powder that will stop the bleeding should you clip a nail too short. Like clipping your own nails, trim back just in front of the pink area. It is more difficult to cut solid black nails. I suggest that you trim them a little less than the others that are clear. Also I buy nail files that are designed for sculptured nails at Dollar General. They come in very course style and this is great to file the dogs nails to prevent scratching when they jump on your legs. Good luck. (03/22/2007)

By pat
Clipping a Dogs Nails
I just clipped my dog's nails and did cut one too short and it did bleed... I felt so bad. To stop the bleeding, I used Johnson & Johnson's Liquid Bandage to dab on the tip of the nail and it worked perfectly. You do have to wait for it to dry but it doesn't take too long. Hope this helps. (03/22/2007)

By Sharon
Clipping a Dogs Nails
I have 2 dogs, one large and one small, but had the same fear about using clippers and accidentally clipping into the "quick" of the nail and having it bleed like mad. My local "dog-wash" does toe nail clipping with a dremmel tool. They are hand held, and relatively inexpensive in the hardware dept. of most stores. I have the basic one which came with quite a few interchangable heads, but it easily gets the job done. Bear in mind it makes a buzzing noise which might freak your dog(s) out. I use one of the sanding/grinding heads so I'm not actually cutting their nails, but sanding them down. My big dog doesn't mind a bit and just lays there and lets me trim them. My little dog isn't at all cooperative, but she wouldn't cooperate with any kind of nail clipping, so what's the difference? I just wrap her up head to toe in a big towel, and pull out one paw at a time to trim. After awhile, she settles down, or should I say, gives up and lets me finish all four paws. It's worth a try and even if you don't like it for doing their nails, you'll find 101 good uses for a dremmel around the house. (03/22/2007)

By Donna, San Diego
Clipping a Dogs Nails
They sell nail clippers that won't allow you to clip the nails to far into the quick. But I find they are harder to use. Or you can simply use a nail clippers. Clip less at a time to keep it safer. NOTE: We keep flour at hand to dip nail in if it's accidently cut to close and bleeds. It stops the bleeding and is safe if your pet licks it. (03/22/2007)

By Shawn
Clipping a Dogs Nails
I agree, please avoid the dollar store clippers. They need to be as sharp as possible, or else they could split the nail, bend it, etc. & create lots of problems & frustration. You can get good clippers from dog supply catalogs for under $5 for your size dog. Good suppliers are Jeffers (wonderful prices on own-named products and leather collars & leads) KV Vet (no shipping on items under 5 pounds) PetEdge (I *think* that's the new name; used to be NE Serum: lots of items for little dogs at great prices.)

All tips above true; powder is styptic powder. Many men have it in the house for shaving incidents. It's cheaper to buy from a drugstore than as a dedicated dog product.
Most imp. aspect is your dog's attitude and your own. If you approach it confidently and dogs are used to having feet handled, that is optimal. You can get them used to having feet handled little by little as above. You can also snip a nail or two every day if you have one that really hates the process. But you really have to project confidence about it, or the dog is going to run like you would if you had a doctor coming at you with a needle in quavering hands, saying "I've never done this, and I sure hope I don't hurt you."
Many ppl use a Dremel or Dremel-type. There are cordless ones available for dog's claws for ~$10. Those are much quieter and help many dogs who freak at the noise.
Start small. You can always clip more, not less. Clipping the quick or bloodline causes a lot of bleeding, hurts the dog and traumatizes the owner for life (I think the dog gets over it more quickly.) So just snip a little on each. You'll have to do it more often, but you'll feel confident, and your dog will too!
I like to groom a little every day as part of petting. I've groomed my dogs for shows & know that every dog can get used to staying on a grooming table, but it's a lengthy Big Deal. I like to make it just a little part of life.

Donna and Pierre in New York (03/23/2007)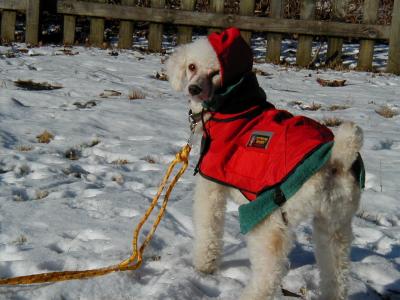 Clipping a Dogs Nails
Look at your dogs nail from the bottom of the nail. I think you'll be able to tell how far to cut, My dogs nails are black and on the underside is a white cuticle there. Hope this helps. (03/23/2007)

By Pat
Clipping a Dogs Nails
It is not difficult usually you can see the change in color on the nail where the blood vessel are really just good idea to clip end and not go to far up. (03/26/2007)

By Vicki