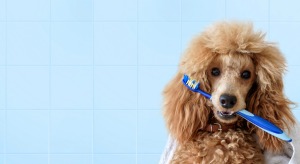 I am going to get a Toy Poodle in a couple of days so I just wanted to know a couple things about it. For example do Poodles really smell a lot? Why?
I'm very worried because my whole family finally decided on a dog we liked and I hope we can get it even if it smells. Please tell me as much as you can, mostly about the odor. Thanks a lot.
By Maureen from Miami, FL
Answers

Judi
Bronze Feedback Medal for All Time! 239 Feedbacks
January 26, 2010
0

found this helpful
Best Answer
In my experience, the smell coming from poodles is related to the ears. If you check out their ears you'll see they're very hairy. Groomers pluck the very inside of the ears. This doesn't seem to really hurt but can sort of disturb (scare?)them. A groomer also will usually shave the rest of the inside (floppy part) of the ears. Vets have products for cleaning and drying ears. I don't really know about home remedies for this. Floppy eared dogs have this problem, not just poodles.

January 31, 2010
0

found this helpful
Best Answer
I have had Poodles my entire life.You must keep the hair pulled out of the ears or they will get not only smelly but infected.It's not hard,use a pair of tweezers(make sure they are rounded tips until you get the hang of it).As you and the new puppy get use to it you can actually use your fingers for a lot of it but will still need to get the inside hairs.
The biggest reason Poodles have an odor is the eyes.
They are known "runners. "Wash the face with baby shampoo or baby wipe.Also keeping the hair cut away from the eyes is a big plus. If it's stuck in the hair it's going to smell worse.nIt's not bad as it might sound. A little time and effort is all it takes. Also, keep the hair cut out from the pads of it's feet. If you will be dealing with a groomer they can take care of the ears and feet when it's clipped.
Also a lot of them empty anal glands now days also. Good luck and please don't allow any of these comments to intimidate you. It's not hard, promise! I got to the point that I clipped on my own and actually scissor cut the entire dog after she got to many of the old ages spots to run a clipper over. They are wonderful dogs and a very good choice. Best wishes to you.
Answer

this Question