Does the product PediPaws really work?
By Leigh from PA
Answers
November 9, 2009
1

found this helpful
Best Answer
I thought about buying this item, but didn't know like you if it was worth the cost if my pets shyed from it. I decided to put my own finger in it to see how it felt on my nail. Laying it gently across the grinder was very tolerable, but to put it against it with more pressure was not as tolerable. To a pet, I would think it might feel a bit frightful. However, there are pets who do not mind it at all. I take my dogs to the vet to have their nails clipped and request the dremel tool be used to smooth the edges afterward, so they are less scratchy and my dogs do not mind this.
November 10, 2009
1

found this helpful
Best Answer
I tried one. The nails get caught in the small space between the grinder and the housing.
Don't waste your money! I bought a Dremel and it works really well. No housing, just a sander.
November 11, 2009
1

found this helpful
Best Answer
We got one and it was a total waste of money. We did every thing they said to do and the dogs were still scared to death of it. it is now in a box to yard sale. We found that the opening caught their nails and the noise scared them.
November 11, 2009
0

found this helpful
Best Answer
Yes, they work just as the advertisement shows and the dog doesn't mind it at all.
November 15, 2009
1

found this helpful
Best Answer
I expect it would've worked well for us, if hubby had taken time to acclimate our dogs to it. He wouldn't even watch the instructional video or anything. He's still having to trim the traditional way because of his impatience. $20 wasted. :P
December 1, 2009
0

found this helpful
Best Answer
I have been using the PediPaw for over 3 months now. I spent a couple of weeks getting the dog use to it before actually using it on his nails. he doesn't mind the front paws, but still doesn't like his back paws to be done. My only regret is that I didn't see the dremel attachment before buying this (since I already own a dremel).
I am tired of getting new batteries. I get at most 2 clippings before the batteries are too weak to continue. I recommend this method but i am now going to start using my dremel tool with the attachment.
Here is a good article on how to use this:
homepages.udayton.edu/.../dremel.html
Good Luck
March 3, 2010
1

found this helpful
Best Answer
I consider this as junk. I used it once and the sandpaper was too worn to use it again I wasted my money but leaned a lesson. I now have a battery operated dremel.
April 14, 2010
0

found this helpful
Best Answer
I don't know what all of you are doing but apparently not the right thing. This is a great product.
Both my dogs don't mind getting their nails done. They just sit there. It's inexpensive and a stress-free way off trimming your animals nails.
April 16, 2011
0

found this helpful
Best Answer
My dogs really disliked having their nails cut, then filed. It is painful to the dog. We tried Pedipaw, and had zero problems with the dogs accepting it. We removed the sheild, it only got in the way. We did go through batteries. Even though we had a dremel, we bought one that is only used on the dogs. If you are an owner that is assertive, not mean, and confident, then the dog is going to trust you. You do have to be very careful, and learn how to trim their nails correctly.
I have not come across a dog that I could not do this with, even the most anxious. But, at home I am the alpha dog, and they trust me.I am a believer that most give up because they have zero control over their dogs to begin with. We know the ones.. we see them at the vets office, being dragged all over the place. The dog owns them, not the other way around. When you can walk your dog without being dragged from one county to the next, then you can trim their nails with success.
This is coming from someone that worked hard to learn.
Answer

this Question

...
I was wondering, has anyone tried the PediPaws? I'm wanting to try it on my dogs nails, but don't want to waste my money if it doesn't work. Thanks in advance.

Maria from Menifee, CA

Answers:
Product Review: PediPaws
Love it. My dog (beagle) hates getting her nails clipped. Always takes two or more adults and she fights, snaps, and yips. I got the Pedi Paws, followed the directions for introducing her to it and was able to use it on her by myself. No problems, I put in new batteries and have used it several times on all four feet and it's still going strong. Awesome product. (12/24/2008)

By Kelly
Product Review: PediPaws
My dog is about 14 pounds. I used the PediPaws and he hated it. The vibrations from the spinning file were overwhelming to him. It didn't seem like he was scared of it, but the vibrations on his nails seemed uncomfortable. Also, it took a while to file to an adequate length. Dog's nails are sensitive, with nerves. The vibrations seemed to be too much sensation for my dog. (12/27/2008)

By Stephanie
Product Review: PediPaws
I tried PediPaws (a Christmas gift bought from Walgreens) on my parrot, and I cannot have been more pleased. He hates either guillotine or regular nail clippers and pulls and bites me. He doesn't tolerate a towel, and nobody in my home will hold him for me because he's vicious to them (but loving to me - a one person bird, like many are).

So I just had to find something where he didn't need to be restrained except for holding his foot for the trimming, and after playing with the PediPaws with him, he let me do it. Perfect results, and it saves him from the trauma of going in the car and bringing him to the pet shop to get toweled and clipped. Also saves me from the scratches that plagued my shoulders, arms, and back for so long.

And for those of you that are having shipping or billing problems, don't buy from infomercials. "As Seen On TV" products almost always end up in stores somewhere, so wait until they do, and then buy them. That's what my grandmother did for me, and neither of us could be happier with the results. (12/27/2008)

By Ashly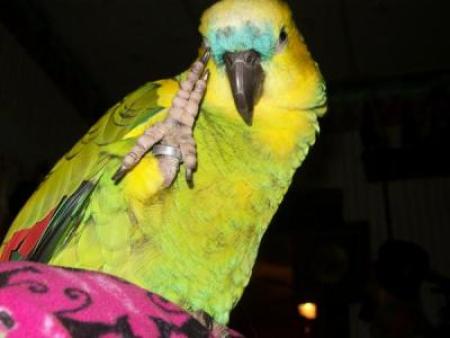 Product Review: PediPaws
Just used it last night. We have 6 dogs of various sizes, our lab actually grabbed it and proudly walked through the house with it in her mouth. I let them all smell it and then turned the motor on and let them hear it. I then started with the dog who hates having her nails cut the most. She sat as still as you would want and just watched as I took one nail after another and filed it down. The other 5 were just as still as the first.

Count me as very satisfied. No need for two people holding the dogs down now as they all just let me trim the nails with no squirming. (12/30/2008)

By Rick
Product Review: PediPaws
I was so excited to get the Pedipaws and everyone said it was great, boy were they wrong. I sat trying to file my dogs nail down for 5 minutes and it didn't file anything, biggest waste of money. The motor ran out on it and I didn't even get one nail filed. Don't waste your money. (12/31/2008)

By disappointed
Product Review: PediPaws
It is a waste of money. I would have been there for hours with 3 dogs trying to file their nails. The old fashioned clippers are quick. My dogs ran the other way from the PediPaws. They didn't like the vibration from the filing and the smell the nails made when being ground down. Don't waste your money. The store I purchased it at took it back for a refund with no problems. (01/01/2009)

By FL
Product Review: PediPaws
I was reading the responses and I'm a little surprised at what people are saying. I bought is as a Christmas gift for my 11 yr old, set in his ways, thinks he's still a kitten, cat. And he actually enjoyed the vibrating sound of the Pedipaws. I started off with just one nail to see what he would do and all he tried to do was sniff the thing and that was it. So I tried another nail and same thing. Let me tell you, he hates it when I use nail clippers so I think this is great invention. Now if anything changes, then I'll retract my statement. But for now I'm happy. (01/04/2009)

By Vikki
Product Review: PediPaws
There is a ton of comment here, I don't know if this has already been posted, but there is a Dremel band that serves just fine as the replacement band. I bought mine in a slightly coarser grit and it buzzes my dog's nails a lot faster. I only do five touches and then move on to the next nail, and go across them all several times before moving to the next foot, since laying it on the toenail for a longer time produced some heat. (01/05/2009)

Product Review: PediPaws
Honestly, I think it depends on what your dog will be used to. With my dogs, I love it.
My male Saint Bernard fell asleep while I was doing his. The tips of his nails are now rounded and smooth. My female was afraid at first, but then calmed down. I've never been bitten while using it on my dogs. You'll just need a lot of patience. (01/10/2009)

By Cassie J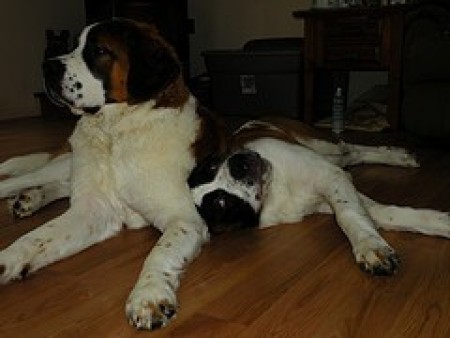 Product Review: PediPaws
I tried this product on my two small dogs and they went completely nuts. I can't imagine any dog letting this thing near them. My dogs hate it, smells terrible, not powerful enough to grind down a carrot. (01/14/2009)

By Chris P
Product Review: PediPaws
Hey, if you use a PediPaws try it with a product called Clippin'Sling (see google). It will let you use it without the difficulty many have expressed. (01/15/2009)

By Leonara
Product Review: PediPaws
There are a lot of negative reviews and I can't help but think most of you are impatient or wanting the process to take 3 minutes. If the wheel stops you're applying too much pressure. It's not designed to file down long nails in seconds. My lab hates having his nails trimmed. We followed the instructions and acclimated him to it. He sits and actually gives me a paw to do it. It will take many passes to trim them short enough but with patience and time we'll get there. I'm pleased with it. After all it was only 20 bucks. (01/18/2009)

By M
Product Review: PediPaws
I love this thing. I have four dogs, two big and two small. They were scared at first, and then gave up after I insisted they were getting this done. They are not thrilled about it, but it works. If you put to much pressure it will not work, and it stinks, because you are sanding down nails. As long as this thing lasts a year, I am more than satisfied with it. I will spend the $20.00 on it. I did all the dogs nails in less than ten minutes. So far have had it for two months, and it's still working great. (01/19/2009)

By Andrea
Product Review: PediPaws
Here's another tip for those who use a Dremel or other type of grinder for the nails. Be aware that some nails carry fungus innocently picked up from soil contact that doesn't readily wash of during bathing. When grinding the nails, this can be inhaled potentially causing nasal or lung infections. Even clean nail dust can cause lung cancers. This material striking the eyes is a infectious hazard, as well. A good reason to check out Google for a unique accessory called "Vac-U-Shield" (tm) designed to eliminate grinding dust of all kinds before it can pollute your breathing space. I use one and find it to be an inexpensive, but perfect way to stay healthy. (02/03/2009)

By Leonara
DO NOT BUY
Do not buy Pedipaws for the simple reason they sell your name and credit card number. I've been signed up for numerous services, including charges on my credit card. I also now receive 10-15 telemarketing calls per day. They are all from the same company (Gas Rebate Center). I asked them to please not call me and they refuse to stop. They did tell me that they have my credit card number and that PediPaws gave it to them (sold it to them). If you really want this item look to buy it at Almeyers or somewhere and pay cash to be on the safe side. (02/11/2009)

By Kelly
Product Review: PediPaws
I love it. But, it may be easier because I have a kitten (he is 3 months old). I can't speak for the job it does with dogs, but it really filed my kittens nails down so soft, I don't have to get him declawed. He used to use my leg to get up on the couch and dig his claws into me and rip my skin, now, they are so soft, I just love playing with him. Now, he hated the process. I had to wrap him up in a towel, and it hurt me to hear him meow and scream like that, but honestly, it only took a few seconds per nail. The whole process took less than 5 minutes. If anyone is considering getting this for a cat, I do recommend it. Although the cat/kitten may be uncomfortable for a few minutes, its well worth it to save your skin and furniture from damage. (02/16/2009)

By Kimberli
Product Review: PediPaws
Oh, and I forgot to mention in my previous post, I bought it at Target for $19.99. (02/16/2009)

By Kimberli
Product Review: PediPaws
Terrible, don't waste your money. Even trying using it lightly, it stalls. It is OK to dull out the sharpness of a just cut nail using manual snips.
(02/22/2009)

By Roy L.
Product Review: PediPaws
Well I just joined the site so I could tell everyone "not" to buy it unless you plan on using it on a cat. The motor on it is way too weak to do your dog's nails, it would take an hour. You're better off going to Walmart, pay 25 bucks for a Black and Decker Dremel and use that. This is how my vet does my dog's nails and it works great. I just got one yesterday and did the nails already. So 20 bucks for something that doesn't work or 25 for something that works great? Your choice. (05/07/2009)

By todd
Product Review: PediPaws
I logged into this forum just to let all of you know of the practices being used by this organization. I purchased Pedipaws on line and a few weeks later I got a rebate check from Pedipaws for 7 or 8 dollars. I thought great. What I didn't know was that rebate check was signing me up for a service I had no need of. When I realized what I had done, I called the number indicated to cancel the service, was told not to worry I was not signed up for any service, and I would receive mail confirmation before I would be signed up for a service.

Today reviewing my bank account statement, I found a service charge from ID Secure for 139.99? The service I was assured I would not be signed up for. Now in trying to call the phone number provided, the only way I can talk to some one is if I agree to sign up for another service (of which I don't need) for 10 dollars a month. So beware. I or no one I know will ever buy from this outfit. So I have to cancel my credit card in order to stop this. (05/30/2009)

Product Review: PediPaws
Satisfied with the product, but don't buy from the website unless you want to receive solicitations from "affiliated" organizations. Despite two requests to be removed from the mailing list, I just received a "check" that will sign me up for Traveler's Advantage. Reading the fine print, the benefit is maximum $100 at 2% of $5000 of purchases and I have to submit receipts. Oh, the annual fee is $129.99. I've seen the product at Petco and PetSmart. Even if it is $5.00 more at the store (and I don't think it is), it would be worth buying from the store just to avoid these unethical enticements that have no pet-related component. (06/20/2009)

By Ginger
Product Review: PediPaws
This is a great product. You do have to teach your dog to accept the process, but feels so much safer than the quick rush to cut before he or she pulls away. They are sold all over the place now, check your local pet store before taking a chance on mail order programs.

After a few months, my dog is completely relaxed on his side for the trimming. I do hold my thumb on the nail after each burst to check temp, found a rhythm of 4 seconds on, 3 seconds away. Don't try to overuse the disks. Most pet stores sell replacement packs cheap and you should change them more than the batteries. I should also point out if you are thinking of using a Dremel, please try stopping that with your fingers a few times or try rolling some of your hair into it. The higher RPM will generate more heat, the increased torque is more likely to cause damage if it skips or splinters, and without the nail guard you could easily trap fur or sand areas of the pad down.

It's not a miracle product that your pets will love. It does stink, you have to constantly change out the disks, and takes more time than guillotine trimmers. For me, its worth it to see my dog walk with tighter feet than he has had even after a professional groomer does his nails, without the queasy feeling I get about slicing the quick from home.
(07/29/2009)

By J