Has anyone ever bought/used the Pedi Paws product? I have seen it advertised on TV. It is a pet nail grinder used to gently sand down the pet's nails instead of using a traditional clippers. It looks great, but would like to hear reviews and comments before I invest in one. Thanks!
Nancy from North Liberty, IA
Answers:
Product Review: Pedi Paws
My groomer uses a dremmel for doing dogs nails and from what I've read on other websites, this is the way to go. The Pedi Paws apparently is a less durable knock of the dremmel. The dremmel is not much more expensive than the Pedi Paws and is built to last. I've been looking around for the same reason and have decided to just buy a dremmel and maybe the nail guard piece for it. (08/16/2008)

By Stacy
replacement emery
From an online rep. They don't carry replacements, nor do they know of anyone who does. They said there may be information on replacement parts in the package. However they were not sure about that. So when I asked about having to purchase a whole new unit once the emery dulls, if there was no way to get replacements my conversation was terminated. How sad is that? (08/18/2008)

By donna
Product Review: Pedi Paws
It's a dremel with a cup. If you have a dremel, just use that. (08/18/2008)

By Dog Breeder
Product Review: Pedi Paws
I have done quite a bit of research on this subject. It has all been pretty bad, rating roughly 2* out of 5*. Check out sites that sell these sometimes you can find a lot of feedback. I knew it sounded to good to be true~ (08/18/2008)

Product Review: Pedi Paws
I love my Dremel. I use a sander band on a drum in it, so I can change the bands and it generates minimum heat. Since my dog's nails are black, choppers are obviously never going to get them right and she has been quicked too many times.
So every Saturday morning I set up the Dremel, my knee pad, and then I tie up the dog very short, and put down a cookie sheet with Parmesan cheese. While she is licking up every bit of the cheese, I'm buzzing her nails. I touch each nail five times and no more before jumping to the next nail and back again, so no heating up the nails. It's the only thing I've found that she sorta tolerates, and I'm never letting someone else chop her nails ever again. (08/18/2008)
Product Review: Pedi Paws
Never personally used it, but a local news channel did a test on it and said that while it worked pretty well for cats, it didn't do as well for dogs, as it tended to split their nails and leave them ragged. Hope this is helpful.
(08/20/2008)

By Jana
Product Review: Pedi Paws
It's amazing! go to: thepedipaws.net They have more information there. (08/26/2008)

By Anna
Product Review: Pedi Paws
Make sure you use the Dremel that is made for pets claws, not just your normal Dremel tool. I'm not talking about a dremel add on piece, but a whole other dremel tool. 9called a "Dremel Pet Tool) The reason is that the normal dremel tool spins to fast (even at slow speed)and can actually burn your pets claws/paws very quickly, whereas the dremel made for pets paws won't.
Also the normal dremel tool can grab your pets hair too easily, much harder to do with the pet one. Another point is that it vibrates less and its quieter, so not as annoying to your pet. I bought the dremel pet sander for about $35.00 a few years back, it's battery operated. (09/01/2008)
By deedee.

Product Review: Pedi Paws
The 12th of Sept will be ONE month since I ordered Pedi Paws, and I haven't heard anything. I was thinking FRAUD? (09/09/2008)

By dave
Product Review: Pedi Paws
I have had one of these on order since Aug 19, and still haven't seen it. Ridiculous turnaround time. They told me it shipped on the 2nd of Sept. and could take 5-15 business days to receive.
This thing had better be better than the best. (09/11/2008)

By Tom
Product Review: Pedi Paws
read this before you buy or trim
http://homepages.udayton.edu/~merensjp/doberdawn/dremel/dremel.html (09/12/2008)

By iceman
Product Review: Pedi Paws
(09/12/2008)

By Cheri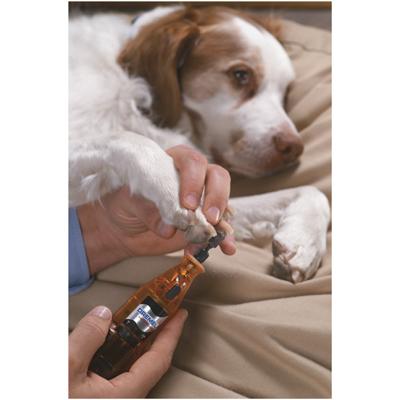 Product Review: Pedi Paws
I have ordered a pedipaws nail sander (not yet received) and paid with my VISA card. Today I received a call telling me that my order will be received in about another four weeks. Also they are sending me a set of earrings and necklace (that is being charged to my Visa card) for my review. They told me I can keep the earrings and return the necklace if not wanted for a refund minus the $7 shipping and handling. I attempted to cancel the entire order but was told it was too late. (09/15/2008)
By DILLON
Product Review: Pedi Paws
Dillon,
Cancel the order, then phone your credit card company and tell them what this company is trying to pull. Don't let them get away with it.
By the way, the Pedi Paws is a piece of garbage too. Ask your Vet what to use.
Jennifer
Northern Virginia (09/15/2008)

Product Review: Pedi Paws
WOW. I am so mad I could spit nails! DO NOT ORDER THIS PRODUCT! I cannot believe from reading this that I am not the only one! This is a total scam. I ordered my "pedi paws" back in in the beginning of July and then I called to cancel it due to my husband losing his job & we didn't have the spare money. The guy told me no problem and it would be taken care of. Yeah well, in late August here comes 45.97 out of my account. I called again and I was told that the computers were "down" how funny. Every time I've called, there is some kind of technical difficulty. SO this morning, I called and flipped out on this so called supervisor and she hung up on me when I demanded to now how many products they had actually delivered to customers and how much money they have taken from people. I am so irate, something needs to be done about this place. (09/16/2008)
By Keri Cain
Product Review: Pedi Paws
File a complaint with the Attorney General of your state, the Better Business Bureau and your card holder. You do NOT have to pay for it.
They are bullies and should not be allowed to get away with what they are pulling.

Good Luck and let us know.
Jennifer
Northern Virginia (09/16/2008)

Product Review: Pedi Paws
They have these at Walgreens now too for $19.99. (09/22/2008)

By Keith
Product Review: Pedi Paws
I ordered the pet nail file thinking it was a clipper. Stupid me. My 18 year old cat does NOT want his toenails filed -- he lets me clip them.
The $19.99 filer came with $7.99 mailing charges plus another $7.99 for the FREE Shed Ender in the same box. That's an additional $15.98. I sent it back for $3.96 with $19.94 out-of-pocket expenses. The woman on the phone said I would be credited $19.99 when the item shows up.
The people who promote this scam should be prosecuted. I would NEVER purchase anything from them ever gain.
Thank you. (09/23/2008)

By emberAZ
Product Review: Pedi Paws
Do not purchase pedi paws. They take money out of your account and do not ship the product. I purchased the product on 8-6 and as of today still have not received the product. They took the $45.97 Out of my bank account and refuse to replace it till the product is returned, but I never received the product. This is not a good company! (09/24/2008)

By chrisweichrauch AT aol.com
Product Review: Pedi Paws
This tool is a JOKE. It stops running if you put to much pressure on the sanding disk. I don't have time to use the tool for the amount of trimming that needs to be done. You would have to use it daily to not let any build up of the dogs nails occure for this tool to be even slightly useful. (09/24/2008)

By Donna M.
Product Review: Pedi Paws
I ordered a unit on 9/9/08. It came today 9/24/08. The problem is I approved $27.98 Since I did not want the free item I would have to pay $7.99 For. Rep said my amt owed was $27.98. When I opened my statement it was $37.97 I was charged $9.99 For rush expedited handling. I never was offered the rush service but I was sure charged for it. Also I don't think 15 days is rush service, but looking at the other blogs maybe it is. I wish I had known about the dremel tool. I would have bought it. Don't order from pedipaws there service is terrible! The phone number they give must have only one operator and the lie clears after a short hold. (09/24/2008)

By j d h
Product Review: Pedi Paws
Gosh I feel like an idiot. Today I was checking my bank account and saw a debit of $27.98 on my account. This is funny because I went to order pedi paws and entered in all my information, but something told me not to order, so I cleared out all my information and never clicked the order now button. But somehow they still got my information. I am livid!! (09/26/2008)

By trisha
Product Review: Pedi Paws
We LOVE our Pedi-Paws. Bought at Walgreens for 19.99. If you just calmly & slowly work on the nails, it works perfectly! (09/27/2008)

By Shannah
Product Review: Pedi Paws
I don't know exactly when I ordered the PediPaws, but the $27.98 was deducted from my account on 9/10/2008, still the product has not arrived as of today, 9/28/2008. I am monitoring my account closely, as this company does not seem reputable. There is no way to track your order from the website. Just an address and phone number, and you can't call them on weekends either. Not happy at all with this "company"! Wish I'd never ordered the item. (09/28/2008)

By Jill
Product Review: Pedi Paws
Do not buy from Pedi Paws. Their ad is fraudulant. They make extra charges for items that are supposed to be free. (09/28/2008)

By Sanford H
Product Review: Pedi Paws
I love my pedi paws it took 5 weeks to get I was not charged for any thing I did not order I was not sent any thing I did not order. I kept track of my order on line, and it works great, but I have small dogs. I don't know if that makes a difference or not, but no problems at all. Here is the web site to check your orders if any one is still waiting:
http://www.trackorderstatus.com. (09/29/2008)

By sharon
Product Review: Pedi Paws
DO NOT buy it! My mom got one and she has a German Shepard. When I put the dog's nail to the PediPaw, it stopped completely. It didn't have the strength to sand the nail at all. I am watching the infomercial on HSN right now, and the pedipaw they are using on the dog is black. All the pedi paws the actors use in the commercial and the pedipaw that we received was grey. They are using a real rotary sanding tool on the animals in the commercial.. they aren't even using the pedipaw. This is a SCAM if I ever saw one. (09/30/2008)

By Samantha
Product Review: Pedi Paws
BEWARE! Do not buy Pedi Paws.
I Was looking forward to receiving my pedi paw to use on our 6 month old Lab/German Sheppard mix puppy "SPIKE" and after 3 weeks of waiting I got it today for nothing but a huge disappointment. The thing doesn't even work. I've opened 3 brand new packs of batteries trying to make it work and it won't even turn on. CHEAP CHEAP CHEAP! Planning on calling tomorrow to see about returning it for replacement but not looking forward to waiting another 3 weeks for the new one! Might forget the whole thing and ask for refund. Who knows when or if I'll actually receive that!
DO NOT buy this product! Sincerely Sad, and disappointed, MOMOFSPIKE (09/30/2008)

By MOMOFSPIKE
Product Review: Pedi Paws
Caution, do not buy this product, it is junk. It doesn't turn fast enough to do any thing. You can stop it with your fingers, junk, junk, junk. The company even charged me twice and refuse to refund me. I will report them to the better business bureau and the attorney general. Do not do any business with this company they should be shut down Dan, Brainerd Mn. (10/01/2008)

By Dan
Product Review: Pedi Paws
THIS IS A RIP OFF!
I purchased Pedi Paws along with x-tra file heads. It doesn't have enough power, even with brand new batteries. You're better off not purchasing it. The shipping for the additional heads was $15! (10/05/2008)

By Dog Gramma
Product Review: Pedi Paws
Wal-Mart has the 4.8 volt two speed cordless dremel 754-04 for 19.83 and it works great on my aussie. (10/05/2008)

By Dan
Product Review: Pedi Paws
I wish I had read the reviews before ordering Pedi Paws. I decided to check my invoice after reading all the reviews and found they sent me and extra one charging me for it. I did not order this and have been trying to call them about it but just get a dead line when I press info on Pedi Paws. My dog is totally afraid of the noise and this was a bad buying decision. (10/06/2008)

By Cathie
Product Review: Pedi Paws
Have you heard the expression big hat no cattle. That about sums up this company. They are built on empty promises. I ordered this product and before they even thought about shipping it, they charged my credit card. A week after the charge I called to find out where this grand product was and they had no idea of a ship date outside to say perhaps in the next few months. Based on that, they should not have charged my credit card until the product was being shipped.

Most credit card companies will charge the amount back if you have not received product. In fact, most credit card companies have policies against charging a card until the product was shipped. Stay away from this company is a cheap knock off of "pedicure". Frankly you can buy a mini dremel that does exactly the same thing. (10/06/2008)

By Jodi
Product Review: Pedi Paws
They are fake, phony fraud company. They charged my CC on Sept 19 and when I called after seeing the charge. They said they shipped 10/2... by pony express?
Today is 10/9 and product is still not received. Needless to say, I cancelled charge with my CC. This company really needs to be STOPPED! (10/09/2008)

By Fran
Product Review: Pedi Paws
My sister ended up with 4 Pedi Paws by mistake, and was charges extra for rush delivery, that she did not ask for, and was not able to cancel. Afterward, she had to cancel her credit card when she started receiving fraudulent charges on her account.

She gave me one as a gift and I have to admit, it works great! When I want to keep the dog off my lap, all I have to do is turn it on!I have not been able to file her nails yet. I wonder why? (10/12/2008)

By Maribel
Product Review: Pedi Paws
I bought PediPaws at Walgreen's for $19.99 and it will be going back tomorrow. I have a large dog weighing 85 lbs with hard and thick nails. This product does not have enough power via batteries to get the job done. The wheel continues to stop even tho' I am not putting undue pressure on it with the nail. I do have a dremel kit and will use that instead in the future. (10/12/2008)

By Lucille
Product Review: Pedi Paws
Thank goodness I bought it at Walgreens where it is going back today. Piece of crap - not enough power to file a flea's nails. Ridiculous product. TOTAL ripoff.

I tried the Dremel and it works great. If you are careful not to let the dog's nail heat up too much, and do stop-and-go for cooling, it's terrific. (10/13/2008)

By Eva G
Product Review: Pedi Paws
I bought the Pedi Paws at CVS today for $19.99 and a 4 pk of Energizer C size batteries for $5.99. Couldn't wait to try it out on my small Pomeranian. This thing is a joke! It completely stops turning when touched to the nail. You can spend an hour on each paw stopping and starting to get a little dust in the cup. I wish I had read the reviews before I purchased, will be returning it tomorrow. (10/13/2008)

By Julia
Product Review: Pedi Paws
Do not spend your money on the pedi paws! You will be wasting your time and money. I ordered the pedi paws. After waiting for it to arrive for over a month, I finally received an empty box. The package had been damaged in shipping. I called the company and told them to just credit my card back, to which the man responded with "one moment while I do that". He then comes back to tell me that he has already put the order in for a new shipment and he could not back out the order. I just got off of the phone with the company for the 5th time.
After threatening to contact the better business bureau and my local tv news channel, they were miraculously able to cancel the order (of which the status has been showing "waiting to be processed" for over 2 weeks again), and I have been told that my card should be credited within 7-10 business days. Unbelievable! And to beat all, they are now selling the product in walgreens for $19.99 As opposed to the $35 I was paying online. Grrr! I won't be buying it from the store as I don't want to give any of my money to support such a rip-off company. (10/16/2008)

By Shawn M
Product Review: Pedi Paws
I rather like it. I have 5 Saint Bernards and most initially were curious about the noise but I let them get used to it and they let me trim their nails. I think it works great too. The only draw back for me is reordering those emery rings, they seem too expensive, so I will try to make my own rings somehow. (10/16/2008)

By joann
Stay Away! Dont Buy PediPaws!
I just bought PediPaws from my neighborhood Walgreens. I brought it home and put the batteries in. This toy spins slow and is weak. Then I went to the PediPaws websites and the website was not available. Next, I read the reviews that confirmed the instinct that I should have followed. I'm so glad that I did not use it on my dog. I'm going to take it back too get my $19.99. (10/16/2008)

By ChaosMagic from Chicago
Product Review: Pedi Paws
I purchased Pedi Paws at Walgreens too. Opposite of alot of the feedback my Pedi Paw has SO MUCH POWER it is absolutely best described as attempting to put my small dogs nail into an electric pencil sharpener. In fact, I did sharpen a pencil with it to test it's power. My dog was having nothing to do with it! It is noisy and when I tried to use it her nail would rattle around on the grinder. It looked like it hurt her. I think the commercials must be shot without the product turned on. (10/17/2008)

By Shannon
Product Review: Pedi Paws
I finally got mine about 6 weeks after I ordered it. Tried it on our pug. It kinda worked, but after about 2 or 3 nails the motor shaft bent and now it vibrates and grabs the nail. CONCLUSION:: Piece of crap, buy a dremmel. (10/18/2008)

By Mike
Product Review: Pedi Paws
I just purchased the Pedi-Paws tool from Walgreens for $19.99, and I LOVE IT! I have a Boston Terrier (15 - 10 pounds), and I just trimmed all of her nails with ease. The one I purchased had PLENTY of power! I took my time and trimmed every nail perfectly. I loved the way the nails weren't "sharp" as they are after using clippers. She didn't mind the small amount of noise, and was rather excited when I was finished. I think this tool might be better used for smaller dogs. So far, this is the best thing I have ever purchased for my dog. (10/19/2008)

By Dewayne
Product Review: Pedi Paws
I used it on my Jack Russell and aside from the normal hyper reaction that all Jacks have, she settled down and it worked fine. I like the fact that it isn't as fast or powerful as a dremmel. It STOPS if you push to hard on the dogs nail. Isn't that the point? It keeps you from chewing away too much or it getting too hot on the dogs nail nerves.
I dunno. I have no problem with it and think it works fine. If you hold your dog long enough it will tell them you mean business and they will settle down. If you let them get away they win! You lose. My Roo learned just after a few "I'm outa heres" that she was going to sit still and get a pedicure. No problem. Besides a dremmel has no safety guard on it. If the dog nips at it he/she could get hurt. This has a protective cap and it also keeps you from shoving the dogs nail too far down into the emory board. I like mine. (10/23/2008)

By lynda
Product Review: Pedi Paws
Hi everyone...
I just wanted to shed some personal experiences. I saw PediPaws first, and decided to order, BACK IN AUGUST! It is now the 23rd of OCTOBER, and guess what, still no product.
I didn't worry at first. A month later, when I heard nothing I called. They told me it would be shipped soon due to high demands, so OK, right?
WRONG! They still charged my card for 35 bucks and change. The darn thing was supposed to be 19.99 and the Shed ender was free.
They said it was shipped out on Sep 17, and still no product. I have called 3 times demanding my refund, 12 days ago, and still nothing.
These guys are scam artists. Do not buy their products. It is not worth your effort or your money. I hope this helps some of you out! (10/23/2008)

By Lazara
Product Review: Pedi Paws
I just purchased pedipaws from a local store and was pleased with it, it did great with my shih-tzus but I have 5 of them and the only bad thing i can say is that it takes very good batteries to make it work. With all my dogs they didn't last through all of them, therefore I spent the extra money for peticure corded for me, plus I have a large dog and it didn't work on him. But i will give it to my sister-n-law for her Jack Russell. If you have just a few small dogs, I would highly recommend it, IT DOES WORK. (10/23/2008)

By connie
Product Review: Pedi Paws
Ha I went to the site and started the order, saw that it was going to be $35.97 and hit CANCEL closed my web browser that was a week ago and today THEY CHARGED MY BANK ACCOUNT. Buyer BEWARE. When I called them they said there was no order I said okay then why am I being charged, well i can cancel that then. Cancel what my non order. Well I see your info here, I'll just get this number for you and it will stop shipping. I doubt I will see a refund so my bank is going to put a stop to it. Good luck. (10/24/2008)

By Rebecca
Product Review: Pedi Paws
I ordered the Pedi Paws deluxe off the internet. I received it in two weeks with no problem. I have a medium size dog about 55 lbs with thick nails. After two dlays of her getting used to the noise she has no problems with me filing her nails. It has tons of power, works as described and makes the nail very smooth.
You just have to use a very light touch for just a few seconds and move on. You can always go back to that nail again. I am extremely pleased with the product and have recommended it to my daughter and sister for their dogs as well. I wonder if the ones sold in local stores are of the same quality because many people have said they have no power and are cheaply made. (10/24/2008)

By Lori
Product Review: Pedi Paws
I don't know about the product but do not order from the pedi paws website or as seen on tv website (thought it might be safer than the official website). I have had nothing but issues from ordering to canceling because it was taking to long than receiving it and having to return it and than receiving a card saying when it was going to ship. If you want to try it-just go to bedbathandbeyond and save yourself the aggrevation. (10/24/2008)

By disappointed buyer
Product Review: Pedi Paws
I bought one at Bed Bath and Beyond. The thing works ok on my small dog, but it has very little power for my Golden. I would not buy it again, I would buy the attachment for my dremel. The concept is great and on my small dog it does the nails very smooth-just no power. (10/25/2008)

By Brian
Product Review: Pedi Paws
Ha, Ha, Ha, those poor dogs on tv have to be on some heavy duty drugs! We got ours two weeks ago and our rat terrier goes berserk every time we get near her with it. Should have saved my money, now it's back to the vet. (10/25/2008)

By Chloe A.
Product Review: Pedi Paws
BUYER BEWARE! I ordered one and waited two weeks for my bank account to be debited. When the charge still hadn't appeared, I finally called, was advised that it would take six weeks to process the order and then six weeks to ship it, so I canceled my order. I was advised that my account would NOT be charged. Ten days after I canceled the order, my account was in fact charged, resulting in an overdraft and multiple overdraft penalties.
When I called Telebrands to report the error, I was advised that they would refund the charge and repay me the penalties in 3 to 5 business days. In the meantime, I'm just supposed to sit around with an overdrawn account or replace the funds from somewhere else. Neither is a palatable option in this economy!! I've already filed a Complaint with the Better Business Bureau and have gone through no less than five rounds with their "Customer Service" team that I can only assume is located somewhere in New Dehli. (10/27/2008)

By Erica
Product Review: Pedi Paws
Just bought the product at Bed, Bath and Beyond. Will have to return the product, did not work on our Labrador. However, if you need to buy for a small dog use the COUPONS that BBB issues, you can save at least 20%. Back to the vet, its easier on all of us. (10/28/2008)

By Corinne
Product Review: Pedi Paws
I first tried with 'pedi cure', I think they are the same people- they must be. I placed the pedi cure order in June and forgot about it. They tried to charge my bank in
early August and the money wasn't there as I had just paid my mortgage. Luckily- no OD fee. They then sent me a letter saying that they had tried to charge my card and it didn't go through, is something wrong? DUH. Yes something was wrong.
I forgot about them and went to Pet Smart and bought a high-end dremel tool for about $75. (I would have used their grooming services, but this is a dog people 'left with me,when moving, and had not yet faxed the shot info that pet smart needs). I took this plug in unit home and after plugging it in- nothing! So, I took it back for a redund and decided on Pedi Paws, as I ad just seen the ad.
Keep in mind, my dog's nails are getting really lomg at this point.
I ordered Pedi Paws, from the website in early August.
They did not charge my bank until late September, but, luckily, the money was there. I received an email from them that it would be received between the 10th and the 17th of October.
I wait.
It comes. With the extra filers I ordered at $37.97 total. I know this is not as much as some were fleeced for, but my patience is growing thin.
I put new alkaline batteries in it and guess what? Nothing happens. I turn the switch on and off and nothing.
I call pedi paws customer service and wait on hold 30 minutes. They give me an RMA# and tell me I have to pay to ship it back but that they will credit me the return shipping later (not holding my breath).
I shipped it back priority mail w/signature confirmation and insurance on 10/20. I received an email yesterday that it was signed for at their fulfillment warehouse yesterday. Priority mail takes 3-4 days.
I guess no one was there to sign for it for a while. I asked for a replacement, but will call tomorrow and ask for my money back. I have all the vet papers I need not for Pet Smart grooming.
(10/28/2008)

By Tracy L.
Product Review: Pedi Paws
I was going to get one to replace the Peti-Cure dremel attachment I am now using. It works fine, but I thought it would be easier to work with a cordless unit.

However, after reading the drawbacks, I am glad I am using the dremel. The dremel I have has an adjustable speed control, & certainly does have the power to do ALL the nails, at one sitting.
My Australian Cattle Dog had no problem with me using it on her.
I was skeptical about the Pedi-Paws, especially when I get so many spam type emails on my account.
Suggest you go to Peti-Cure site & pay a bit more for a really good unit. (10/28/2008)

By Kaicanoe
Product Review: Pedi Paws
I picked up the PediPaws nail trimmer for my 3 Austrailian Shepherds the other day. I have to admit, it works pretty darn good! I don't know why everyone here is complaining. I also have a dremmel style trimmer, which I like, but it doesn't have the guard like the PediPaws. The PediPaws has LOADS of power. Yes, it will halt action if you push TOO hard against the emery portion, but once I got the knack of using it, it worked great. No more splintering of nails and smoothed/rounded their nails quite nicely.
It takes a little longer than the 3-5 seconds the ad states, (perhaps that is true for a small dog), but it has worked great for my use. My 3 "boys" also weigh in range from 50-70lbs. So I have fairly big dogs with fairly good sized nails. So far, I am happy with product. (10/29/2008)

By AwesumAussies
Product Review: Pedi Paws
I got mine at Walgreens. I'm taking it back. It may work on a small dog but it doesn't have the power to work on my lab's or border collie's nails. (10/29/2008)

By Tuxdobird
Product Review: Pedi Paws
I just got one at Walgreen's and I have to say "it works pretty darn good!" I have a small Rat Terrier who can be a little dramatic...but as long as I don't push to hard to stop the emeryboard wheel and have a little patience, it works great! No sharp edges or cracks. The nails are nice and smooth. Worth the $20 bucks. (10/29/2008)

By Anna
Product Review: Pedi Paws
Iceman posted this link on 8/26/08
http://homepages.udayton.edu/~merensjp/doberdawn/dremel/dremel.html
I read the entire thing and I want to thank Iceman for posting it! It tells you EVERYTHING you need to know to use the right Dremel, correctly use it on your pets, and even how to prepare your dogs for the Dremel.
Thanks, Iceman! (10/29/2008)

By Pooka
Product Review: Pedi Paws
I bought this off ebay, It works fine, just a little hard to use on a 4 pound chihuahua, her toes are a little too short to fit in the safety area, so I can not do her dew claw with it, other than that it works fine, has a slight humming sound. I was only able to do one cat with it, the other freaked out. Over all I am happy with my 20.00 purchase. I do not see this working on a really big dog though. (10/30/2008)

By trixie the chihuahua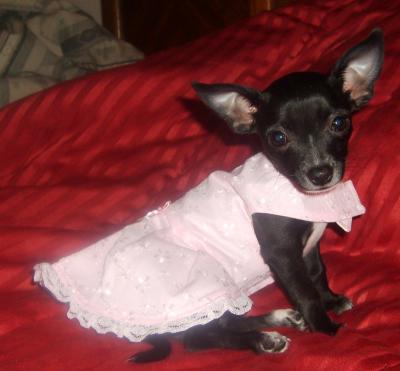 Product Review: Pedi Paws
I like the safety on the pedi paws, ever get your hair caught in the dremel. It ripped a huge patch out from the root... OUCH. I think the pedi paws works fine on my little one. I paid 19.99 free shipping on ebay, it is also the gray one. (10/30/2008)

By trixie the chihuahua
Product Review: Pedi Paws
Do not spend $19.99 on this plastic tool! Unless you have kittens to trim, you're better off with the old fashion clippers. My big old boy basset hound, it would try to file but the wheel stops turning if you apply any pressure to it. Dogs with treats as they tell you before hand, right. The only treat is me taking it back to Wal-greens for a refund. Should of known, even the cashier was skeptical when I purchased it. Dah! (10/31/2008)

By Mr Skeptical
Product Review: Pedi Paws
I bought one at Bed Bath and Beyond for 19.99. Best $20 I ever spent on dog clippers. Gave dogs treats as I showed it to them, touched it to their legs and feet. The next day used it and it was great. It's not so super powerful that you could grind down without knowing it. I take the guard off so I can file their whole nail (but I have two big dogs and am very careful) They don't suggest that but it works better that way. (11/01/2008)

By dog mom
Product Review: Pedi Paws
I was skeptical so bought this at a store I could take it back to. People with big dogs who say this doesn't work are not doing it right! Seriously, I took the yellow plastic guard thing off and used just like a dremmel. It has minimal vibrations and my hyper dogs were fine. Even on dark or black nails you can look under to see the quick, this thing grinds down the tip and I use it under the nail to smooth it out under there as my dogs are very rough on their feet! I found it very difficult to use with the guard on, when you take it off just do it outside as there might be a lot of nail dust. (11/01/2008)

By kr
Product Review: Pedi Paws
Don't waste your money. The dogs on tv were sedated. I bought mine 1 hour ago and I'm taking it back tomorrow. (11/03/2008)

By belinda f.
Product Review: Pedi Paws
Do not waste your money on pedi Paws. I bought this product thinking it was the original unit. This is a cheap intimation. Once you put your pets nail in the grinder it stops. There is not enough power to keep it running. Don't waste your money. (11/03/2008)

By peskygnat
Product Review: Pedi Paws
They are a rip off. My CC got charged on 9/19/08. Have not received product have called 5 times for refund/credit. As of 11/3/08 nothing, keep telling me it takes 5 days for credit. BEWARE! (11/03/2008)

By Jim S.
Product Review: Pedi Paws
I used a dremel on my dog and it worked great but I wanted a guard just in case of a slip. I knew the cordless unit would be less powerful but I was VERY disappointed in the lack of power. I can easily stop the wheel with my fingers. I am taking it back and sticking with my dremel. (11/04/2008)

By Scott
Product Review: Pedi Paws
A fraud that doesn't work. (11/05/2008)

By Joe T
Product Review: Pedi Paws
I love Pedi Paws! I have a 120 pound dog with thick black nails - it took about 2 weeks of working with him every day for 30 seconds at a time, lots of praise and a load of treats, but now I say Pedi Paws, he lays down, lets me do it -- no problem. Be patient and work with your pet. It does work! (11/07/2008)

By Monica
Product Review: Pedi Paws
I bought this yesterday and I just used it on my rottweiler and tried to do my sisters corgi. It worked wonders for my rottie! Didn't get the corgi done though because he's scared of everything; kittens, loud noises, nail trimmers. I think it's well worth it if you figure out how to work it right. My rottweiler has VERY thick black nails and if it worked on him I'd say it can work on anyone! I'm about to go do my Anatolian Shephard too. (11/07/2008)

By Chelsey
Product Review: Pedi Paws
I bough the pedi paws for my cats and the next day I have to return it. It's noisy, cats are scare, it did not work properly. Do not buy anything from this company pedi paws. After I send back the product, it has been more that 3 weeks and I still did not get my refund. I am asking them where is my refund and they told me it's in the process but it has been more that 3 weeks and nothing yet. Be careful they are not reliable and honest. (11/08/2008)

By Helen
Product Review: Pedi Paws
My husband got this for me at walmart. I wanted one so bad because I have 3 large "scaredee" cats, whose nails are hard to trim. I was very disappointed when I turned it on and got 10 toe nails in my face. It's too loud, and does not work like it says. It may work for dogs, but not cats. (11/08/2008)

By Jackie
Product Review: Pedi Paws
I got one for my dog and she hates it and still fights it and I really don't think it does that great of a job on her nails. Granted they are not jagged and split, but still not as short as when they are cut at the vets office. (11/09/2008)

By Lori J. W. SD
Product Review: Pedi Paws
I purchased from ebay and within 3 days it was back on ebay. What a waste of money. Very under powered. The grinding wheel stopped with minimal pressure. And I had to go out and buy 'C' batteries because I didn't have any that size. The least they could have done was use a more common size battery (like 'D'). If you want to go with this type of nail trimming go with a Dremel tool. (11/11/2008)

By Philip
Product Review: Pedi Paws
For anybody waiting for a refund on their credit card for returned or never received items. After 30 days contact your credit card issuer for a charge back. Visa regulations say that the merchant has 30 days to process the credit from time the merchandise is returned or from the time you notified them that you didn't receive merchandise and they state they would credit you. If you wait too long you cannot dispute anymore, so make sure to take action after 30 days! (11/12/2008)

By Carola C.
Product Review: Pedi Paws
My wife ordered one from the television. Received two of them. She also ordered a couple packages of additional sanding tools.
Total order came to $ 165.00.
I was upset with the $ 65.00 shipping and handling charges.
I called the company and they gave me a return order number and said I could return it.
I did not try to use it after looking at it.
I do not know how hard it will actually be to get a refund.
My wife is on medication, the operator may have noticed that and talked her into buying additional sanding drums.
I do not think she would have ordered two though.
The price was to be $ 19.99 my wife said, but they charged $ 29.99 + $ 7.00 shipping each.
Looks like crooks to me. (11/12/2008)

By alan
Product Review: Pedi Paws
Got it today at Bed Bath and Beyond. It's "just ok". I have a black lab and she was totally fine with it- but I used it on my cat and it just rips his nails. It didn't hurt him, but his nails are just all jagged now.
I'll use it on the dog again, but will continue to just clip the cat. For $20.00, I can't really be disappointed. (11/15/2008)

By Tami
Product Review: Pedi Paws
As mentioned above, the motor stops with little pressure, no means to tighten on the grinding wheel, hence it slides all over the place. It removes very little nail; it seems as though you'd have to be there all day to remove a significant amount. I'm a manufacturing engineer and am very displeased with the actual piece when holding it in my hand; cheap plastic and an underpowered motor.
I feel the only way they can get away with offering such a poor item for $20 is to market it to unsuspecting pet owners vs. any other serious grinding duties. Even so, it performs terribly, and I wouldn't advise anyone to spend money on it. (11/15/2008)

By Not a fan.
Product Review: Pedi Paws
I actually purchased this from Bed, Bath, and Beyond, thinking I was getting the Peticure. At the time, I had no idea there were 2 different brands.
The pedipaws is not that powerful. And I am only using it on 2 dogs that weigh less than 15 lbs each. The protective cover doesn't do a good job trapping the dust particles in. And it is very hard to round the nail of my small dogs.
FYI: if you have a dremel, peticure sells the protective cover adapter to turn your dremel into a nail grinder. I think I will be doing this instead, since the dremel has a lot of power. (11/16/2008)

By Daniel
Product Review: Pedi Paws
Folks don't waste your money on Pedi Paws. Made cheap,and won't file a toothpick. It would take forever and a load of batteries to file the pet nails with this. The grinding material is all wrong. A sanding stone is what you need to use. Take your money, buy a cordless dremel, use dremel with a small sanding stone and you have the best pet nail filer in the world.
Of course, you have to be really careful, but it only takes a minute to file down all the nails with this. It is quitter than the Pedi Paws, made great, and has many other uses. Lowes, Home depo, Walmart sell the dremel. It is cordless with charger, comes with attachments, and even a carry case for 40-50 bucks. (11/16/2008)

By Lori M.
Product Review: Pedi Paws
This company will not return my money after charging me twice for the product. the keep saying it will be refunded but after 6 months and 25 calls, still no refund. They are typical of the companies that intentionally structure their company to refuse refunds even if they steal from you. (11/17/2008)

By Alan Bryce
Product Review: Pedi Paws
This thing stinks. The dogs hate the noise and the file doesn't even do anything. My dog actually let me get her nail in it and I held it there for a bit but it did nothing at all to the nail. My other dog was scared of the noise and jerked his paw away. He must have caught the nail in it and hurt himself. He's limping around now and won't let you near his nails. Don't buy it. (11/19/2008)
Product Review: Pedi Paws
This product is terrible, I returned and good luck getting your money back they delay and delay. They give you the run around so you never get your money I am now having to dispute after they got the returned items (probably resold them.) You have been warned. Do not buy this. (11/20/2008)

By Richard