June 28, 2007
1

found this helpful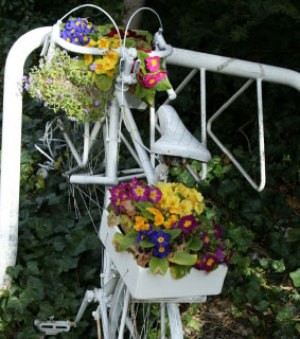 Here are some unusual objects that people have in their garden.
Bowling Ball
I use a bright blue bowling ball as a gazing ball in my garden. I have some others that I plan to paint and sink part way in the garden at different intervals. I will paint a face on one for the head and the others for segments for a large worm/larva.
By Ajdutchtown
Recycled Items
My garden not only had old army helmets spray painted to look like rocks and sunk half way into the ground, but it also had an old mailbox (the large kind) without the door. I put it into my garden put dirt into it and planted flowers coming out of it. I also had one area that I called my eternal garden. It bloomed all year round, even in the snow... it was silk flowers planted in an old tire ring that was spray painted to look like a clay pot and decorated with "critters". You know the type you buy to put in the garden (squirrels, rabbits, etc.). Any garden can be creative, especially when you recycle old things (chairs, tires, tubs, footlockers, etc. - flea market finds).
Unusual Containers
I'm always looking for unusual containers having been a military wife and now married to a contractor. In other words, I'm used to thinking of the next move. Now that we have our feet planted firmly on the ground, things are a little different.
My aunt gave me a copper wire cat for Christmas. You're supposed to store eggs in it, or a house plant. I've set it out in the garden, it looks like it's looking out from under the azalea bushes!
This isn't really an object on display, but the previous owners left a bunch of rubber mats around the property. I've been using them to kill off grass where I'm planning a garden for next year. The previous owners left a lot of trash, I've found a bunch of broken buckets which I'm using to make an eclectic collection of raised beds!
We also have an old chimney in a wooded area that I am planning on covering with air plants if possible. I just have to find some for zone 7!
By voni
Killing Weeds
I liked the idea of the rubber mats for killing off weeds. I used an old carpet to kill off weeds in the drive to the gas pump on our farm. Old clay fired tile make excellent 'flower' pots.
By ajdutchtown
RE: Unusual Objects in the Garden
I have an old wringer washer, I used to use it for a ice container for parties, it is now a planter and looks really neat. I have an old tub on wheels which is now a planter as well!
By Rosa Brown
Furniture
I have an old willow couch that was left outside too long and is no longer useful as a piece of furniture. I have it sitting in my back yard covered with vinca vines. I planted a climbing rose behind it. I'm hoping I can bend the branches over the couch and wind it around the willow. It looks very rustic and interesting. We also have an old bed that we converted into a raised bed for flowers.
By Susan
Ideas from the South
I grew up in the south where anything is game! We had a friend that had an antique stove and had it placed in the garden and took the metal plates from the top of the stove and placed pots inside of them. My mother "inherited" an old wagon wheel, bed pot, and water pump she placed in her yard and planted flowers in or around. She also had acquired some old cowboy boots and filled those with dirt and planted flowers in them and placed them around her yard.
My husband and I used to own a four-plex and someone in a building behind ours had thrown out an iron chair that the seat had come off of. I spray painted it a pretty sage green and was going to put a large flower pot inside the seat hole when I remembered I had an antique wash basin and it fit perfectly. Every time I have a yard sale someone tries to buy it from me!
By Tawnda
Bike Planters and Trolls
Several places have seen old bikes painted and roped in the yard with flowers in the baskets. It has a certain charm if it's done right!
A while back I lucked out when a neighbor's rummage sale flopped and I got a bunch of stuff they sat out for the trash truck. In that "mess" I found some really interesting garden trolls - Ozark style made from tree limbs with forest stuff for hair and facial features. They had "ages" marked on the tags 116, 642 and so on - really fun! I hid some in the branches of some bushes in the yard so that they peek out.
China Dishes
I use antique china saucers to line my flower beds, it's beautiful. Place them very close together and they will have a beautiful scalloped edge. Use platters or plates for end pieces. I even put a row in my window boxes at the front side just to prissy it up.
By Libertysweat
August 9, 2007
0

found this helpful
Unusual garden art and planting containers submitted from the ThriftyFun community. Post your own ideas here.
Children's Shopping Cart
I like to decorate our yard with unusual items during the summer months and get quite a few compliments on how wonderful and "inviting" our yard looks.. We even won a beautification award from the city we live in. My most recent "thrifty" idea was:
My neighbor was throwing out one of those plastic blue/pink child's shopping carts as one of the wheels was cracked. I asked if I could have it - she gave it to me. I asked people at work to save me their plastic Folger's ground coffee containers. I had gotten some seeds from a neighbors plant for marigolds. I glued the cracked wheel on the shopping cart. Then I drilled holes in the bottom of the Folger's container and filled it with dirt and planted the marigold seeds. I put the Folger's container in the shopping cart and put the cart on our front porch. Now I have a beautiful plant growing in a colorful shopping cart and it has been quite a conversation piece and is really cute! By Robin
Recycle Old Things In Garden Decor
I love ideas like this - the only limit is your imagination. Among my garden beds I have an old wheelbarrow, earthenware jars, white ceramic insulation things from old telegraph poles, a terracotta chimney, 3 iron wagon wheels, a wrought iron bed end and 2 rams skulls complete with horns! They all blend in with my natural native garden.
By Jo Bodey
Use Baby Things As They Are Outgrown
I've done the same thing. It appears I am always looking at something to see how I can use it instead of throwing it away. My daughter just got through cleaning her room and she has two of the shopping carts with the wheels broke on it. I set them aside to do the same thing that Robin did. Just haven't gotten around to it. I took one of her plastic baby doll carriers and placed a pot of allysums in it and have it setting out in front of our carport. I took her old baby bathtub placed dirt in it and planted marigolds and dwarf zinnias in it and placed below our outside water spigot. I plan on using her old baby plastic potty chair as a pot and place on the other side of the bathtub.
By Renee Taylor
Feng Shui Garden Art
All these ideas sound great!! I have just started in my back yard. First I put in some Feng Shui colors, mostly flowerbeds. I like unusual container ideas too. So far, I have a full-size toilet, classic rusty wheelbarrow, couple old metal patio chairs, a TV and 2 old-fashioned radiating heaters. The latter 2, having trouble deciding what to do. Any ideas? Especially with Feng Shui in mind!
By Judy
Answers
August 9, 2007
0

found this helpful
By radiating heater do you mean an old electric or one of the wood burning kind?
Whichever it is it will provide some warmth to your atmosphere. Sorry couldn't resist.
Answer

this Question

...