I love to recycle, especially when I am taking something that was used for one purpose and making it into something that can be used for a totally different purpose. Here I would like to share an idea that really uses something that most people have or can easily come by and that makes a beautiful decoration for your garden.
The instructions are easy and it is not really messy; so it is even something that older children or teenagers might like to do. We are going to recycle a bowling ball into a garden ball that will catch the light and be a joy to look at. Now I made mine red, white, and blue in a free form flag sort of arrangement, but these can be made in any color you would like.
Time to complete: 2 good nights of TV
Materials
bowling ball
flat marbles
I bought 3-4 bags and had plenty left over. These can be bought in the floral section of Walmart. They are used in the bottom of vases.
spray paint, to match your main colored stones
clear GE Silicone 2
This comes in a tube and can be found at any home center or hardware store.
coffee can full of sand or one big rock
tin foil
plastic knife
Instructions
First, find yourself a bowling ball. You may have one hanging around or you can buy them at most major thrift stores for around a dollar, but if you are a scrounger like me, you can try your local bowling alley and see if they have any they are getting rid of. They don't need to be beautiful, the more scuffed up they are, the better for you because they will probably give you all the damaged balls you want.
You will want to clean your ball really good with window cleaner and a towel. Now take your ball outside and spray paint it the color that you have picked out.
Use your coffee can, full of sand or rocks, as a stand. Let ball dry completely.
Now here is the fun part. Put your bowling ball back on the can. Cut open your tube of silicone (which in my family we call glue because, if we are gluing something that needs to be waterproof, we use this) and squirt some on a piece of tinfoil. With your knife, spread a small amount on the back of your flat marble and press into place on your bowling ball. Hold it there for a couple of seconds to get it to stay put. Cover half of your bowling ball and let it dry until the next evening. Turn your ball over on to the covered side and cover the rest.
Unless you have gotten a ball with huge finger holes you can usually cover them with just one marble. But I usually tightly pack the finger holes with paper or Walmart bags, keeping it flush with the ball and then cover with marbles. I always leave the thumb hole exposed so that I can display them on a piece of rebar in my yard but if you have an old cement stand from a bird bath that has gotten broken, it is a great way to recycle that too. You can make stripes on your balls or make a pattern like my flag or work any kind of pattern that you like.
About The Author: Debra Frick is a mother of 5 and a grandmother to 7 grandsons. She is a published author and poetress. Born in California, she now lives in Colorado Springs with her husband and many pets. Her hobbies include crocheting, reading, arts and crafts and bargain hunting.
Add your voice! Click below to comment. ThriftyFun is powered by your wisdom!

Pat Giles
Gold Feedback Medal for All Time! 791 Feedbacks
July 3, 2007
1

found this helpful
A very pretty patriotic idea - thanks for sharing it with us! God bless you!

July 3, 2007
1

found this helpful
Cool Debra, thanks for sharing this. I bet families with military members would especially like the patriot theme. I have 7 military in my family so, I really am proud of them for their sacrifices. May be good gifts for them. Or putting your address number on them or your last name. As you can see I truly love your idea. Thanks again.
Karen
THANKS FOR THE WONDERFUL IDEA..WE ARE GOING ON VACATION AND WE ARE CAMPERS; TO OCCUPY OUR TIME, I AM TAKING MY OLD BOWLING BALL WHICH IS PINK AND GRAY AND MAKING ONE OF THESE BALLS! WE ARE LOOKING FORWARD TO IT. I WILL POST A PICTURE WHEN WE COMPLETE IT.
WE JUST RETURNED FROM A CAMPING VACATION AND WE MADE A PATRIOTIC GARDEN BALL FOR OUR YARD; WE PAINTED THE BOWLING BOWL WHITE AND USED BLUE FLAT MARBLES. I PLACED IT IN A SMALL BICYCLE PLANTER STAND THAT IS PAINTED RED. IT IS REALLY PRETTY ON MY DECK AND THE SUN REFLECTS OFF THE BLUE MARBLES AND IT IS SPECTACULAR.
THANKS FOR THE IDEA!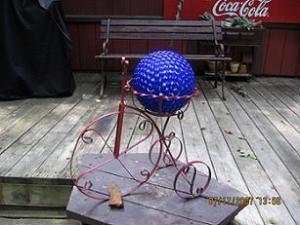 suzanne
Silver Post Medal for All Time! 277 Posts
July 18, 2007
0

found this helpful
wanda I love your ball what a great job
WE ARE GOING TO TAKE A BOWLING PIN AND USE THE SAME TECHNIQUE; WE ARE GOING TO PUT A HEAVY HANGER IN THE TOP OF THE PIN AND ADD A DECORATIVE CHAIN AND HANG IT ON A PLANT HANGER; WE WILL PAINT THE BOWLING PIN AND USE THE SMALLER MARBLES. WE WILL USE THE SAME PATTERN AS IN OUR BOWLING BALL GAZING BALL; WE STARTED AT THE TOP AND FOLLOWED A CIRCULAR MOTION OF DESIGN.
I WILL POST A PICTURE WHEN THE PROJECT IS COMPLETE.
By Fae Thompson (Guest Post)
April 7, 2008
0

found this helpful
Will this hold up outside in weather conditions, do you spray with anything to protect it?
Add your voice! Click below to comment. ThriftyFun is powered by your wisdom!