Meet Jaxton and Kyler. Jaxton (fawn one) is almost 8 years old and Kyler the blue one is almost a year old. They are both Great Danes. They were both gotten from breeders, Jaxton when he was 11 weeks old and Kyler, from another breeder when he was 8 weeks old.
They enjoy anything that means they are close to mommy and daddy! Jaxton is older now so he just really likes to sleep. Kyler loves to run like crazy, and he loves water, rain, the water hose, sprinkler, bathtub, you name it, if it involves water it involves Kyler!
They are best friends, but I think Kyler loves Jaxton more. If he isn't next to us he is cuddled with his brother! I'm not biased, but I must say they are the most precious, beautiful, loving doggies ever!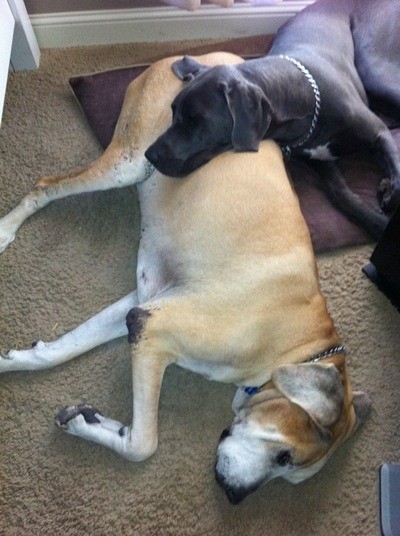 By Jennifer
Add your voice! Click below to comment. ThriftyFun is powered by your wisdom!
February 4, 2011
0

found this helpful
It's always such a pleasure to see animals that so obviously love one another. It certainly reflects the
love you've raised them with.
Thank you for sharing them with us.
Pookarina
Add your voice! Click below to comment. ThriftyFun is powered by your wisdom!
Jaxton and Kyler are 7 years old and 5 months old. They are Great Danes. We got Jaxton when he was 12 weeks old and we got Kyler when he was 12 weeks as well. They like to do anything that involves being close to mommy and daddy!

They both think they are lap dogs. Jaxton is 175 lbs and will literally back up and sit on our laps. Kyler is 85 lbs and when he decides he wants to lay on us he refuses to give up!

Kyler is a total water bug if he sees a sprinkler, a running water hose, or a puddle it's all over with! You have to fight him to get away from it!
They are both the most precious, loving, extremely well behaved dogs. They are the complete center of mine and my husband's life, it's actually really sad! haha!

By Jennifer
Answers:
Jaxton and Kyler (Great Danes)
Great Danes are one of the best breeds of canines on the planet! They happen to be the only really large breed dog I am not in the least bit frightened of because of their sweet, predictable personality. ;-) Your babies are absolutely adorable! (08/10/2010)

By Deeli
Jaxton and Kyler (Great Danes)
What a sweet pair! My dog Eddie is about the size of Kyler and I know what you mean about the lap. Eddie scrambles to get on my lap with his back legs hanging down, but he doesn't care just as long as he's somewhat on my lap. Your babies are beautiful.
Thumbs up! (08/10/2010)
By Paula