October 13, 2008
0

found this helpful
Here's his picture, we're so proud of him, he's the cutest, smartest dog ever =) (not that we're biased, lol)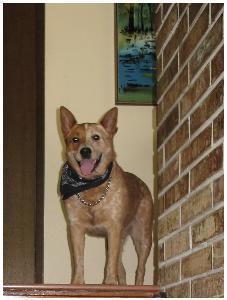 susan
Silver Feedback Medal for All Time! 472 Feedbacks
October 16, 2008
0

found this helpful
Get some tea tree oil, put a little in some liquid castille soap or baby shampo, and give him a bath. The tea tree will kill and fleas, soothe the irritated skin, and take the itch away. It's harmless to your pet and can be used with any other treatment you choose. Just be sure to keep it out of his eyes.
I even diluted some tea tree in a little olive oil and put it right on the sores with a cotton ball, but if he's an inside dog, the oil may rub off on the furniture (if used this way).
By Artlady (Guest Post)
October 16, 2008
0

found this helpful
I just posted on this same problem yesterday. Someone on this site has posted about giving your dog yogurt. It was probably about a month ago, now. I started giving my dogs yogurt and have been very pleased with the results. Try searching for the post by using the words "yogurt for dog". It's very inexpensive and seems to help them tremendously.
By doglvr (Guest Post)
October 16, 2008
0

found this helpful
It sounds like histamine is being released by the remaining mast cells. My dog had this kind of cancer and eventually the excessive amount of histamine in his body made him vomit alot.
Is there some kind of arrangement you can make with your vet for paying for the additional surgery?

November 19, 2008
0

found this helpful
My 8 year old shitzu was recently diagnosed with a mass cell tumor and had surgery. They got all the tumor with almost 2 cm margins around which were all clear. The depth margin was only .5 cm and included one layer of muscle. The oncologist that was consulted wants to do more surgery to get even bigger margins and another layer of muscle (which may leave him lame). The tumor was grade 2 and the miototic was less than 6 (indicating less agreesive tumor).
Not only am I concerned about cost but also necessity and side effects.
My biggest concern is the fact that he always seems to have a runny nose, sometimes it seems stuffy, and in the past 6 months (about the time AI first noticed the "mole") he began a habit of licking two of his legs. Anyone know if these allergy like symptoms are associated with mass cell tumor? I can't find anything to link them in my web search and my vet is unsure.