bryguy
Bronze Feedback Medal for All Time! 167 Feedbacks
November 13, 2008
0

found this helpful
I'm not Jewish but ideas for other holidays should be easily adaptable for Chanukah. For example, sugar cookie dough can be cut into shapes that is meaningful for the holiday. You can buy the dough pre-made in the dairy section, i.e. Pillsbury (make sure it's Kosher!). Or if you're really on a tight budget, make your own dough.
If you can't find Jewish cookie cutters, improvise. For example, two triangles can be overlayed to make a Star of David. Triangular cookie cutters can be easily found. Decorate with food coloring or frosting as desired.
If the kids are very skilled, make more complicated 3-dimensional sculptures, i.e. a dreidel. Simply bake (or buy) 5 square cookies to make a cube missing one side. On the missing side, put 4 triangular cookies to make a pyramid. Lastly, put on a stem. Voila, a dreidel. If you bake the cookies, these shapes are easy to make. All the cookies can be glued together with thick frosting or glaze (make your own with sugar). Now paint on Hebrew characters with frosting.
Another project is a cookie jigsaw puzzle. First, cut the dough into Jewish shapes. And then further cut these shapes into 2-4 pieces. Now bake to harden. After cooking, mix the pieces in a bag. Then ask the kids to find and glue the pieces together (with glaze or frosting) to recreate the original shape like a jigsaw puzzle.
Cookie dough, frosting and glaze are easy to make if you want to save money. The most important ingredients are sugar and flour. You can also use juices to flavor and color. Or use food coloring. Search for "sugar cookie" and glaze/frosting recipes.
Happy Chanukah!
Here are some Jewish cookie shapes
images.google.com/images?sourceid=groowe&ie=UTF-8&q...
PS - go buy a copy of David Bader's "How to Be an Extremely Reform Jew." It is laugh-out-loud hilarious. One amusing cartoon shows how to convert a Mickey Mouse hat into a yalmuke. I keep a supply of 10 copies to give to Jewish friends.
www.amazon.com/.../ref=sr_1_1?ie=UTF8&s=books&qid=1226620304... (Affiliate Link)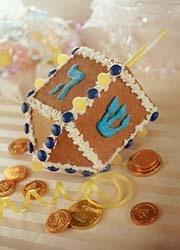 November 21, 2008
0

found this helpful
What I've done with my kids included various craft projects. We've picked up sticks from the yard to form Jewish stars and other shapes that we've glued together and used for centerpieces. We've bought sheets of beeswax at the craft store to make our own candles (not necessarily the most gorgeous candles, but they're fun). We have also made menorahs using bottle caps glued onto a leftover piece of wood that we then painted and decorated. Good for holding the funky hand-made candles. :)
I make my own applesauce to use with the latkes which tends to taste really good and allows the kids to help. All you need to do is have the kids peel the apples with a vegetable peeler and maybe (depending on their age, maturity, ability) chop up the apples. I have them use a special knife from Pampered chef that I got years ago, but even a plastic knife or butter knife can often cut up an apple. Once chopped, put the apples in a pot with enough water to come about half way up the apples. Bring to a boil then simmer while the apples cook down. You can add jam or cinnamon to the mix, and the kids love it.

January 2, 2009
0

found this helpful
Right now, Chanukah's over and there will be Chanukah supplies in grocery stores that can be bought at great, low prices. I went to the store and got about $200 worth of Chanukah supplies for $50 because the stores didn't want to keep them around for another year.
Depending on their ages and level of coordination, children can stir cookie dough, roll them out, press the cutters into the dough. They can decorate cookies when they come out. Some kids can help grate potatoes, or mix together the ingredients for latkes. Kids will also love helping with sufganiyot, but don't let the younger ones near the hot oil.
They can choose what colors of candles go into the menorah on which nights. I used to play math games, figuring out how I wanted the menorah to look on the last night (mostly blue, with a white shamash, or vice versa), then arranging all the other colors to make pretty patterns. They can help clean the menorah if you trust them with the wax cleaning solution, and then polish it afterward with polish and fuzzy cotton polishing gloves.
Children can choose the music that will be played during Chanukah parties -- make a playlist on iTunes or pick the CDs for the CD changer to cycle through, if you have such technology available. If they play musical instruments, have them learn to play a Chanukah piece together, such as Mi Y'malel, or S'vivon, Sov, Sov Sov, or On This Night (a bit slower and easier than the first two). Teach them to sing the blessings over the candles as well. Few things are sweeter than little voices, singing blessings. Make sure to also teach them what the blessings mean, so each word will be infused with meaning for them.
The most important thing a child can do for any Jewish holiday, though, is ask questions. The entire point of the Passover meal, in fact, is to encourage questioning -- and could we dare do less for the celebration of religious freedom than we do for the celebration of national freedom? Tell your children that each one should ask at least one question about Chanukah every day if they can, and if you don't know the answers, you'll join them in looking them up and learning.