November 21, 2006
0

found this helpful
I made my own by just adding water. I put about 3/4 of an inch of soap in the bottom of the pump and then filled the rest of it with water. Gently shake from side to side to mix it. I couldn't tell the difference from my refill to the original.
November 21, 2006
0

found this helpful
You probably used too much dishsoap and not enough water. I did too the first time I tried. It has to be r-e-a-l-l-y diluted...only 3/4 to 1 inch of soap and the rest water, mix gently. Worked great for me!
November 21, 2006
0

found this helpful
Wow, that is interesting that you can have results like the original with just 3/4" of soap and the rest water! Did you use some sort of Dawn or can it be any sort of dish soap? I love the Dawn Direct and had some good coupons to get it cheap.
I will say it lasts me a long time and I am only on my 2nd bottle in 11 mos time (I do have a dishwasher tho). The only complaint I have is that the pump usually drips so then I have a little soap mess on the back of the sink.
November 21, 2006
0

found this helpful
Wow! I did it! It works great!
We love the pump and now we have one in the kitchen and one in the bathroom. Crazy? And the pump is over the sink so no worries on the mess.
I knew this was the right place to ask! Google brought up NOTHING.
You all are awesome! Thank you all so much!
pk
November 21, 2006
0

found this helpful
Debbie52...I've used several brands of dishsoap, Joy, Ajax, Palmolive, and yes, even Dawn too. They all work just fine. I have a dishwasher, so don't really do much hand washing, but the foam is great for a quick cleanup of a dish or pot.
Mine drips too, but I just placed a small sponge under the spout, then use the sponge for quick counter cleanups. That way I don't waste a drop of that lovely foam! :-))
November 23, 2006
0

found this helpful
jowhit67: thanks for the tip about putting a sponge in the sink under the pump. I was just having a drip down the side of the sink which I always had to clean....altho as I wiped that area, I could just then clean the whole sink. I set a little plastic lid under the pump bottle but that still didn't take care of it because the spout extends past it. Your idea of a sponge there to catch the drips is great!
I am down to the right amount left in my present bottle of Dawn Direct to just add water and see how it works for me.
November 23, 2006
0

found this helpful
Oh and I agree with Poogles, this site is awesome. It is a wealth of information. I just love it!
November 29, 2006
0

found this helpful
I do the same thing for washing my hands, only I use Soft Soap or a similar product. I use a ratio of 1 part soap to 6 parts water. I have one pump that is marked just for that purpose. I got it at a Pampered Chef party of all places. I just love it.
Judy in Alabama
By Rebecca (Guest Post)
January 21, 2007
0

found this helpful
Pampered Chef sells the "foaming" bottle. It has a fill line for the liquid soap and a fill line for the water. It it works great!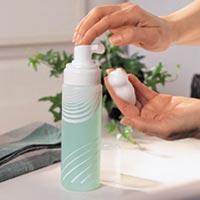 June 1, 2008
0

found this helpful
I put 1/3 cup vinagar, 1/4 cup dawn and the rest water in the pump. It works the same as the full strength stuff.
February 19, 2010
0

found this helpful
You know, I've thought about this many times. The dawn direct foam is like a super degreaser with some orange oil or cleaner in there.
I'd mix a really good degreaser (cost-co has a good one & it's runny like water) & the people who make oxi-clean, makes an incredible orange cleaner, that will take off baked on oven grease, then add some dawn. Watch the thickness of it, too think & it won't come out the pump. You may even have to add some water. Experiment with a 1 cup measure & see what you come up with. The stuff from oxi-clean is thick, like the dawn, sort of. When mine is empty, I'm trying it too.
February 19, 2010
0

found this helpful
I love foam soap, too! But instead of buying a pampered chef one, I reused a Target hand soap one, and have used a gift Bath and body foam soap one over and over and over.
I had a pampered chef one, and it stopped working after a while. Maybe they've improved it as that was a long time ago.
I just mix the dishsoap or clear soap with water to the foamy consistency I like.
Love it! Faster to rinse and I use all dish soap for washing my hands and cleaning dishes at the kitchen sink. That way I don't need a separate one for hands. I do keep the dish washing soap in a squeeze bottle that I refill.
At Sam's they have a new eco dish soap that really works and isn't hard on the hands! It comes in a gallon size and is very economical in price and it doesn't take much.
February 19, 2010
0

found this helpful
I love to use essential oils in my foam. I use the same 3/4 of an inch of soap fill the bottle and put 15 to 30 drops of lavender or rosemary essential oil sometimes 15 of both. It is so refreshing. Adds a wonderful personal touch to these bottle. Makes them great gifts too.
February 20, 2010
0

found this helpful
I have a couple of the foam bottles from Bed & Bath that won't work, any ideas on that? It takes force to push the pump down.
April 3, 2010
0

found this helpful
My bottle says you have to use their product for refill, but rebel that I am I tried to dilute soap and make my own. Through several attempts I found that 1/2" soap and the rest hot water, shake gently and walaa-I can't tell the difference.