Here is another idea for Mother's day that should not cost a lot in these hard times but should bring joy to any mom that stands on her feet all day.
Anyone that reads my articles on a fairly regular basis know my favorite place to shop is the thrift store. Many things can be bought there in almost new condition and at a fraction of the cost of buying brand new.
So here is a really neat idea for making Mom a happy camper when she comes home after working hard and has sore feet. With a little adult supervision, this could be done by children and would be no problem for a teenager.
Materials
1 electric foot soaker ( I paid around 3-5 bucks for the two I bought)
1 recipe of foot soak (at the end of article)
1 set of toe bridges (foam things that you stick between your toes to keep them separated)
1 bottle of nail polish ( her favorite color)
Lotion or foot cream (Wal-Mart has foot cream very reasonable)
A small pillow (Decorator pillows can also be bought at the thrift store)
1 Certificate for a foot rub
Big cellophane bag ( Buy these from the Dollar Store)
Big Bow (Can also be bought at the Dollar store)
Clean Foot soaker with weak solution of bleach and water. Dry thoroughly. Inside of the well put some shredded paper from your shredder and then nestle in your foot supplies along with the certificate for a foot massage. The Pillow is for her to put her feet up and relax or for doing her pedicure. Put every thing into the big cellophane bag. Decorate with bow. Add a card if you wish that you made yourself. Moms love that kind of thing.
Foot Soak
1/2 cup Epsom salts
4 drops of her favorite perfume
Mix together until well mixed, store in a pretty jar.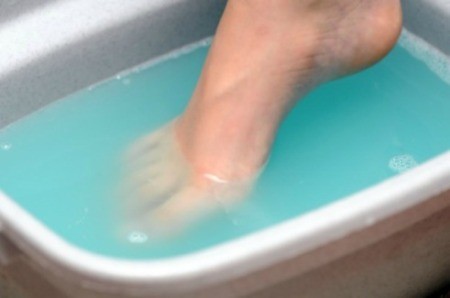 About The Author: Debra Frick is a mother of 5 and a grandmother to 8 grandsons and one granddaughter. She is a published author and poetress. Recycling and saving money are her passions. She also loves crocheting and cooking. She is also a pet rescue volunteer and has many pets of her own.
Add your voice! Click below to comment. ThriftyFun is powered by your wisdom!
May 9, 2010
0

found this helpful
Thanks for posting this. I've been meaning to give Mom a pedicure, and Mother's Day is a perfect time to do it. :-)
April 24, 2017
0

found this helpful
I put a few drops a tea tree oil to sooth and disinfect, then I use sloughing cream get rid of all the old dead skin, you'll see it all the old skin fall off ,so be sure to do it over a towel,the feet feel amazing after the soak and massage, if your mother is a diabetic make sure you don't use the foot scraper with a blade, I never use that any way it can cause worse problems for the feet, but she'll love the pampering anyway, I sure do
Add your voice! Click below to comment. ThriftyFun is powered by your wisdom!