Pet accessories can be very pricey, and aren't always made of the safest or best-quality materials. Don't despair! Rather than let a pet sit in a boring cage, you can outfit your pet's domain with unique toys, decorations and even pet 'furniture' from objects you have around the house.
Supplies:
a cage with metal bars (tall, narrow birdcages work wonderfully) *Warning! Old cages may contain lead or other harmful metals that would make your pet sick!
a kerchief/bandanna
split rings and/or small carabiners
a small teacup or creamer
a whisk
a piece of wood cut to fit the width of your cage OR a piece of Tupperware, close to same size. If you use wood, make sure to sand any sharp edges.
craft wire
nail/screw for making holes
3 grommets
Directions:
I have two rats, and one thing I've come to understand about them is their curiosity and love of anything novel that they can interact with. Once our girls grew up, we upgraded them to a large metal birdcage that initially seemed too empty. It was boring, and the girls didn't have much to do, so I had to get creative and make their new home into a fun and exciting place. These are just a few ideas to help transform your basic rodent cage into a playground for your pets.
The cage I bought came with two plastic perches that bisect the cage and fit into the vertical bars on either side. I used these perches to create a foundation for a '2nd floor'. I found a cheap Tupperware box, and sat the lid on top of the two perches. Then, I made two small holes near the edge of the lid with a screw, and hooked a pet ladder (which I found at a Dollar store) to the lid, via the holes. I made two holes, one in each far corner of the lid, and strung wire through them to ground the lid to the cage bars.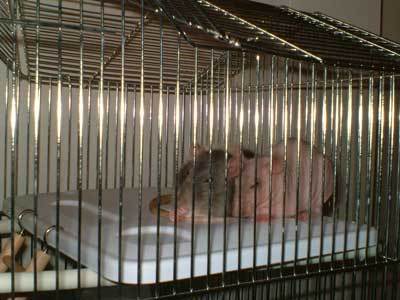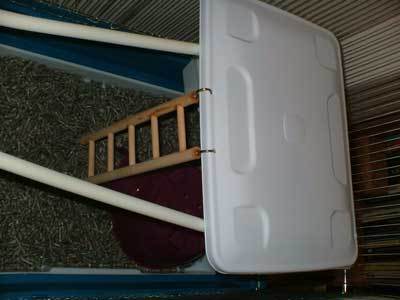 If your cage does not have perches to use for a foundation, you can easily have narrow dowels cut to fit your cage at a hardware store, and use them in the same way. Alternately, it would be easy to make two extra holes on the front corners of your plywood or lid, and secure all four corners to the cage bars with wire.
A note regarding wire: Make sure that no sharp ends are accessible to the rats. You can use a small piece of duct tape to cover the exposed wire. Keep in mind that rats and other rodents can (and will) find opportunities to gnaw anything, and you may have to replace the wire from time to time. Voila! A second floor, with a ladder for access!
What I did next was make two 'chains' with sturdy split rings. I attached a small metal creamer to one chain via its handle. I attached a whisk to the other chain, via the loop at the end of its handle. Both of these items hadn't been used for ages, and were on their way to the trash, so I'm glad I was able to recycle them. I hung the chains from the two corners facing the second floor, high enough so both the creamer and whisk were 5 or 6 inches from the cage floor. I've been using the creamer to hide small amounts of treats in. The rats will climb up to it, swing from it and even attempt to hide in it. The whisk has worked out great. I've stuffed paper towel and other nesting material into it, and the rats shred and tug to their hearts' delight. It would also work well as a hopper for veggies.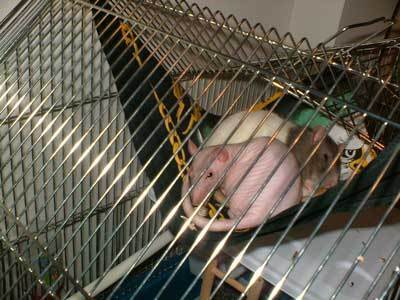 For an inexpensive rat hammock, find an old bandanna, or cut a large fairly even square of fabric. Fold it in half diagonally two or three times, until you have a well-reinforced triangle that's about 5-7 inches wider than the cage. With scissors, make a hole in each corner and place a grommet in each hole.. Attach three split rings to the triangle via the grommets.
Next, you'll need to attach the hammock to the cage somehow. If your cage roof is detachable, you can easily hang the hammock from the roof using the jump rings.. Find three bars that, when the three corners are hung from them, will allow for drape. You don't want the hammock to be stretched taut.
Your cage may open in a variety of different ways, it might have a roof that lifts off, or sliding doors. Usually, cages can be disassembled conveniently for cleaning purposes. If your cage roof doesn't come off, attaching the hammock may be matter of removing the bottom/tray and coming at the roof from below. Wherever you decide to hang the hammock, make sure there's a fairly loose drape so the rats can easily climb in and out of it.