June 13, 2008
0

found this helpful
Be careful using baby food, Many contain Onions and/or garlic which can be deadly to dogs and cats.
Turkey is not a food recommended for dogs.
Also To much Milk for my liking, Dairy products are high in fat, which can cause pancreatitis, gas and diarrhea.
Most of my dogs can't tolerate Wheat, Other then that, Good treat, I guess
June 13, 2008
0

found this helpful
How long do they keep in the fridge?
June 14, 2008
0

found this helpful
Soft treats usually only keep about 7 to 10 days in your Fridge, you can also freeze soft treats and thaw as needed,
Or you can dehydrate/Dry your treats and they will keep anywhere from 3 to 6 months in a cool, dry place away from moisture.
You DO NOT need to add any form of Preservative to Dehydrated Treats either :)
By guest (Guest Post)
June 14, 2008
0

found this helpful
I'm going to try those this weekend. It's true that dogs can't have onions, but my vet said garlic is very good for dogs because it repels fleas. Thank you for recipe. My dogs will love it.
June 15, 2008
0

found this helpful
The dry milk I get is non-fat. And almost every dog food I see has Turkey, Chicken, Beef or Lamb or combination there of. Now our Vets office is selling/recommending duck and deer.
Many have rice, potatoes, carrots, peas, flax seeds & sweet potatoes added, besides all the additives. I don't think a little milk & cereal & baby food will be harmful, after all these are "treats" . But check with YOUR Vet first. GG Vi
June 15, 2008
0

found this helpful
Rich, fatty foods such as turkey skin and dark turkey meat are difficult to digest and can cause vomiting and diarrhea in your dog, and in extreme cases, pancreatitis. (this also goes for Pork as well)
Pancreatitis is an inflammation of the pancreas and can be lethal for your dog. Mini Schnauzers are particularly predisposed to pancreatitis
Garlic and onion belong to the plant species Allium. Garlic has been used by humans as a food flavoring, blood purifier, antibiotic, and antiparasitic drug.
Both garlic and onion can be toxic to dogs, cats, and other animals. Cats appear to be more sensitive than dogs. In dogs and cats, onions and garlic can cause a breakdown of the red blood cells, resulting in Heinz body anemia. The bulbs, bulbets, flowers, and stems of the garlic and onion can all be toxic. There are some human baby foods that have onion in them, and it is not recommended to feed them to pets.
It has been stated by some that small amounts of Garlic are not harmful to our pets,
Yet many are now saying that this substance can build up in your pets system
and over time cause serious harm even Death to our pets!
As for a flea repellent, Vinegar is all thats needed, add it to their water and/or food and you aren't risking your Pets life with it, it has hugh health benefits with its usage, and dogs grow to love the taste of it,
With the recent tainted food recall, It has throw more investigation work into what is and isn't good for our Pets,
Its been found some foods we thought was safe, in fact are not,
I see Pet bakeries out there that still add nutmeg and Raisins to their Dog treats, and everyone knows how deadly they can be to dogs,
Your Pets life is in your hands - Is it Really worth the Risk?
My Dogs mean way to much to me for me to be gambling with their lives, There is far safer alternatives one can use,
By guest (Guest Post)
June 16, 2008
0

found this helpful
I have a 3 yr. old pomeraian. He loves his store bought treats. I did't know until I read it here that dogs can't eat onions. (He hasn't anyway) but it would be great if someone would write down a common list of people foods that people give their pets that are NOT GOOD for them. I have heard yes & no about chocolate and several other things.. Would someone be so kind as to produce a list of no-no's for us. My vet simplys says NO table food at all.
Thanks ahead for any help that is provided.
Editor's Note: We've posted lists like this before. Here's a list: http://www.pete … s=2&cat=1939
June 17, 2008
0

found this helpful
Unfortunitly I have found No one list seems to be complete,
Just a quick glance and I see "Nutmeg isn't listed"
Nutmeg can cause tremors, seizures and death.
I would recommend doing a search on google and getting as much info as you can.
Take a piece of paper and start creating a list, Pin it up For easy reference when needed,
Heres a couple other lists
http://www.lace … fataltodogs.html
http://www.cani … .com/Poison.html
http://www.aspc … c_ask_peoplefood
Heres a good link in detail concerning the toxic affects of CHOCOLATE
http://www.k9ma … ve/iss1p24.shtml
I've heard people say " But my dog loves it soo much,
Remember Most poisons are Sweet like Antfreeze,
and animals love the taste of it,
Only to die shortly after ingesting it.
So just because a dog loves a thing Doesn't mean its Safe for them to ingest,
Remember, You are your pets best defense,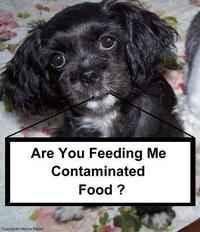 By guest (Guest Post)
June 17, 2008
0

found this helpful
Is that cooked Cream of Wheat?
June 19, 2008
0

found this helpful
In most all cases it's the Dry form, "Uncooked"