January 31, 2007
0

found this helpful
Hi, I have a 10 month old German Shepherd Husky mix. She is a great dog until we leave the house....separation anxiety. (She is an indoor dog.) I can totally relate to your problem. I usually leave her chewing on a bone and then I leave cardboard boxes for her to chew up, even those long cardboard rolls- the thick ones that posters come in are great. Yes you still have to pick up mess but it has saved my furniture. Also those Kong toys are a great idea, the ones you put food inside of. They try for hours to get it out. Good Luck.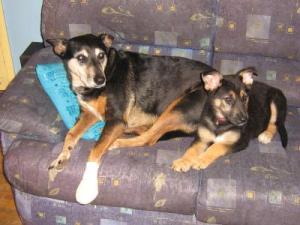 By carol (Guest Post)
February 2, 2007
0

found this helpful
sounds like she has a seperation prob. My vet said a couple things to try.
One.. turn on a radio, or even the TV.. if that dont work.. she said to kennel them. also vet can give med to calm her down.
By Paula in ga (Guest Post)
February 2, 2007
0

found this helpful
Yes, those Kongs are great. You can get them at Pet Smart...they have an off brand cheaper at walmart. I like to put peanut butter in them with kibble...she (my golden) loves it!
I can relate. My dog's name is Bailey Belle, but her nickname has become THE TAZ, short for tazmanian devil!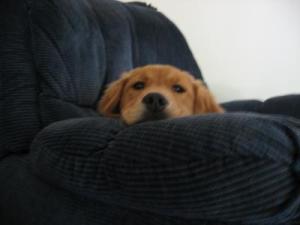 February 2, 2007
0

found this helpful
try the dog park. any terrier needs lots of exercize to burn up the energy. kong toys are great totally indestructible
By Linda (Guest Post)
February 2, 2007
0

found this helpful
She sounds bored! Lots of toys, hard rawhide and rubber toys, radio or TV on, lots of play time when you are home, esp.
active play, If this doesn't work she may need a crate.
By mary (Guest Post)
February 3, 2007
0

found this helpful
Get an old sofa they can destroy. Find other pet owners with the same problem and have a dog babysitting service once a month (rotate duty); you'll need 20 people in the group so you have the month covered. I'm in an urban area, and it's easy to find 20 dog owners with the same problem. There are dog spas where this is done around here, but you could just get together with other dog owners. ANOTHER possibility is to wear the dog out in the morning, before you go to work. Really give that dog a workout in the morning and at night. It will make a huge difference. You can ride a bike while the dog runs alongside of you. I've seen people driving slowly in their car with the dog alongside, and the dog seems quite happy (must be done on a private or secluded roadway with no traffic, of course).
By Judith Walker (Guest Post)
February 3, 2007
0

found this helpful
Heather, Good luck with your chewy puppy. We have a poodle the we rescued from a pound. He (Ru Bear) chews phone books, magazines and VHS paper boxes. We have tried the TV and Radio tricks but he just goes on tearing into just about anything.
I left the Sunday newspaper in floor for 5 days and he never touched it. Go figure. I'd appreciate an email when you finally run across what gets the pup to stop chewing on everything but his toys. Judith Walker judyajudy AT yahoo.com
By (Guest Post)
February 3, 2007
0

found this helpful
here I am with my unpopular views again...however, I know it is too late for you...but perhaps, others could maybe learn. Do not get a dog when you have to be gone ALL DAY. They get lonely, they need companionship, they miss you! Yes, they will adjust, like people in a nursing home, but at what cost to you and them!
By rosa (Guest Post)
February 4, 2007
0

found this helpful
Get some Kong toys, fill them with p nut butter, and and chewy food, give them to both dogs, at least 2 or 3 kongs each, should keep them busy, but they need tons of exercise before you leave for work to tire them out, try leaving a radio ( out of reach of course ) :-) for them, they are lonesome and bored. Hope this helps. Rose
By sUE (Guest Post)
February 5, 2007
0

found this helpful
Puppies are chewers. They become bored very easily like young children. Most pet owners that are employed out of the home has gone through these problems. It is not fair to the young dogs to kennel them all day long or to use meds to put them in an unnatural state. The dogs need more exercise and more exercise and stimulation from the owners. It is a very rough road to be a puppy and a puppy owner. This is just part of the growing-up problem with young animals. They take a long long time to get over the puppy stage, and the terrier type dog is a long long process.
By Barbie (Guest Post)
February 15, 2007
0

found this helpful
Hi don't feel bad. Of course she is bored and chewing things but she would be chewing things whether you are there or not. They need to chew. You can buy dog toys at walmart for $.88 the stuffed ones make a mess but it will save on the floor, door frames etc. Keeping them in a good sized room is no different than an outdoor kennel if you provide all the things they need. It seems as though you love your dogs and spend time with them when you are home and they can adjust to a schedule. They will become accustomed to your return times. Yes some dogs get more anxious and some are harder to train but so are some people. Many believe it is wrong to use smaller kennels through out the day while you are gone but we have a dog who lays in his kennel for the 6 1/2 hours we are are normally gone even if we are home so of course it depends on the dog but they can learn habits that accommodate the owner just as we learn habits that accommodate them.
As for the chewing you can also take material and cut it into strips and knot it at intervals and then you have cheap chew toys as well, we have also taken plastic puppy toys and cut slits and run the material through then and knotted the toy in position.....there are lots of cheap toys you can design. You can also use a spray bottle filled with vanilla water or even broth to spritz the toys so they learn that things that smell a certain way are designed for them which may help prevent them from chewing on the occasion dropped laundry item. And of course there are raw hides and other puppy related items you can use which last a while, just remember to swap toys in and out of the room to keep them from getting bored. Everyone has an opinion and are entitled to it but you know whether you are being fair to the well being of your pup so don't be judged and don't be neglectful + only use the kennel room when you need to so your animals are safe while you are gone. Enjoy your new puppy and good luck
By Heather Blazicevich (Guest Post)
February 16, 2007
0

found this helpful
It's me again! Yes, the owner of Destructo Dogs! :) I thought I would update anyone who was keeping an eye on this topic and had responded.
Well Bailey, the young pup has started to get aclimated. She's shown us everywhere in the mudroom where she can get into trouble and with what, and we've taken measures to 'protect' or remove the objects she's had 'fun' with.
I had already had two kongs and used them but it seemed that once the frozen peanut butter/biscut/ice cube mix was gone, she was bored again. We've bought two treat balls that dispence kibble when being rolled around. We discovered that with these dogs, when you buy one a toy, you have to buy the other the same identical toy. JUST LIKE KIDS *rolls eyes*. After a few tense snapping and 'fighting' boughts, we removed the ball - the 1st one we got, until we could buy another one. Now both are happy for awhile with those. We have the hard Nyla bones, both identical too.
We've got her on a regular feeding schedule, got her 'regular' and though she still piddles quite a bit and we still find a poop mess or two, she IS using the newspaper we lay down and makes clean up a bit easier. (Though a piece or two gets dragged around and shredded... :) )
I feel bad because the two dogs can't spend much time outside right now (5 below zero tends to make them not want to linger to play). I'm praying for a bit warmer weather soon so I can walk them in the morning and at night when I come home, and leave them outside for a bit to 'blow off the stink' and to get some fresh air.
We have Bailey signed up for a 6 week Puppy Manners Class starting next Saturday at our Human Society. I know it'll be a learning expereince for all involved. Especially me. Hopefully we'll be able to get the older dog, Jack, into an Agility Class later this year. He's the really smart one of the two. He's the one that figured out the treat ball in less than 10 seconds, while Bailey skittered away from the strange noises the ball made and didn't want to play with it at first.
So Thank You to everyone who has offered advice and suggestions. I'm still trying to find ways to make things to keep them occupied out of household items that won't hurt them or allow them to chew them apart too much.
Heather B.
June 4, 2008
0

found this helpful
I was told before to make "false leaves", as they called it. I was told that it can help with a dog that has some problems with seperation. They said to walk out of your place a few times for a few minutes each time. Before you have to actually leave for the day. (Walk around the house twice for something to do lol, or if you smoke have a smoke outside) What it does is it tricks them into thinking that you will be back shortly and they don't worry so much. I havent tried it myself though. But maybe it does work.