This rich and delicious pie has an unusual cooking method but is well worth the time! It can be made with only 4 ingredients and is wonderful for a family gathering or church meal. I have used very cheap off-brand sweetened condensed milk, store brand whipped topping and pie crusts from the "dollar aisle" in this with good results. It is deceptively simple in appearance but very very tasty!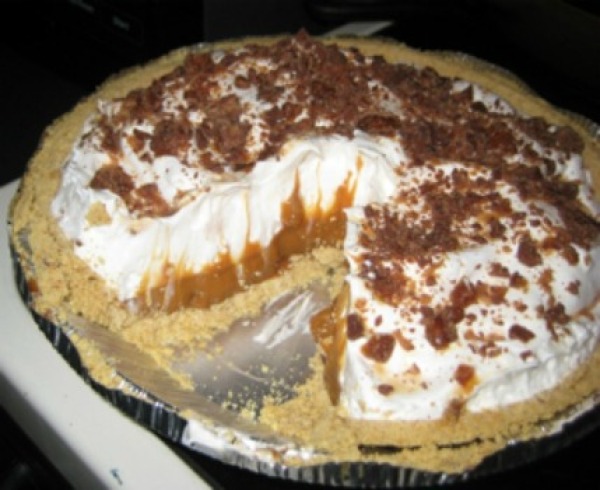 Ingredients:
1 graham cracker (or chocolate) pie crust
1 can sweetened condensed milk (14 oz.)
1 container "Cool Whip" style whipped topping (8 oz.)
1 toffee and chocolate candy bar (such as Heath, Skor, Symphony)
Directions:
Remove the paper from around the can of condensed milk. Fill a heavy pot with enough water to cover can and bring to a boil. Add can, laying on its side. Lower temperature so that water is just barely boiling and cover with lid, leaving a small crack for steam to escape. Be sure to keep the can covered while boiling. I check it every hour and roll the can a bit each time.
After exactly 3 hours boiling time, remove the can from water using tongs so as not to burn hands. Run cold water over the can for several seconds.
Open can, being very careful because some of the caramel may "pop" out. I nestle the can on a dish towel for stability, use a good heat proof mitt, and shield myself from the initial pop of hot caramel with a plate. Haven't been burned yet!
Stir the caramel in the can with a butter knife and then pour and scrape it into the crust.
Let cool for a little while, then add up to 8 oz. of whipped topping (less may suffice) and one crushed up candy bar. It may be easier to crush the candy bar if you have put it in the freezer for a few minutes. Refrigerate pie for a few hours.
Servings:
8
Time:
5 Minutes Preparation Time
3 Hours Cooking Time
Source: An online friend named Bonnie, several years ago. But I just tried it last year and it has been requested by family many times since!
By Shawna from Paris, TN