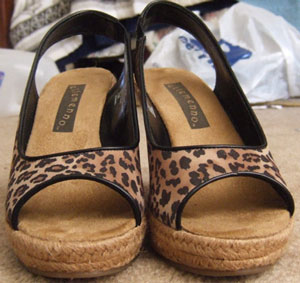 Leopard Slingbacks
I just bought a delish pair of leopard print slingbacks. There are two problems. The first is that I made the error of trying them on with athletic socks, so I didn't realize that without that thick cotton, my foot slides forward. Which means that my toes hang off the front, looking like the shoes don't fit.
The second is that when they were rung in, the young woman went by what was on the box, saying that it was okay that they didn't match the shoes as they were clearance and the same price. So my receipt is worthless for returning them.
Are there any ways to sort of...prop my foot in there so it doesn't slide, besides those little gripper pads? I've never had much luck with those.
These are the shoes. Granted, they were cheap, but still, I'd like to get some use out of them.
Angel from NM
Answers

joan pecsek
Bronze Request Medal for All Time! 66 Requests
August 11, 2007
0

found this helpful
Best Answer
There's a pad you can buy in shoe stores. It's made of cork and goes in the front of your shoe. They work great but the don't last very long. The other day at a grocery store I saw something on the shoe accessories rack that had a name like "slipstop". It was an insole that said it would keep your foot from slipping around inside your shoe.
They were horrible colors though: lime green, tangerine, etc.... Maybe they're not meant for open shoes. Check it out anyway, maybe where you live you can find them in better colors. Good luck, those shoes are gorgeous!

September 1, 2007
0

found this helpful
Best Answer
Or a cheap alternative if you have a hot glue gun is to put some hot glue where the ball of your foot goes.
It will after a while rub off in bits, but it is easy enough to replace.

June 17, 2014
0

found this helpful
Best Answer
Try Sizers! They are little foam inserts which re-size your shoes so that they fit perfectly. Ideal for half sizes (like me) or loose shoes.
Check out their website www.shoesizers.com where you can buy some.
Answer

this Question