September 22, 2010
0

found this helpful
I am sure I did something wrong when I submitted causing the pic not to come through. The way DH did this was to put a large wood screw with washers in the center of an old stainless steel pot and attach it to a wood beam. The open side of the pot allows for slant toward the wood and the handles provide a means of keeping the hose in place.
Editor's Note: It was our fault, there was a glitch. It is fixed now.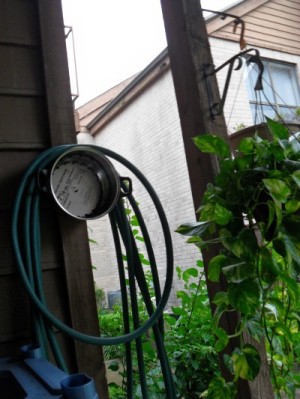 September 24, 2010
0

found this helpful
What a great idea!
September 25, 2010
0

found this helpful
With the open side of the pot exposed, with luck you could store the hose nozzle and a couple of other attachments! (as long as the pot wasn't too flared at the top.) Great tip!
September 26, 2010
0

found this helpful
DH said I should mention that he added an old worn out saw blade to the bottom of the pot. You can see the printing on it. It makes it more sturdy. We started with a very cheap pot so this helps a lot.
September 27, 2010
0

found this helpful
Great idea! I actually saw the same concept in an e-newsletter I get from the Martha Stewart web site. She used an old metal wash tub.
I don't think it looks weird at all. It could actually be deocrative as well as functional because you can store nozzle heads and such in the tub.
September 1, 2011
0

found this helpful
It obviously worked, and was free, but I couldn't do it in a million years. I am far from wealthy but no way would I nail a pot to the side of my house. In my opinion it is the beginning of the "exploding dumpster" look. I think we need to have a little pride in where we live.
September 1, 2011
0

found this helpful
Very nice! I love to reuse and recycle! Thank you for that because we need to keep all we can out of our landfills! This is wonderful. This will definitely get a thumbs up from me! Good, no, let me correct, GREAT thinking!
Blessings, Robyn
September 1, 2011
0

found this helpful
Clever use of recyclables! Recently I was looking at a lovely wrought steel hose holder and when I discovered the cost, my husband and I put on our thinking caps and he came up with a good one. He had in his stash an old steel rod handle from a auto jack. It had a good right angle already bent to it and he put it on the vise and made it a little better for holding the hose.
We pressed it into the ground to stabilize it, then fastened it to the edge of the porch and "wal-lah"! It works like a charm and after that was done, I indulged in a bag of lovely pebbles from the garden shop and spread below the tap so that we now have a nice dry place to access and store our hose.Doesn't take a lot to make some folks happy gardeners!
September 1, 2011
0

found this helpful
I love it. Inventive, useful. And what's wrong with a little "exploding dumpster" look, as suggested? I've found some great stuff in dumpsters and saved it from the landfill. Beauty is in the eye of the beholder and I think our creative friend should be proud to nail a pot to the side of her house as a testament of her thriftiness and ingenuity. I would, if I'd thought of it.
September 2, 2011
0

found this helpful
I don't think this is at all tacky. I love the idea. My water hose if laying on the grass because I won't pay for one of those things.
I can't attach it next to the water faucet because the house is brick. But I'm going out tomorrow and attach a bucket I have, and put my hose on it. You are so clever!
September 5, 2011
0

found this helpful
Yeah, it looks crazy! Crazy awesome! Love the idea thanks for sharing.
God Bless.
Trish in CT