This is a 6x6 inch album made from hard board and scrapbook paper. Simple embellishments complete it.
Approximate Time 2 Hours
Supplies:
1 pkg 6x6 inch hard board, 6 boards
3 8x10 inch bazzel card stock, different colors
1 package of alphabet stickers, 2 inch
6 12x12 inch sheets of patterned paper
scraps of ribbon
6 buttons
spiral clip
ink pads different colors
small vellum envelope
2 tiny clothes pins
4 plain brads
1 dragonfly brad
plastic film frame
alphabet stamps
1 pkg of baby stickers
Instructions: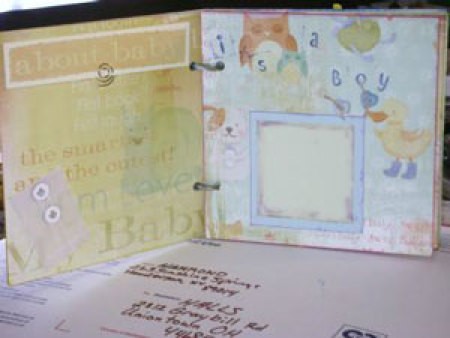 Cover the front of the book with one color of bazzel card stock, cut to fit. I spelled out the baby's name and put the stickers on next. Next and with all the pages I rubbed the edge of the page with an ink pad to give a finished rustic edge. I added a plastic film frame to the front using glue dots. The bear picture was torn from the scraps of one of the patterned papers and again inked. All pages of the book are covered in patterned baby paper.
The second page title is from a scrap of the patterned paper and framed with scraps of bazzel. I added a spiral clip for interest and glued the vellum envelope on for maybe a snip of baby's hair.
The third page has a two different colors of bazzel to make a double mat, again inked. Two buttons with jute cord complete the page.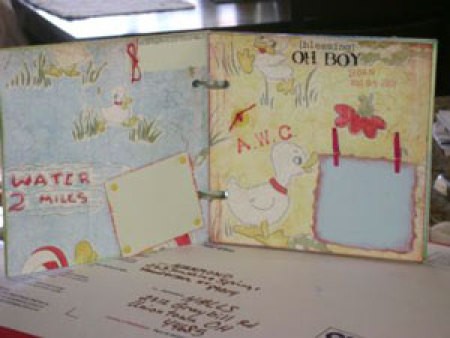 Fourth page has a bazzel mat inked and attached with 4 plain colored brads. Also a plain bazzel blank title embellished with red jute.
The fifth page has a mat hanging from two tiny clothes pins which are attached with glue dots. I used alphabet stamps to stamp on baby's initial and birth date.
The sixth and seventh pages have a mat with a torn edge from scraps and inked. A faux bow with ribbon embellishes the pages.
On the eigth page, I use bazzel scraps in squares inked in different colors. I used pop up dots to attach a torn picture from patterned paper scraps.
The ninth page has a double mat embellished with a ribbon and dragonfly brad.
The tenth page I used scraps of bazzel to make a odd shaped mat. Then I placed a piece of rickrack and a button to the mat using glue dots. A baby sticker is used to embellish the page.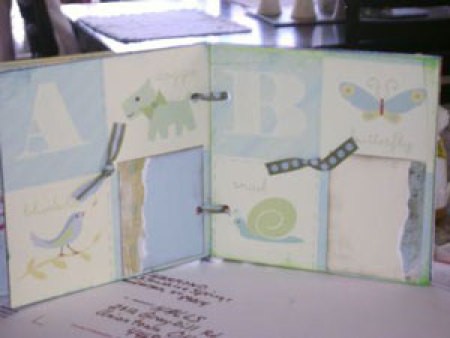 The last page has another bazzel mat with a torn patterned paper edge and a baby boy sticker. I also put a satin flower in the corner using a glue dot.
The back of the book is just torn pictures from the patterned paper and inked.
To hold the book together and as hinges, I tied ribbon through each hole that was already in the boards. I tied in a longer piece of jute with buttons laced on to the top hinge ribbon to add a little more fun.
All in all this was not very expensive. I used a lot of scraps and things that I already had in my scrapbooking desk. You can really use your imagination and stuff you already have to make a book like this.
By Shirley from Henderson, NV